The Chatter: August 2016
Overheard at old Memorial Stadium, the Baltimore Immigration Museum, and Save Your Soul dance party.
Blast From the Past
May 8, 2016
33rd Street
Fifty years ago today, Frank Robinson launched a home run off Luis Tiant that not only cleared the left field wall but 50 rows of seats, landing in Memorial Stadium's parking lot. The only HR ever knocked completely out of the park in the Orioles' history on 33rd Street, the titanic shot was considered such a momentous feat that Robinson received a minute-long standing ovation, and a week later, a flag reading "HERE" was placed atop the bleachers to mark the spot where the ball sailed from the park.
Memorial Stadium, of course, was torn down after the team moved to Camden Yards. However, a popular rec field has since replaced it, with home plate and left field closely aligned to the old diamond's configurations. So, on this windy afternoon, local resident Mark Melonas is hosting a second flag raising to commemorate the golden anniversary of Robinson's epic blast. The replica "HERE" flag that Melonas commissioned is even made by the same company that produced the original.
"I wasn't born yet in 1966, which was also Frank's first year with the Orioles. But my dad, who was 17 then, told me how much he meant to Baltimore," says Melonas, 41, a furniture maker. Robinson, later Major League Baseball's first black manager, led the O's to their first World Series title that same year, delivering a 410-foot homer in the series-clinching 1-0 win at Memorial Stadium.
"I was sitting in left field that day," recalls Mark's dad, Jim Melonas, now 67. "It flew two rows over my head."
---
Love of Country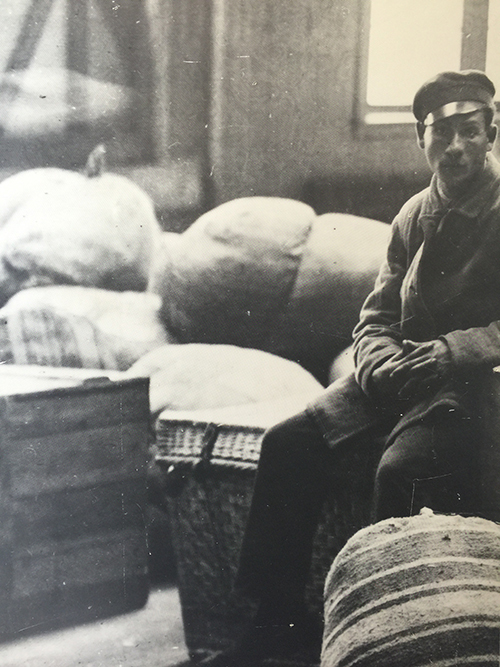 May 15, 2016
Beason Street
The wooden trunk on the floor of this three-story, red-brick boarding house—once a way station for turn-of-the-century newcomers to America known as the Immigration House—reveals much of the building's history.
Gold lettering on the trunk—one of the artifacts on exhibit at the new Baltimore Immigration Museum, which is hosting an open house this afternoon—reads "Bremen-Baltimore Sept. 25 Dampfer [steamship] Rhein." It's a telling inscription pointing to the historic Atlantic route that carried 1.2 million German and Eastern European immigrants to Locust Point between the Civil War and World War I.
Above the trunk, a black and white photograph shows a young man with a bushy mustache, a cap, and an overcoat sitting amid baggage shortly after arrival.
The culmination of years of work by Nicholas Fessenden, a former Friends School history teacher, and his wife, Brigitte, a German-born preservation expert, the budding museum documents Baltimore's immigration saga, which has been largely overshadowed by New York's Ellis Island. On this day, a steady stream of Locust Point residents stop by, as well as others interested in learning more about their city and possibly their family's back-story.
"I'm German on my mother's side," says Frank Tewey, whose ancestors lived nearby. "My great-grandmother's family told her, 'Never marry a sailor, they all leave.'" But she did—another German immigrant named Gerhardt—and, indeed, he left, heading home to Deutschland to claim a small inheritance. He returned, however.
"My great-grandfather joined the German navy in order to come back and then jumped ship to be with my great-grandmother," Tewey continues. "Good thing he did. One of their future children, my grandmother, had 63 grandkids when she died."
---
Love Shack
June 3, 2016
Hollins Street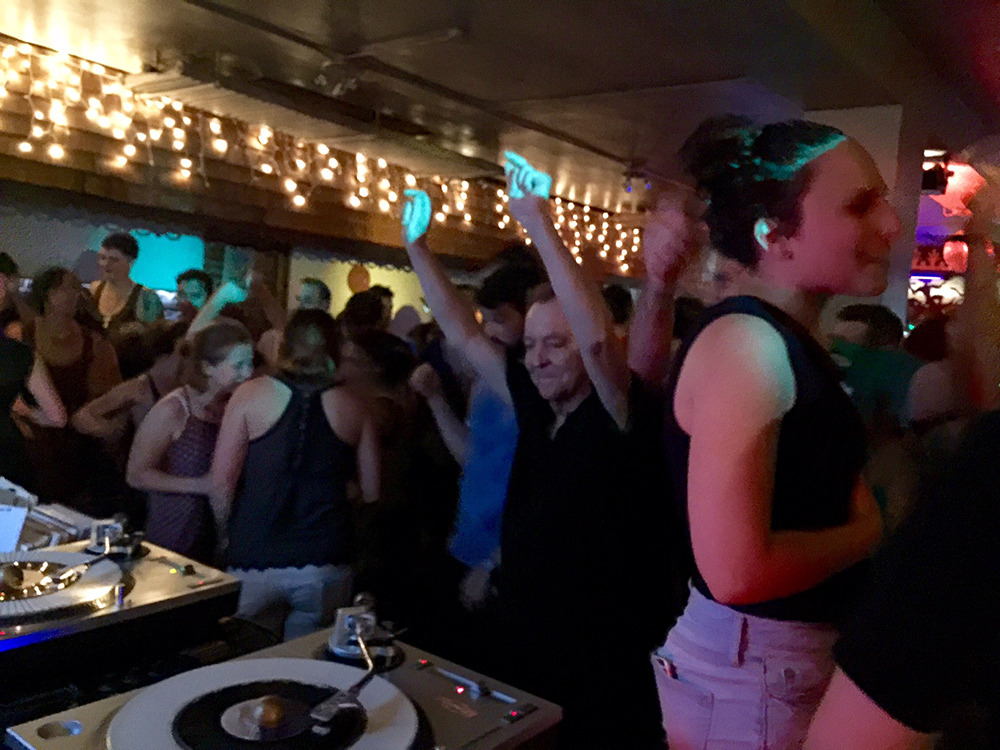 Behind the DJ booth, a pair of turntables, and stacks of metal record suitcases, Fred Schneider digs through his 45-rpm collection, handing old-school vinyl selections to host Rob Macy. It's cramped and hot, and the packed house inside the Lithuanian Hall is twisting and shouting to some of the best—and rarest—greasy rock and roll, Motown, R&B, funk, and soul ever made.
Macy concentrates momentarily as he lowers the needle onto "You've Got My Soul on Fire," and then nods and grins as he lifts off his headphones. "This is sick," he says, referring to Edwin Starr's 1973 single.
By midnight, the air is so heavy with perspiration that women are lifting the matted hair from their necks and pinning it atop their head even as they keep moving. It's mostly twenty- and thirtysomethings, but more than a few Gen Xers have come to see Schneider, the famous party-chasing frontman for the new wave B-52s, who broke out in the late '70s and early '80s with hits like "Rock Lobster" and "Private Idaho."
The vintage recordings behind the first-Friday-of-every-month Save Your Soul dance party—launched two decades ago—are both an homage to the music Schneider loved as a teenager and the organizing principle behind his retro, bouffant-sporting band.
"Word apparently got to Fred that Baltimore had one of the top soul dance parties on the East Coast," Macy says. "So we invited him and he was game. He'd bought some records and he wanted a place to play 'em."
As the evening turned to the wee hours of the morning, the 65-year-old singer, who doesn't appear to have slowed much, hit the dance floor more and more.
"I was showing them all how to boogaloo and shing-a-ling," says Schneider, who still manages to convey a certain intoxicating blend of Southern-influenced civility and randy mischievousness when he smiles.
"It helped that I was a little bit tipsy."