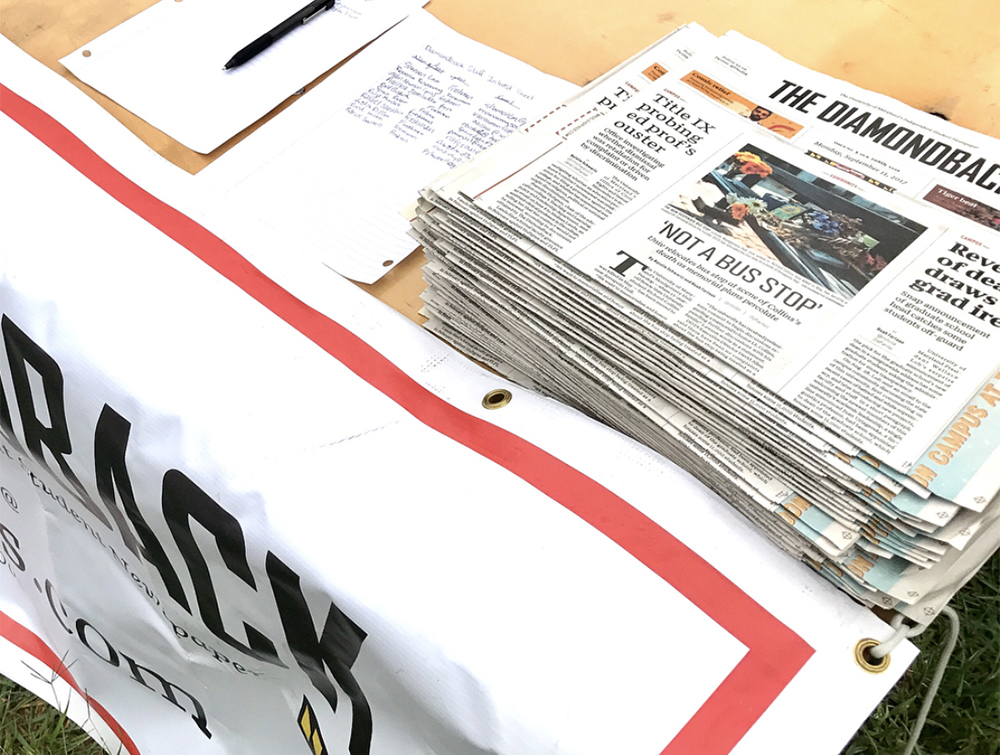 As of March 9, the University of Maryland will officially terminate the weekly print edition of its independent, student-run newspaper, The Diamondback. Named after the school's mascot, a diamond-backed terrapin named Testudo, the paper announced in September that it would go entirely digital after 110 years of publishing a print component.
The fate of the publication's print issue was decided in a board meeting back in May with Maryland Media, the independent company that owns The Diamondback, in addition to two other publications on campus. Maryland Media's primary purpose is to ensure funding for the newspaper so that it can continue to exist for future generations of students, and according to Tom Madigan, president of the company's board of directors, making the decision to cease print production was part of carrying out that mission.
"We publish 20,000 print copies per month," Madigan says. "Meanwhile, we reached more than 140,000 unique visitors online in February."
The Diamondback had been gradually scaling back its print issues for a few years prior to officially migrating online this month. In 2013, the newspaper transitioned to printing four times per week, and then in 2015, it was printed weekly.
Leah Brennan, the newspaper's editor-in-chief, says this shift did not come as a surprise. "This decision made the most sense so we can finish the print edition while it's still not putting us in the red," Brennan says. Though all Diamondback coverage is now published exclusively online, the newspaper will continue to print its yearly senior edition, orientation guide, and college survival guide.
The Diamondback is not the only college newspaper whose print issues have perished. Student newspapers from colleges across the country, including Syracuse University and Purdue University, have been forced to curtail their print operations for financial reasons. As the internet continues to hold the public's attention, advertising reps struggle with sales.
Print is still how Madigan chooses to consume the news, but he recognizes that the journalism industry is trending away from the medium. For him, this transition is helping to prepare his students to enter the journalistic roles they aspire to take on post-graduation. "Dropping the weekly print edition is helping to throw them into a digital world," Madigan says.
Fortunately, even with the loss of its print paper, The Diamondback does not intend to make any cuts to its 20-plus newsroom or lose any of its more than 90 contributing writers.
Now that the staff won't have to spend their Sundays fleshing out the print issue from noon to 10 p.m., their time can be devoted to emerging projects. The Diamondback rolled out a podcast named "Offbeat" in the beginning of the school year, and the team is currently working on an app for Apple and Android products, as well as DBK TV, to help increase accessibility and promote its content.
"I think that everybody loves working here and cares a lot about what they do," Brennan says. "Their drive and enthusiasm is part of what fuels this paper, and I don't think any of that will fade away."