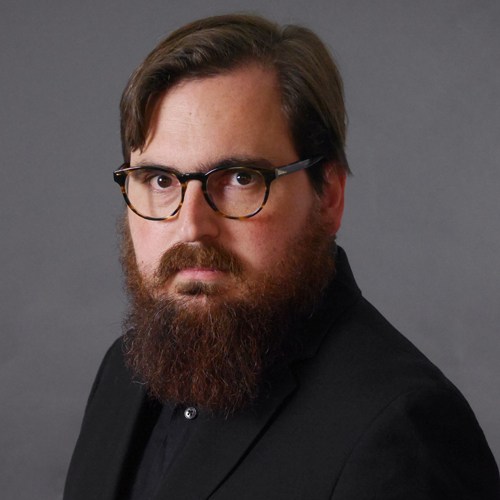 Following the departure of founder Paul Jay, the Baltimore-based Real News Network announced the appointment of John Duda as executive director after a national search earlier this year. Duda joins The Real News—a progressive, nonprofit online news organization—after nine years as the director of communications at The Democracy Collaborative, an international research institute working to develop practical models for a post-capitalist economy. Duda also holds a Ph.D in Intellectual History from Johns Hopkins University.
We caught up with the new executive director to discuss his background, reaching wider audiences in the age of COVID, and the publication's commitment to on-the-ground reporting.
You come out of both an academic and research background, and a worker-owner experience as a founding member of Baltimore's long-running bookstore-café Red Emma's. What convinced you it was time to move into journalism?
To some extent, it's a bit of a return for me. Most of the activism I was doing around the turn of the millennium was around digital media—trying to take advantage of the new possibilities that were emerging for journalism as the Internet was first becoming something more and more people had access to. But it's also a continuation of the same conviction that led me to help start Red Emma's, and which I had been focusing on in the think tank policy world—namely, that you can't have effective long-term movements for social change unless you build and sustain the infrastructure that supports those movements. A key piece of that infrastructure, of course, is the kind of movement journalism that The Real News produces.
It's been a strange time to start a new job.
Yes, absolutely! My first day on the job, and every day since, has just been on Zoom and email. I haven't even really properly met my co-workers yet. And trying to step into a leadership role at an organization while also helping care for a three-year-old stuck in the house for months on end has been, let's say, interesting.
Obviously, it has also been a fraught time for fact-based reporting. What was supposed to be The Information Age appears to have become The Disinformation Age. What's your understanding about how social media—and Facebook, in particular—has become an engine of propaganda?
What makes the giant social media platforms like Facebook so powerful is the algorithms they are based on. They want to sell as many ads as possible, so the more you "engage," the more money they can make. And because they have access to so much data, the algorithms can pick the content that's most likely to keep you "engaging." Not the content that's most important, the most true, or the most likely to make you reflect critically on the world, but the content that is statistically most likely, based on their record of your behavior and millions of other people, to keep you scrolling through your feed.
The problem is that fear and hate and paranoia are these incredibly powerful emotional drivers that these algorithms can latch onto and amplify, by design. So, the propaganda problem with algorithmic media isn't just rogue actors unethically abusing the platform, it's baked into the way the platforms work. And at the same time, these platforms are dramatically siphoning off the advertising revenue that many traditional media outlets have depended on to do journalism. Ultimately, I think we are going to have to have a conversation, as a society, about the kind of communication networks and journalism we need to have a democracy, and whether these necessary public goods are things that we will be able to continue to rely on the market to deliver.
As the new executive director of The Real News Network, how do you plan to cut through the noise and reach bigger audiences?
It's a good question, especially since I think that some traditional assumptions about the value of independent media have shifted in recent years. It used to be the case that you just wouldn't hear about certain ideas or certain perspectives unless you were consuming alternative media. But today you can find quite radical left scholars and experts getting a platform in places like the New York Times op-ed section. So I think that our role as an independent left media outlet needs to evolve. While we are still going to be working to present critical analysis and stories that you might not hear elsewhere, one of the really important and effective things we can do is to give a platform to everyday people working for a more just world in our coverage, so that we start to create feedback loops on the platforms we publish on that are based in hope and an expanding sense of collective agency, not just in despair or cynicism. We want to do journalism in a way that you makes you feel the world can be changed, and that you can play a key role in making that happen.
We've always appreciated The Real News Network's commitment to on-the-ground reporting in Baltimore, including its focus on the people most impacted by the city's politics and policing. What does that commitment look like going forward?
We are committed to Baltimore for the long haul, and there's going to be some exciting developments on that front that we'll be announcing soon that I think a lot of people are going to be really excited by. Longer-term, when the pandemic is over, one thing we are extremely interested to explore is how we can partner more intentionally with young people in Baltimore, who are continuously giving me hope for the future of the city and the world. How can we put the tools and platform we have at our disposal to help them tell their own stories?
Locally, The Real News Network employs a number of journalists with deep institutional knowledge in the city, including Marc Steiner, Lisa Snowden-McCray, Stephen Janis, Jaisal Noor, Eddie Conway, and Taya Graham. Are there staff changes or additions in the works?
One big recent change is that Lisa Snowden-McCray is now officially our managing editor and Baltimore editor. Lisa is amazing, and I really can't think of anyone else I would rather have setting the agenda for our Baltimore coverage. She will be joining our new editor-in-chief—Maximillian Alvarez, formerly an associate editor at The Chronicle Review—to play a central role in our leadership team.
How has the pandemic and isolation affected your Baltimore coverage?
Our best Baltimore work takes advantage of the fact that this is our home—where we can really connect with other people, having conversations in our studio or out where people are doing the work in their community. We've still been able, say, to come out to cover a socially distanced demonstration in person, but a lot of the more intimate conversations we'd liked to have had just haven't been possible.
Many journalism organizations have been struggling to remain financially viable, a situation made worse during the economic fallout from the COVID-19 outbreak. How has The Real News Network, as a nonprofit, viewer-supported venture, been affected?
There's a lot of reasons why I am excited about nonprofit models for media, and this pandemic has added a new one. Because we aren't dependent on advertising in the way traditional for-profit media is, we didn't immediately take the same kind of hit that other outlets did when the current crisis started. Even though we've had to go almost entirely remote because of COVID-19, because our money comes from donors who believe in our mission, we've actually been in an okay place financially compared to many other media outlets. We haven't had to lay off or furlough anyone so far. My hope is that we will be able to continue to be able to rely on existing and new donors to get through this crisis, and be even stronger on the other side.