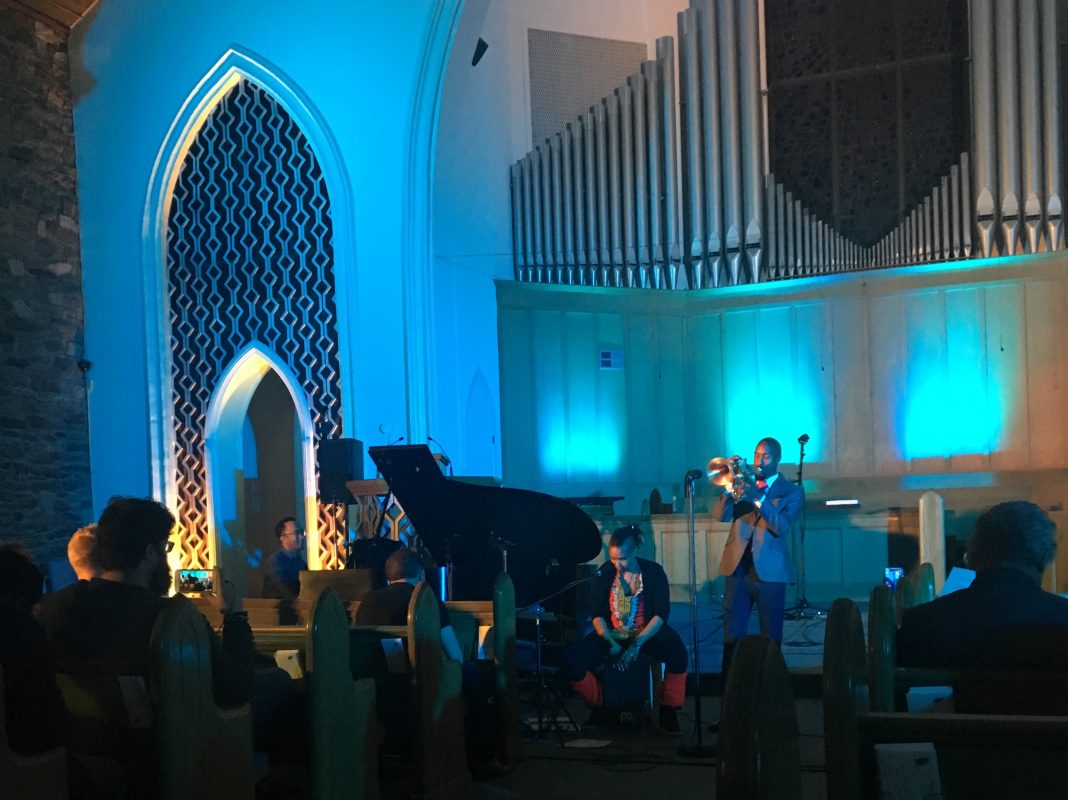 Kaitlyn Pacheco
Three years after the death of 25-year-old Freddie Gray, who died while in Baltimore police custody, Baltimore's artists, activists, and community members continue to grapple with the underlying causes of his death, the multi-day uprising that followed, and how the events continue to impact every corner of the city. On the anniversary of Gray's death, April 19, more than 150 people gathered at Union Baptist Church in Druid Hill for the third annual Rise Bmore, a free evening of words and music, of and for Baltimore, in honor of Gray.
"We gather here every year in memory of one of Baltimore's murder victims. We gather here in memory of Freddie Gray," said Judah Adashi, founder and artistic director of Rise Bmore. "We are here because he's not here—we're here because he should be here."
Community storytellers and artists Malaika Aminata Clements, Julian Hamer, and Shannon Wallace started the evening with a discussion titled "Seeing Baltimore." Moderated by local musician and writer Brittani McNeil, the discussion centered around using artistic mediums to challenge the narratives presented by local and national media about the uprising and how the panelists use art to push the conversation about life in Baltimore forward.
Wallace, an award-winning photographer from East Baltimore, said it's important for her to share stories of otherwise unseen members of the African-American community through her photography. She told the audience about how she photographed a young kid, who lived in Rutland, and put him on the cover of her zine, BLVKBLUE (What Does It Mean to Be Black?). When Wallace gave the boy's mother a copy, she burst into tears at the picture of her son.
"For the first time, I felt like what I do matters to someone," said Wallace. "It was the first time I felt like someone was visible because of me."
For Hamer, who worked for WBFF Fox 45 during the uprising and has since become a documentary filmmaker, the unrest influenced her decision to stay in Baltimore because she felt determined to see the city grow and thrive again.
"There's no reason that [Baltimore] can't be great if we continue to do individual arts and make each person's day a little better," said Hamer. "I want to see this city be the place that I know it can be, that we've all seen it be. And you don't have to do that anywhere else. We can do that right here."
At 8 p.m., the event shifted as the voice of Erricka Bridgeford, one of the organizers of Baltimore Ceasefire and The Sun's 2017 Marylander of The Year, filled the room with a pre-recorded reading of "Invocation: Dear Baltimore." The performances that followed—from artists that represented a true cross-section of the city's music and arts scene—provided a window into each performer's pre- and post-uprising reality.
At the top of the concert, soulful singer-songwriter Joy Postell delivered unflinching performances of her songs "Hands Up Don't Shoot," which is dedicated to Gray, and "Consciousness," that uses her signature rhythms and sharp lyrics to address issues faced by the African-American community. Then, Abdu Ali, who has become a local underground music and cultural figure, shared four of his recent poems about experiencing life in Baltimore as a black man. Voices Rise, a community choir lead by brothers Douglas and Benjamin Buchanan, performed classic uplifting songs "Let It Be" and "Lean on Me."
Before performing her original song "Sundown Town," Baltimore folk singer-songwriter Letitia VanSant told the audience she wrote the song in reaction to an experience she had while canvassing for Barack Obama's 2008 presidential campaign in a suburb outside Detroit. One of her fellow canvassers, an African-American man in his 60s, was visibly shaken about being in this quiet, orderly neighborhood after dark because he grew up in a "sundown town" where black people were not welcome at night. VanSant said that when she returned to Baltimore, she questioned how her sense of safety as a white person compared to others in her community.
"I think that if we want peace in Baltimore we have to work for justice for everybody," she said. "Nobody's going to be safe until everybody's safe."
Three musicians, Akua Allrich on vocals, Japheth Clark on flugelhorn, and Mark G. Meadows on vocals and piano, performed Meadows' original "Stay Woke," Nina Simone's "Come Ye," and "Baltimore" by Randy Newman to "pay homage to the great city of Baltimore."
To round out the show, renowned local poet Tariq Touré performed his piece "No Refuge: For the Love of The Game" that addresses his views on the disposability of black athletes and the dilemmas they face when choosing whether to speak out about social injustices.
His final stanza, "I assure you they love me! / surely they'll understand today / So when I take this knee / as that anthem starts to play. / You think they could look at me / with this passion in my face / And truly be able to say / this is the land of the free / and the home of the brave?" was immediately followed by a passionate interpretation of "The Star-Spangled Banner" by Adashi on piano.
Jonestown resident Ashley Day, who attended Rise Bmore for the first time since 2016, said she's glad Adashi has been able to maintain the event as a platform to address the changes or lack thereof since Gray's death.
"It reminds people that it happened," she says. "It also creates the memory and the life of a presence that's no longer here, and it motivates and inspires the community again to get more involved and spark change."