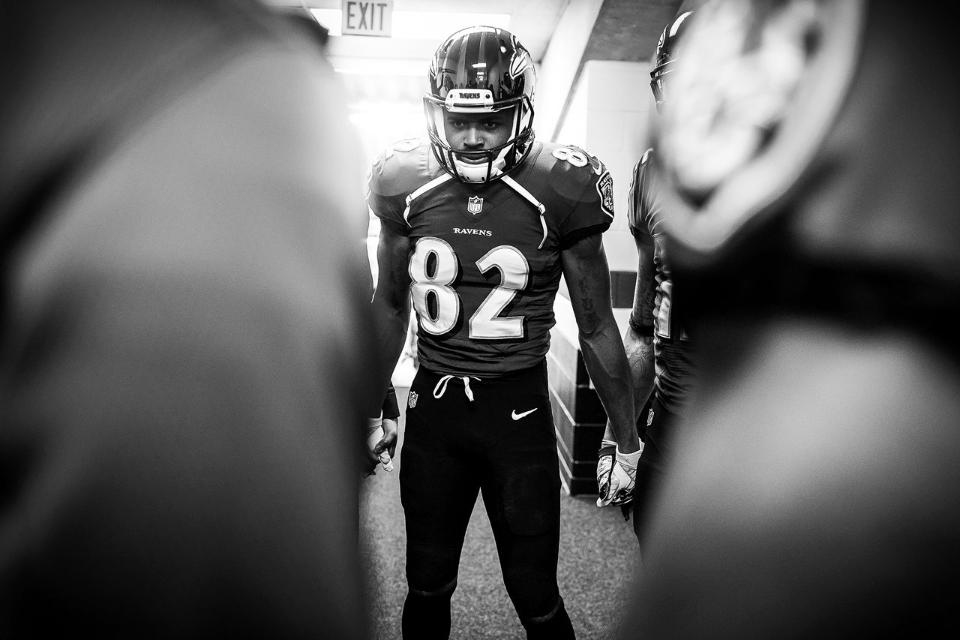 Shawn Hubbard/Baltimore Ravens
According to CBSSports.com writer Jamey Eisenberg, Anquan Boldin confirmed rumors that Torrey Smith will be playing for the San Francisco 49ers next season. Smith, who has signed a five-year, $40-million deal with the team, will reunite with former Raven Boldin, who said he helped recruit the wide receiver.
This announcement comes on the heels of an
online post that Smith shared on social media Sunday night, stating that he won't be playing with the Baltimore Ravens in 2015. In the heartfelt note, Smith shared his gratitude for the Ravens organization, front office members, the fans, and city of Baltimore:
"I will be playing for a different organization, but I will remain committed to the City of Baltimore," Smith wrote. "I will continue to give back and help build a better future for our young men and women. My commitment to this city is for life. This isn't a goodbye because I will still be around, and Baltimore will continue to be my home in the offseason and when my career is done. I'm on to the next chapter of my life and football career, but I will see you guys later."
As a native of Virginia Beach, Smith was a standout at the University of Maryland and eventually helped the Ravens win a Super Bowl two seasons ago.
"I literally dreamed of playing for the Baltimore Ravens, not just because it is a great organization with an amazing fan base, but because of the foundation of the team and the principles that the men who run it stand by and for," Smith wrote.
He finishes his tenure with the Ravens as the franchise's third all-time leading receiver with 3,951 yards. He ranks fifth in career receptions (213) and second in touchdown catches.
Not only that, but Smith has become a fan favorite and fixture in the community, frequently appearing at events at Jimmy's Seafood and being open about his personal life—from the death or his brother to his life with wife Chanel and son TJ.
He was even a
Baltimore magazine Top Single a few years ago, one of the winners of our "40 Under 40", and his and Chanel's wedding was featured on the cover of Baltimore Bride magazine.
"I like to see what else is out there," Smith told us in 2013, after he interned with U.S. Rep. Elijah Cummings. "I learned more about the government and how much your congressmen really do to help the community. Football doesn't last forever."
We will miss Torrey's impact both on and off the field and wish him luck in San Francisco.