bestevents.us
The 22nd Tour du Port, Baltimore's annual waterfront celebration of bicycling, kicks off Sunday morning in Canton with a challenging new ride option.
For the first time, the Tour du Port will offer a 36-mile "Urban Adventure" route for mountain biking and cycle-cross enthusiasts— through little-known local streets and single-track paths in Herring Run Park, Stony Run, Druid Hill Park, Dickeyville, and on the Gwynns Falls Trail.
"We're really excited about it. Every year we want to do something to broaden the appeal of cycling in the city," said Nate Evans, executive director of Bike Maryland, which hosts the Tour du Port, a major fundraiser for the organization. "Knobby tires are recommended. There's some loose gravel and natural paths that they'll definitely work better on."
Other rides include a 14-mile, family-friendly "Harbor Loop" that passes through Patterson Park, the Inner Harbor, Federal Hill Park, South Baltimore,
Silo Point, and Tide Point; the "Port to Peninsula Loop," which provides riders with a 31-mile ride option from Canton,
through Dundalk to North Point State Park, and back; and the 50-mile "Raven Challenge" through Baltimore City, around Loch Raven
Reservoir, through Long Green Valley, and back to Canton. All the rides are fully supported with SAG vehicles and rest stops.
Afterward, of course, there's a post-ride celebration at the Canton Waterfront Park, with food trucks—tentatively including Aladdin Grill, Gypsy Queen, Kommie Pig, Koopers Chowhound, Pizza di Joey, and Green Bowl—plus vendors, music, canoe rides, and beverages, courtesy of New Belgium Brewing.
Walk-up registration, which includes two beers, is available the morning of the event.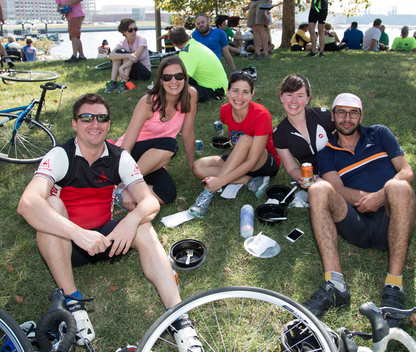 Exhibitors at Tour du Port include a number of the region's bike clubs and bike shops. Also, on display at
the Bike Maryland tent will be Tom Palermo's last bicycle frame. An accomplished bicycle
builder and married father of two, Palermo was killed in a tragic crash on Roland Avenue last December.
Schedule of Events:
7 a.m: Registration begins
7:15 – 7:45 a.m: Raven Challenge and The Urban Adventure riders leave
7:45 – 8:15 a.m: Port to Peninsula Loop riders leave
8:15 a.m: Harbor Loop riders leave
10:30 a.m – 3:00 p.m: Lunch with food trucks, New Belgium Brewing, and music at
Canton Waterfront Park.