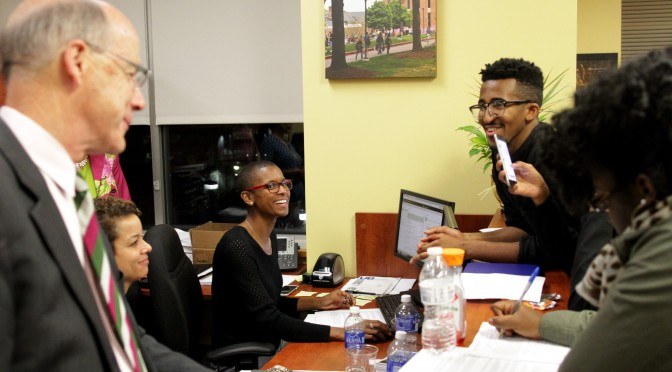 Courtesy of The Towerlight
Early Thursday morning, Towson University interim president Timothy Chandler signed a document pledging to address concerns brought forth by a group of student activists.
More than two-dozen students staged a sit-in at the interim president's office after experiencing "oppressive occurrences" at the school. Such incidents, the students say, included "egg shells and racial slurs being thrown out of windows, racial slurs being shouted at house parties, sexual and racial epithets from classroom professors, lack of representation in black faculty on the tenure track, lack of cultural competency in our peers and professors, and the discontinuation of the Towson Debate Team."
The protests come at a time when universities nationwide are speaking out about increasing tensions regarding the experiences of black students. Most recently, University of Missouri protests, driven by instances of intolerance on campus, led to the resignation of the university president.
For more than eight hours, university administrators and legal counsel discussed the concerns and requests of students. Around 12:40 a.m., after several rounds of revisions, the group agreed to a list of institutional changes.
"I want to thank you all for your terrific work on this," Chandler told the students after signing. "I admire your courage hugely, I admire your stick-to-itness [sic]. Now please don't let this be the end of the conversation. Please let this be the beginning of the conversation."
News regarding the agreement traveled fast as student activists, student media, and community members took to Twitter using the #OccupyTowson hashtag.
Interim President Chandler on what just happened. pic.twitter.com/oaA0bj7odB

— The Towerlight (@TheTowerlight) November 19, 2015
"I realize that there is a lot of work to come, but I feel like I am going to celebrate today and yesterday's victory because I do see it as a victory," student activist Breya Johnson told Towson's student newspaper The Towerlight. "As a person who is committed to mental and emotional health on this campus, it's nice to see that we have staff on our side and people on our side committed as well."
As part of the agreement, Chandler vowed to step down should he fail to follow through. "I am acknowledging that in the event that I do not keep my promise and begin to address these concerns, I will resign as president of this University for failing to effectively represent black students," the last line of the document reads.
The full list of changes Chandler plans to implement can be found here.