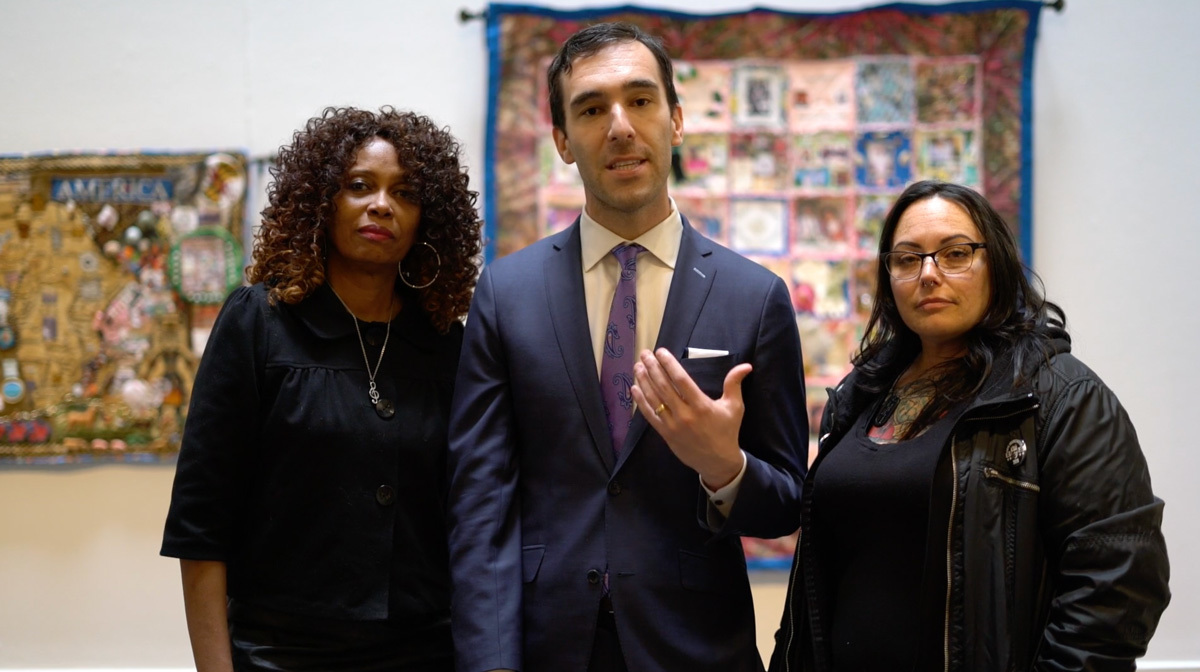 When Tina Giles Forrester spoke with her husband Jim Forrester on December 18, 2017, she didn't know that it would be the last time she would hear his voice. Just outside the Baltimore Tattoo Museum, where he worked as a body piercer, two men approached him while he was on the phone, shot him, and ran off. Through the phone, that was now laying on the sidewalk, Tina heard everything—people yelling, sirens, and first responders saying that her husband was gone.
"I heard them say, 'We got nothing,'" she said. "I know what that means."
Instead of letting her grief consume her, Tina decided to use it as fuel. City Councilman Zeke Cohen reached out to see what he could do to help her with her plan to help the at-risk youth in Baltimore. 
"I sat down in his office and went off like a rocket," she said. "He just sat there and listened to everything I had to say. Afterward, he told me he had someone I needed to meet."
That someone turned out to be Victory Christine Swift whose son, Victorious Swift, was killed on March 26, 2017 just weeks before graduating from the Baltimore Design School. Mama Victory, as she's affectionately known, developed Our Victorious City, an organization dedicated to continuing her son's work in the community. Although something so tragic brought the two women together, they shared the same determination to prevent someone else from feeling their pain.
"Victorious loved Baltimore," Victory said. "He loved his school, and he loved helping others. We created Our Victorious City out of that same energy and his commitment to serving others. We just want to help young people in Baltimore to have a better future."
Joined by Cohen, the two women came up with the Swift and Forrester Scholarship Fund to honor the legacy of both Jim and Victorious with the hopes of ending violence and providing an opportunity for the next generation of children in Baltimore to thrive. 
The memorial fund will be split across three different scholarships. Through Our Victorious City, there will be a scholarship awarded to families of homicide victims. In order to memorialize Victorious' commitment to community service, a graduating student from the Baltimore Design School will be awarded a scholarship to pursue higher education. The last scholarship is for a Baltimore City Public School student who wants to pursue a degree in music to honor Jim's legacy and love of music. 
These scholarships are not for any typical student. Although logistics are still being worked out, the pair want to target the youth in the city who are "typically forgotten about."
"I wanted to find a way to provide an opportunity to kids who are completely off track," Tina said. "I don't want to give this to kids who are already on the right path, there are already programs out there for kids like that."
Currently, Tina and Victory are raising funds for the scholarship programs through a GoFundMe page. To date, the campaign has raised more than $3,600 towards the $10,000 goal. Tina says that every little bit helps, and they are grateful for the support they have received thus far.
"Sometimes in life, we are either born into situations or we put ourselves in these situations where we feel like there's no turning back," she said. "We want to eliminate that for as many people as possible. We know that if someone was there to help the troubled youth, Jim and Victorious would still be here. If you can affect one kid, it will multiply."