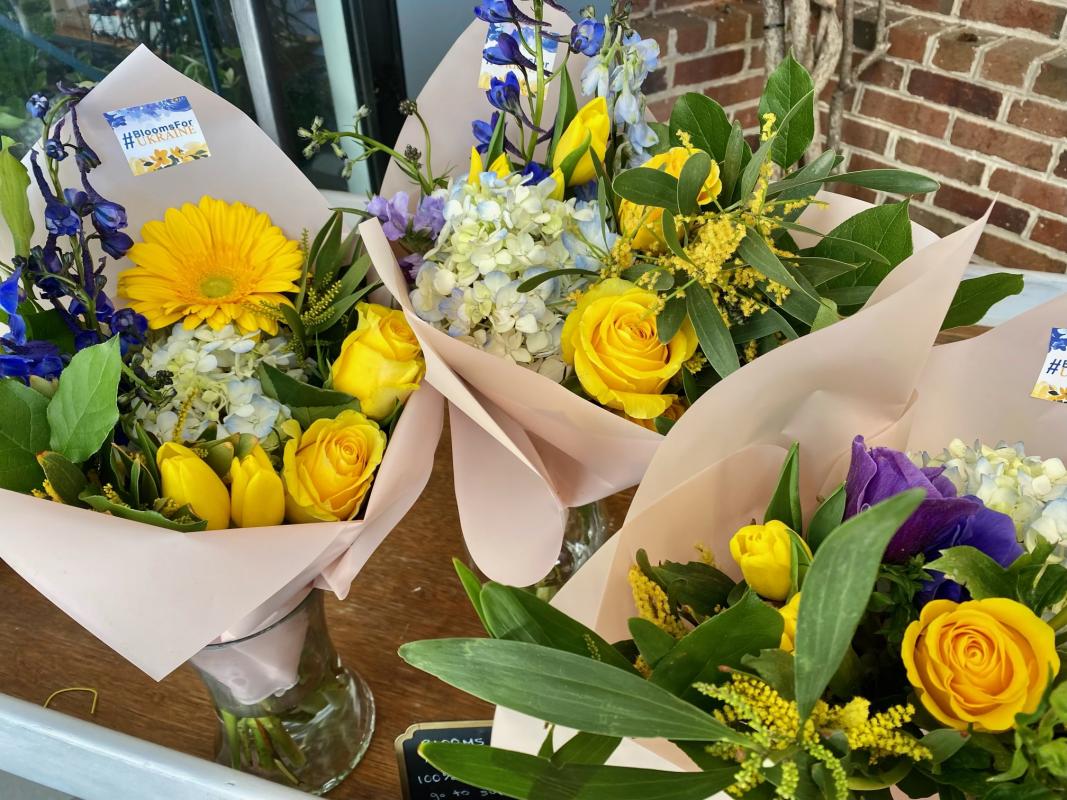 —Courtesy of Victoria Clausen
Victoria Clausen, the owner of Floral Fêtes in Pikesville's Green Spring Station, was born and raised in Dnipro, Ukraine, and lived there until she moved to the United States when she was 21 years old. Her mother is Russian and her father is Ukrainian, which, she says, makes the current crisis—more than 9,000 deaths have been reported since Russia invaded Ukraine last week—especially painful.
"I spent the first several days crying and feeling like there was nothing I could do," Clausen says. "Especially in the beginning, people in Ukraine felt like they were fighting all that evil alone and that was just really breaking my heart, besides the fact that there were bombs falling all over the country where I grew up. The world was watching and doing nothing."
That feeling of helplessness was what motivated Clausen to engage the community in an effort to provide relief to those suffering in her home country. Clausen has begun selling blue-and-yellow flower arrangements to benefit Ukraine, with 100 percent of proceeds and 15 percent of all store sales being directly donated to her family and friends on the front lines—who are assisting refugees and actively fighting to protect Ukraine. Among those people is her cousin, a Ukrainian navy officer fighting in the Black Sea. 
"All my friends that I know, my mom, my brother, they are all volunteering to do whatever they can to support this fight for survival," Clausen says. "I have friends and family in the Odessa region that are bracing for attack. I've gotten texts that there are a lot of sirens and people taking cover constantly."
All monetary contributions are being collected through Clausen's Venmo: @Victoria-Clausen-florals. The bouquets are available for pickup and delivery at Floral Fêtes (Clausen will also sell them at Green Spring Station's Shop Small Warehouse Sale this Saturday from 10 a.m.-4 p.m.), as well as other area businesses including Core Cycle Studios, HD Marigold, Lucky's Baltimore, Cake by Jason, Shop Taken, Sassanova, and Helen Olivia Floral Design. 
The fundraiser will last as long as Clausen can keep it going to provide support during and after the war. Fittingly, the blue-and-yellow bouquets are inspired by the Ukrainian flag, the blue representing the sky and the yellow, a field of wheat. Clausen describes it as one of the most peaceful flags in the world.
"It is a nation that wanted nothing but peace," she says. "Flowers have a major power of transformation, and the meaning of flowers to me is life. So, I felt like it was very fitting."
To further spread the word, Floral Fêtes is encouraging people to post photos of their bouquets using the hashtag #BloomsForUkraine. 
"It's one thing to hear the United States is with you," Clausen says. "Another thing is to click on the hashtag and actually see people who are supporting, who are praying."
In keeping with that sentiment, throughout the past week, several other local businesses have joined the charge to support Ukrainians in need. Two Crabs Bakery, a local pop-up run by pastry chefs Theresa Louis and Christopher Audia, is participating in the Hamantaschen for Ukraine initiative—which calls on bakers all over the world to donate portions of sales from the three-pointed treats to relief efforts. Two Crabs will contribute $1 from each cookie sold on March 5 to Polish Humanitarian Action and World Central Kitchen's Chefs for Ukraine program. 
Additionally, Fells Point bars Max's Taphouse and Kooper's Tavern are contributing 100 percent of proceeds from their Ukrainian alcohol sales to World Central Kitchen, and Fells Point Main Street is encouraging neighbors to do the same. Liliya Martynyuk, a Ukrainian-born server at Perennial in Towson, has begun a donation drive for items including non-perishable food, blankets, tents, sleeping bags, and first-aid kits. In South Baltimore, the B&O Railroad Museum is illuminating its historic Roundhouse in blue and gold lights to stand in solidarity.
For those looking for an event to show support while connecting with the local Ukrainian community—this Saturday, March 5, The Dnipro Ukrainian Club in Canton is holding a fundraiser from 11 a.m. to 5 p.m. Local Ukrainian-American Zach Wenger, whose grandfather ran the club until his passing in 2005, will host the event with raffles, door prizes, food, drinks, and music—all to benefit the Ukrainian relief efforts. On April 2, the club is partnering with Flagship Cinemas in Eastpoint to screen Uke: The Untold Story of Hockey Legends and donate portions of ticket sales. 
For Clausen, the initial hope was to raise a couple thousand dollars to help with the evacuation of disabled youth to Poland, and overall donations for that effort have risen close to $10,000. Clausen says those contributions have already provided the purchase of two all-wheel drive vans from Switzerland to be outfitted as field ambulances, which are desperately needed in Ukraine. Clausen encourages all forms of help, be it a financial contribution or prayer.
"I feel like this is an amazing help for Ukraine, but I also think it is an amazing thing for all of us here to think beyond ourselves and do something that makes a difference in the world in general," she says. "This is not just a war on Ukraine, now this is much scarier."
She says she has been brought to tears by the response from the community. Aside from receiving donations and messages from clients she hasn't seen in years, she was moved by the local business owners—some she has never met—who reached out wanting to buy and sell flowers at their shops.
"I believe in humanity much more," she says. "I feel encouraged, and I feel closer to everybody in Baltimore. When I came here, I didn't have anybody, I had a couple friends. I feel like my family here has grown by leaps and bounds through this experience. I am just beyond grateful, and all around touched by this support."
Clausen's one piece of advice as the war continues? "Just be kind to each other," she says, "because lives are so fragile."