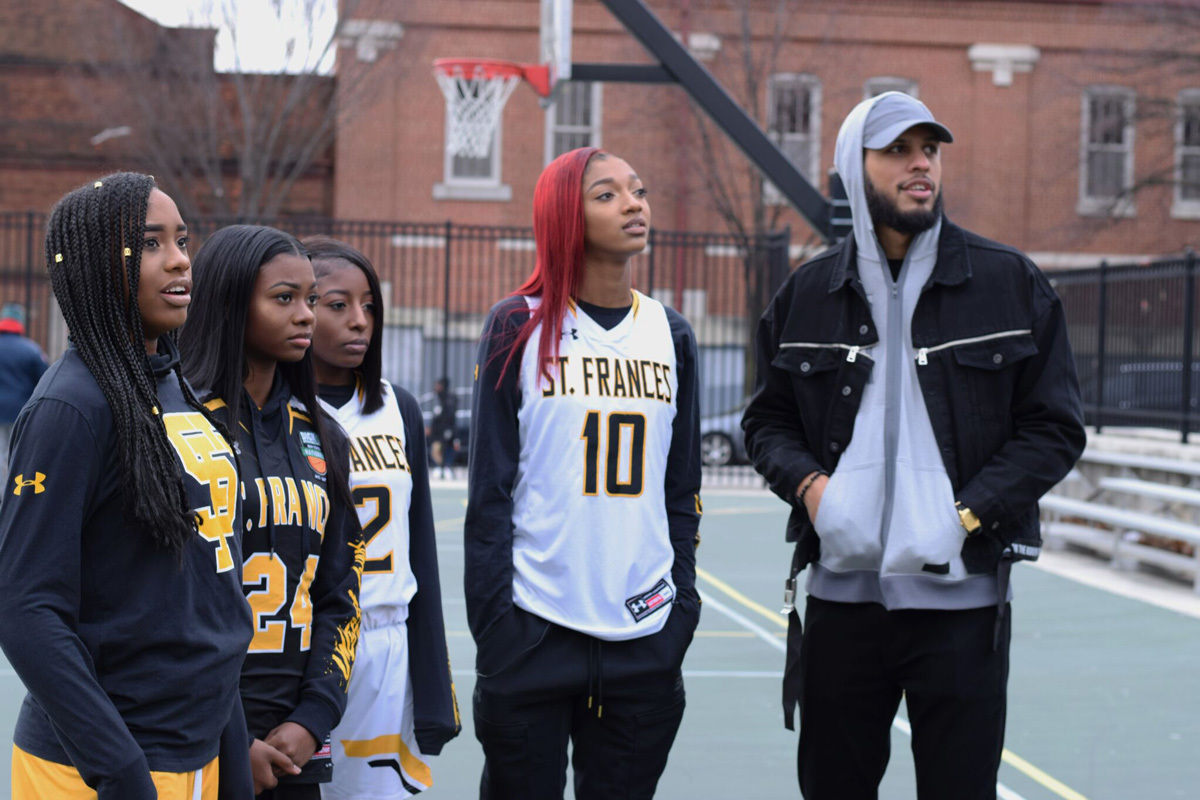 Under Armour Basketball
Although Baltimore isn't known for a professional basketball team, the city has groomed some of the best in the NBA—Mugsy Bogues, Will Barton, Reggie Lewis, and Carmelo Anthony, to name a few. Under Armour (UA) Basketball's new YouTube series Home Court that launched on July 12 features some of Baltimore's rising stars in basketball and focuses on the culture surrounding the sport.
"We wanted to create this series to start a conversation around the intersection between basketball and culture and how that cross-section varies between different cities," said Justin Brown, brand manager for UA Basketball. "We chose Baltimore to launch the series not only because it's home to UA, but also because the spirit of the city is so unique and powerful, and we are excited to spotlight it for those outside of the city."
The first season of this inaugural series spotlights Baltimore by exploring the cultural impact that basketball, style, food, and music has on the city. The audience goes on a journey with Sarunas Jackson from HBO's Insecure as he visits local basketball courts, goes to iconic establishments, and meets with local players.
"We looked for key players that were local or had a strong tie to the community while embodying the same tough yet charming attitude for which Baltimore is known," said Brown. "There were so many triumphant stories of how each individual took their own experience with their resilient and resourceful nature to hustle harder than the rest and ultimately give back to the city, which was very inspiring for us to showcase."
The first episode features local Baltimore legends Aquille Carr and Terry Hosley discussing the cross-town rivalry between East and West Baltimore ballers. The St. Frances Academy girls' basketball team is featured, as well as NBA guard and Baltimore native Will Barton and his youth basketball squad, Team Thrill, which he founded to keep kids off the streets.
"It makes them want to do something good and it makes them feel better knowing that they are representing something other than themselves," Barton says in the episode. "They are representing the city."
In the episodes that follow, Jackson visits the East Baltimore hotspot Sunny's Subs with rapper A$AP Ant from West Baltimore as they discuss the unique cuisine that is the chicken box. Jackson also meets up with Nacho Bangers owner Eric Williams in McElderry Park to talk about his love for food and giving back to the city that raised him.
"The high school kids, the athletes there, when they bring their energy to Nacho Bangers, we share our energy with them," Williams said. "It's to help them build. Baltimore inspired me to show you not only what we go through in our city, but how great we can be."
In the final episode of the series, Jackson sits down with local musicians TT The Artist and Bond St. District to discuss the connections between music and sports in Baltimore.
"I think that the two worlds are so intersecting right now with hip-hop being such a big genre right now and sports being something that's very much involved in the community," TT said. "I think it's just a natural intersection."
According to UA Basketball, this series is the first of many. The ultimate goal is to show that "ball is life" for some in cities like Baltimore, and that it helps to shape the communities where the game is played.
"We wanted to explore how it specifically impacts these subcultures," said Brown. "We know the influence of the game transcends the court."