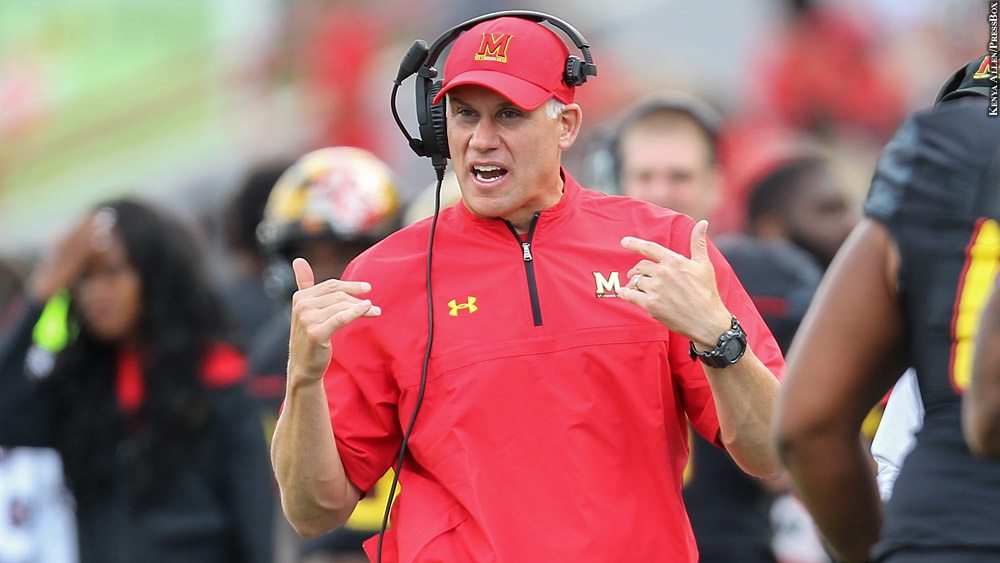 (c) 2017 Monumental Sports Entertainment. All rights reserved.
I didn't want to write again about Jordan McNair's death and the University of Maryland's responsibility in it, and mishandling of it. We've done that twice already (here and here), but acknowledging what happened this week in College Park is sort of unavoidable.
"Losing a child," my neighbor said, speaking from experience, "it's a horrible thing, and they're disgracing him." We crossed paths as he listened on his phone to heated sports talk radio discussion about the University System of Maryland's board of Regents decision Tuesday to reinstate then-Maryland head football coach D.J. Durkin.
Meanwhile, university president Wallace Loh said he would "retire" this summer, in an obvious sign of disagreement with the board's apparently premediated move to keep their $2.5 million per year football coach, in the third year of his five-year contract, even after an internal investigation stated, "the Maryland football team did not have a 'toxic culture,' but it did have a culture where problems festered because too many players feared speaking out."
A day later—only after Martin McNair, Jordan's father, said "I feel like I've been punched in the stomach and somebody spit in my face," only after his mother said, "I miss my son every day, and today, it just didn't help," only after some players walked out of a team meeting and boycotted practice, and only after The Washington Post's Sally Jenkins wrote a scathing column headlined "Don't let your sons play for DJ Durkin"—did the course change.
After the widespread outrage—which any human with common sense could see coming—Loh announced Wednesday night that Durkin was fired, and yesterday board of regents chair James Brady said that he was resigning, both decisions made, they said, to move the university forward from the furor amid the sorry state of affairs.
The reality of the consequences of a tragic loss of life finally reached the tone-deaf 17-member board, which Brady admitted had dissenting opinions about bringing Durkin back. "I understand that reasonable people could come to other conclusions," he wrote. "And even among our board, some did."
Even if Durkin still had support of some players—some have said as much—was he just supposed to return to the sideline on Saturday against Michigan State, the Terps would win and become bowl eligible and everybody would celebrate it afterward? No. That would be uncomfortable at best and incomplete at a minimum.
I searched this morning to see if Durkin made any public comment about McNair's death immediately after it happened in June, and was reminded that he did as part of a 13-minute press conference, a day after the previously healthy 19-year-old former McDonogh lineman died after a liver transplant failed to save him from the damage that had been done during an organized conditioning workout two weeks earlier on campus.
"My heart is broken," Durkin said, "for the reason that we're all even sitting here, having this press conference . . . It's not reasonable that a 19-year-old should pass away." Still, he took no responsibility for what happened and, in fact, the tone of practice resumed in August as if nothing had changed, a few players told ESPN in a national news-making report, which started to reveal details of the circumstances of McNair's death.
It's hard to imagine the university handling the situation any worse. Even the most ardent alumni have turned sour, and Durkin is still owed $5.1 million, according to the buyout terms of his contract. Here's a good timeline of the events.
The Maryland board of regents met five times to arrive at their decision. The public overturned it in 24 hours.

— Stewart Mandel (@slmandel) October 31, 2018
Signs of a "maybe people will forget about this" approach manifested in July, when the school released a brief statement to the media describing the circumstances of McNair's death at a team workout, but did not disclose the cause of death, citing privacy concerns. Four days later, McNair's family did it for them, saying their son died of heatstroke.
It took two months for the school to release results of a first external investigation (paid for by them of course) to say that the athletic training staff had failed to properly diagnose McNair's condition. After details of what happened and the alleged culture of the football program emerged in the media, Loh finally said in August that the school accepted "moral and legal responsibility" for McNair's death, but everything the administration had done before and after has suggested otherwise.
If McNair's family didn't have a powerful law firm working for them that pressured the university at every important stop along the way, it would have been status quo. If players didn't anonymously talk to the media (the only power they have in the big-money NCAA college football world), strength and conditioning coach Rick Court—Durkin's right-hand man who reportedly said, "Drag his ass across the field!" the day McNair was ultimately ambulanced to the hospital—wouldn't have been fired on August 14.
So, only now, 142 days after Jordan McNair died and after a public outcry—students rallied for him on campus as late as Thursday night—can healing now begin. Only now can players walk around campus without wondering if the people in charge when their teammate died will be coming back, though athletic director Damon Evans is still on the payroll.
It will take years for the school to recover, but that's nothing compared to the lifetime for McNair's family and friends.