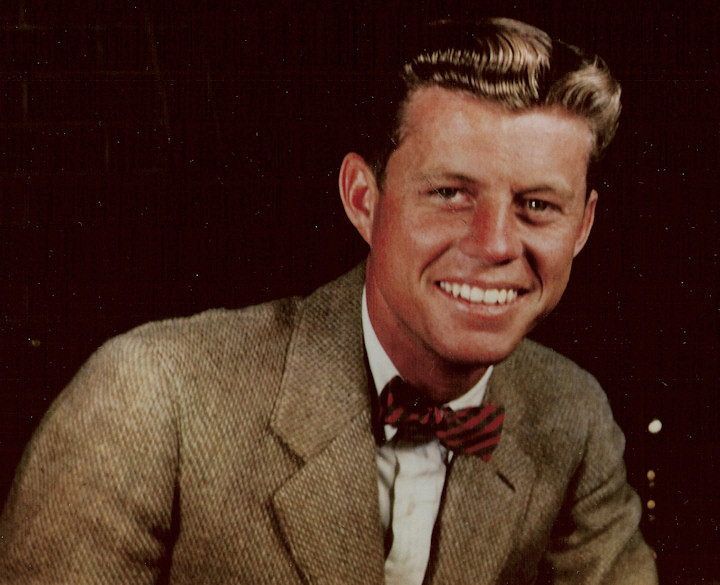 Before he was a war hero, a congressman, a senator, and the youngest man ever elected president, John F. Kennedy was just your average really, really, really ridiculously good-looking rich kid, goofing off with his friends at the 1940 Maryland Hunt Cup. The storied steeplechase, which began in 1894 as a competition between the Elkridge and Green Spring fox hunting clubs, will be run for the 121st time this weekend.
As old home movies show, young JFK—then a 22-year-old Harvard senior—enjoyed the race and its subsequent ball with Harvard classmates Cammann Newberry and William C. Coleman. The privileged trio—who went by the nicknames Big Moe (Coleman), Middle Moe (Kennedy), and Little Moe (Newberry)—are seen frolicking in the muddy Maryland countryside with friends and family, and indulging in some exceedingly dapper horseplay before the big soiree.
Ostensibly, young Kennedy found himself in the Worthington Valley countryside that weekend at the invitation of Coleman, whose family were prime Maryland WASPs. 
If JFK looks comfortable in such hifalutin company, it is no wonder. He had already experienced more in his 22 years than most do in a lifetime. Much of this was due to his father, Joe Kennedy. By the time JFK was 10, his father had amassed one of the country's great fortunes. In 1940, the elder Kennedy was serving as the U.S.'s Ambassador to Great Britain, having already completed stints as a banker/Wall Street broker, liquor importer (some say bootlegger), Hollywood producer (including a torrid affair with Gloria Swanson), and founding chairman of the Securities and Exchange Commission under FDR. Famously ambitious, Joe Kennedy wanted his children to have full access to the highest echelons of society, something that had been denied him in his own youth because of his Irish-Catholic ethnicity. As a result, his nine children lived luxurious—if peripatetic—lives, flitting between expensive boarding schools and family residences in Bronxville, NY; Palm Beach, FL; and, of course, Hyannis Port, MA.
The flip side of this life of leisure and glamour was JFK's precarious health, which started in childhood and continued all his days. He is seen in the footage drinking milk, which was prescribed by his physicians for chronic digestive issues. Kennedy also suffered from Addison's Disease, a malfunctioning of the adrenal glands, which kept him very slim. Later in life, he would endure bouts of sometimes debilitating back pain, among other ailments.
But all that seems miles away in this video of exuberant young things larking about in the picturesque Maryland countryside. Seen here, JFK certainly appears to the manor born. With his preppy good looks and irresistible charisma, it's easy to believe that, in 20 years, he'd make history as the nation's first (and so far only) Catholic president.
Some interesting historical footnotes: 
The winning horse in 1940 was Blockade, one of only a handful of horses to win the race three times. Like just about everyone involved with the Maryland Hunt Cup, Blockade boasted a pedigreed lineage. His sire was the famous thoroughbred racehorse Man o' War.

Also shown in the documentary is JFK's favorite sister, Kathleen—or Kick, as she was known. Kick lead her own remarkable life. Defying her devoutly Catholic mother, Kick would marry an English (and—gasp!—Protestant) aristocrat named William Cavendish. Though Cavendish would die in WWII, had he lived, Kick would eventually have become the mistress of Chatsworth, one of the U.K.'s premier estates. For reference, if you've ever seen the 2005 Keira Knightley version of Pride & Prejudice, you've seen Chatsworth. It's used as Mr. Darcy's Pemberly. Like her husband, and so many of her brothers and sisters, Kick would meet a tragic end herself. She was killed in a plane crash in 1948 at the age of 28. 

JFK is seen smoking a cigar, an indulgence he continued for the rest of his life. 

At least one JFK biography says that, on this same weekend, JFK was in Charlotte, North Carolina, at the wedding of Frances Ann Cannon, one of his first serious girlfriends. How he managed to attend both that ceremony and the Hunt Cup festivities is unclear.  

When JFK would return to Harvard, he would receive his grade for his honors thesis, Appeasement at Munich (The Inevitable Result of the Slowness of Conversion of the British Democracy from a Disarmament to a Rearmament Policy). Expanded, edited, and renamed Why England Slept, the book would become a bestseller and help launch JFK's political career.

Had history unfolded differently, JFK could, conceivably, still be alive today. May 29, 2017, will mark his 100th birthday.