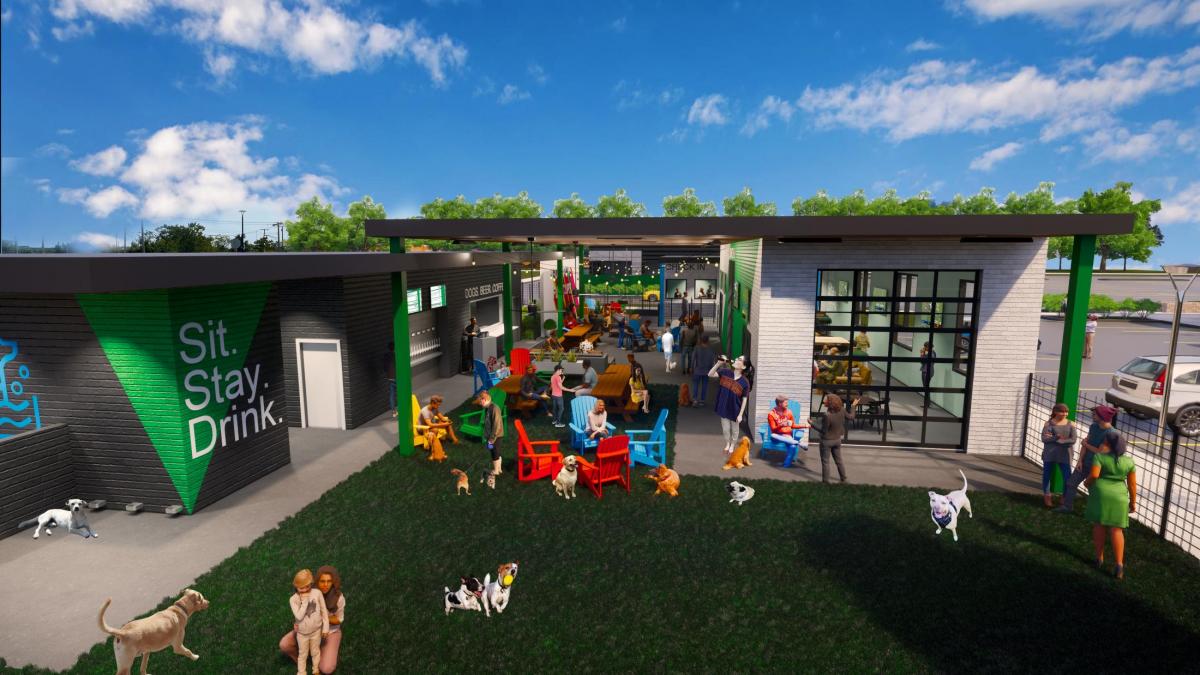 —Renderings courtesy of Bark Social
[Editor's Note 4/26/22: Bark Social is slated to open to the public on Friday, May 6. More information on membership and menu can be found, here.]
Local business owner Luke Silverman says his dog bar concept in Bethesda satisfies three simple pleasures: dogs, beer, and coffee. Soon, locals will be able to experience the indoor-outdoor hybrid hangout when a new Bark Social opens in Canton—occupying the vacant lot at 3822 Boston Street across from The Shops at Canton Crossing—in the winter of 2021. 
The membership-based dog park arrives on the heels of a spike in local pet adoptions throughout the pandemic. Not only does Silverman want to create a space for dog owners to let Fido run free, but he also is looking forward to providing a fun social environment for humans. (Even those who don't have dogs will be welcome to grab a drink and some food while watching the pups play.)
"It's a great way for people to get back out there, meet their friends, meet new people, and just kind of get back to normalcy," Silverman says. 
The inspiration for the concept came from another dog park in Austin, Texas, where Silverman lived before moving back to Maryland. He set out to bring the new type of dog-friendly entertainment venue to the Mid-Atlantic, and brought on business partner Jeff Kurtzman, a Columbia native, along the way.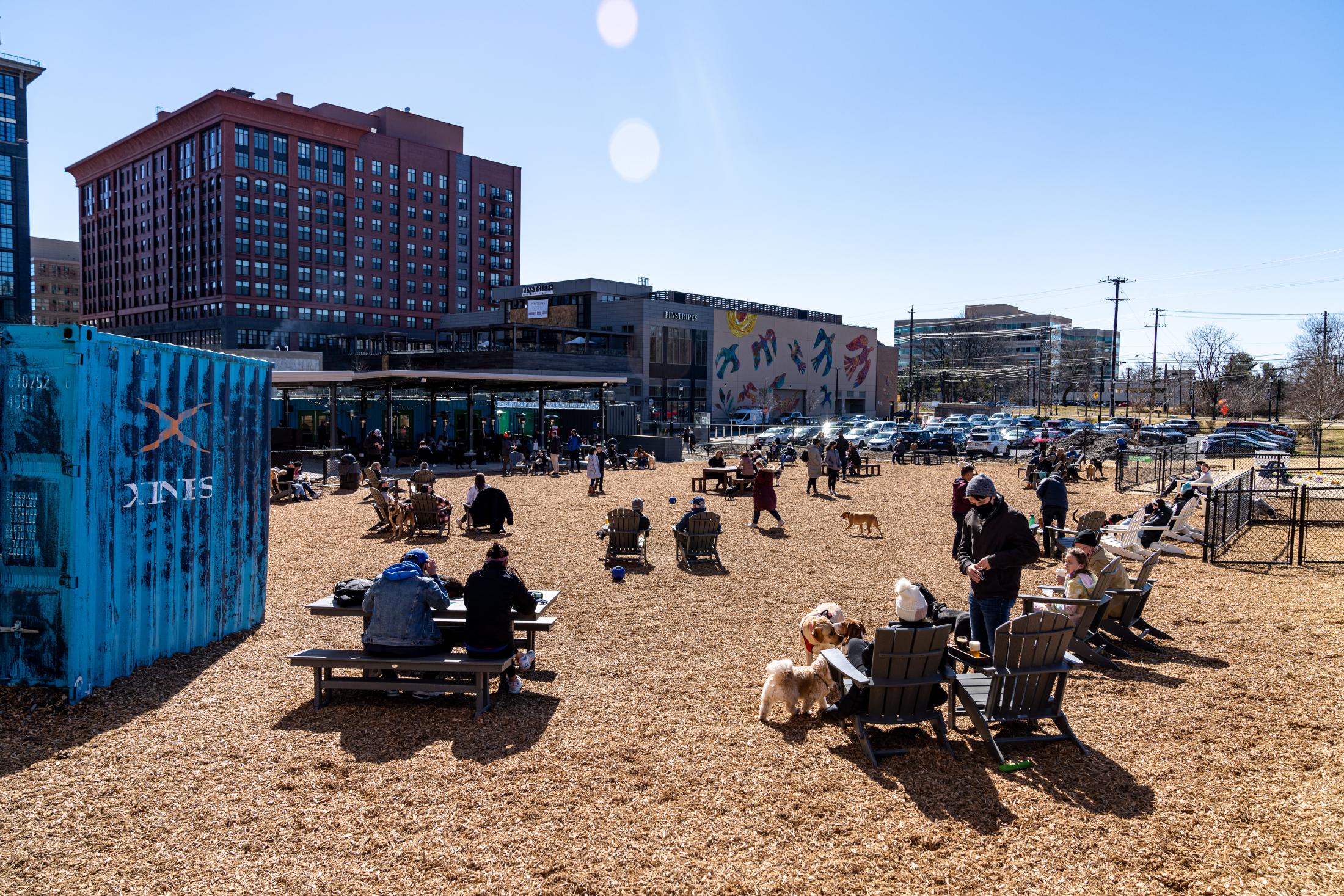 "People are crazy about their dogs in Baltimore, and especially in Canton," Silverman says. "It's a great town for this."
In addition to establishing a place for the dog community to meet, Bark Social will offer a coffee program for pet parents to grab a cup of joe and pastry before work, as well as a bar with beer, wine, seltzers, and cocktails for afternoon and evening gatherings.
"Good dogs and good drinks, that's kind of what we're about," says Silverman. 
Here's what you—and your canine—can get excited about as the new spot prepares to open later this year. 
An off-leash park monitored by "Bark Rangers"
With the help of professional "Bark Rangers" supervising the area, the hope is that owners feel comfortable letting their dogs roam free in the gated, 15,000-square-foot facility. The rangers monitor your pet and regularly clean the park by picking up after your dog, rinsing down surfaces, and disinfecting. Monthly memberships start at $40, and day passes start at $10. 
Morning coffee and evening drinks
Stop by in the morning to let your dog get their exercise in while you grab your favorite pick me-up—whether that be a macchiato, matcha latte, iced tea, or pastry. And there's free WiFi for members who want to bring a laptop and work remotely. In the evenings, the food and beverage lineup will include eats like pizzas and sandwiches, as well as a selection of beers crafted by local breweries like Charm City Meadworks. The bar will also feature flat screens so you can catch Orioles or Ravens games while the dogs enjoy their playtime. 
A pet-friendly menu for pups
Our furry friends deserve to indulge, too. The dog-friendly menu will list everything from sweet treats like the "Mini Pup Cake"—a carrot cake with peanut butter frosting—to special drinks like the "Pupmosa"—combining beet juice, chicken broth, and whipped cream.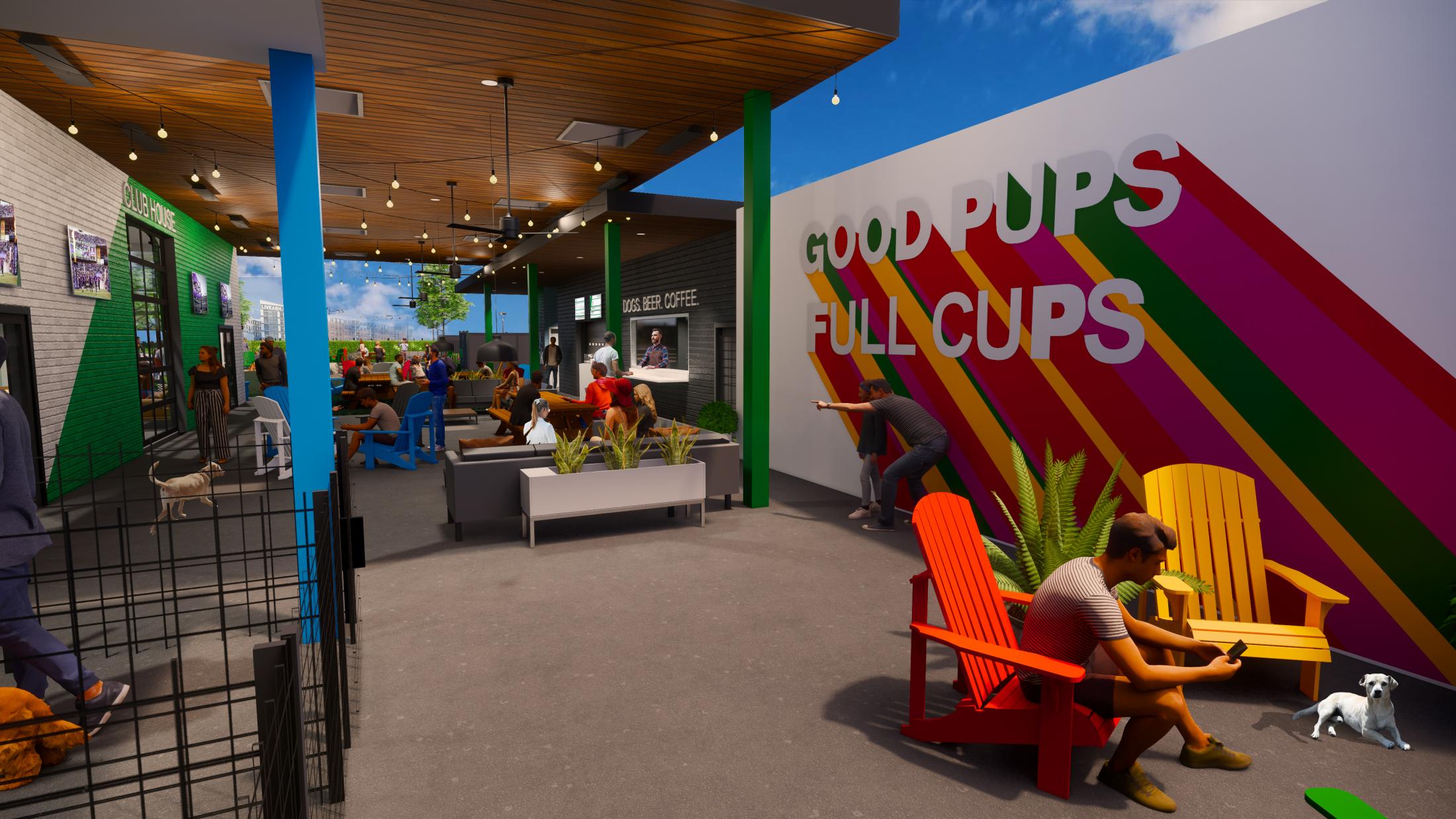 Community events
The owners hope to use the space to host gatherings for both humans and animals. Case in point: At the Bethesda location, Bark Social has put on everything from drag brunches to "crazy dog mom" events with local community platform Dogs of Charm City. These types of festivities can also be expected at the Baltimore location, Silverman says.   
Partnership with BARCS
In celebration of the dog bar's opening—and in recognition of Baltimore's dog community—Bark Social is partnering with the Baltimore Animal Rescue and Care Shelter (BARCS) to launch a special t-shirt that reads "Rescue dogs are my favorite people," which was designed with Dogs of Charm City. With each purchase, BARCS will receive a $4 donation to help dogs in need. The shirt is on sale online now and will be available to purchase in person when Bark Social opens.