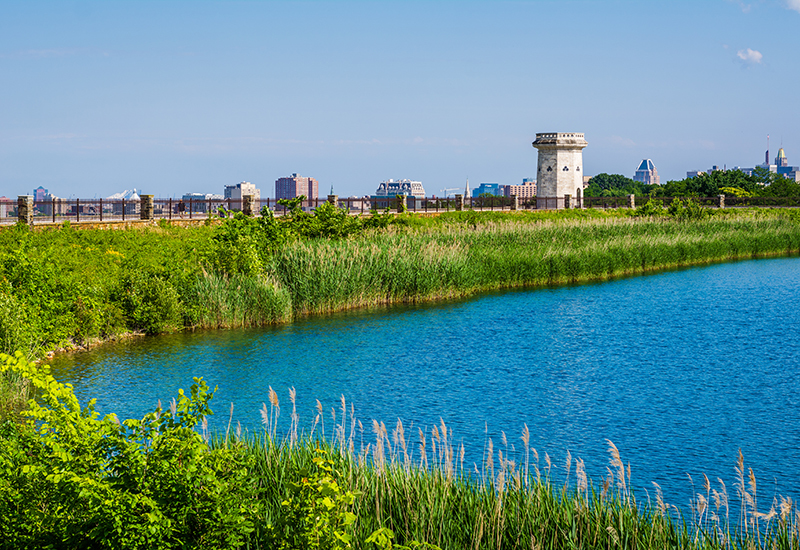 As the overhaul of Druid Lake Reservoir passes its projected halfway point, city planners and officials are plotting their next move in order to turn ideas into concrete action.
The process—in which two storage water tanks are being buried under the lake in an effort to increase the efficiency of water reserve turnover and, in effect, improve the quality of drinking water—got underway in June 2017. The project also includes plans for improvements and added amenities throughout Druid Hill Park, and is expected to be completed by March 2022.
"This really is about protecting the water supply for Baltimoreans," says Councilman Leon Pinkett of Baltimore's 7th District, which includes Druid Hill Park. "Because of the advocacy of the community and the desires of Recreation and Parks, we are trying to take what would be a public works project and make it an effort to beautify and enhance Druid Hill Park."
The Baltimore City Department of Public Works and the city's Recreation and Parks Department are both working on aspects of the $135 million development. Adam Boarman, the chief of capital development at Baltimore City Recreation and Parks, hopes to begin gathering community feedback this summer to catalog improvements residents would like to see. Decreasing the size of the lake—part of the plan to build the tanks at the park and avoid excavating new holes—will create additional acres of green space to be used for community activation.
Among the proposals already floated are an amphitheater for small concerts, a wildlife conservatory, and a lakeside cafe. But Boarman hopes that these discussions will spark a bigger vision.
"In developing a vision plan, we want to gather feedback from the community, look at [the redevelopment] as a regional destination, and figure out what kind of amenities people are looking for," Boarman says. "I feel that what is proposed now is somewhat vanilla in nature and has tremendous potential."
Boarman is in favor of expanding upon the amphitheater, citing Frank Gehry's work at Chicago's Millennium Park as a precedent model to draw inspiration from. He also sees an opportunity to foster new habitats and introduce fish, native plants, and turtles into the reservoir.
Meanwhile, Pinkett envisions Baltimore Symphony Orchestra concerts and creating other ways to highlight city institutions. If all goes as planned, the renovations will also result in the park becoming more accessible for recreational activities like kayaking and fishing. Another hope is to introduce improved running and biking routes.
"Druid Hill Park is one of the greatest green spaces in our city," Pinkett says. "It could benefit from having spaces that really allow for community gathering and activating some of that green space. This construction project presents a unique opportunity to really address some access issues that have long been neglected."
Recently, the discourse about what the park can be has evolved into a broader conversation addressing how Baltimore should approach development in city spaces overall. In February, renovations to the Druid Hill Aquatic Center totaling $10 million were approved, but there has been controversy about the proposal to build an additional parking lot across East Drive along with it.
The proposal was approved by the Baltimore Board of Estimates, but will need conditional-use approval—a permit that allows for construction that is otherwise impermissible within a zoning district—from City Council in order to continue forward. At a time when many city leaders have been leading the charge to reduce the amount of cars on the road, additional parking being approved has caused frustration.
"There is a strongly misguided belief that if we are building more capacity for this aquatic center, then we must build more capacity for parking and driving automobiles," says Councilman Ryan Dorsey of Baltimore's 3rd District, who has been an outspoken critic of the proposal.
"The people want a parking lot" is the most amazing thing I've read in comments responding to my belief that our public parks shouldn't be converted into asphalt and taken over by cars.

— Ryan Dorsey (@ElectRyanDorsey) February 14, 2020
For his part, Pinkett is also opposed to the parking lot, adding that it's important to consider all options before acting. "Especially with a park like Druid Hill Park, we need to make sure that we've explored every potential option available to us before we settle on paving for the purpose of parking," Pinkett says. "We should be moving people toward using other modes of transportation besides automobiles."
In many respects, what happens at Druid Hill Park throughout the next few years could be a launching point for the city and serve as a model for future public use projects. It's this mindset that Boarman, Pinkett, and the Department of Public Works are adapting as they enter the next stage of the redevelopment.
"In this line of work there's a fine line between being creative and being unfeasible," Boarman says. "If we can tow that line, then maybe we can come up with something special that serves the Greater Baltimore area. All options are on the table at this point."