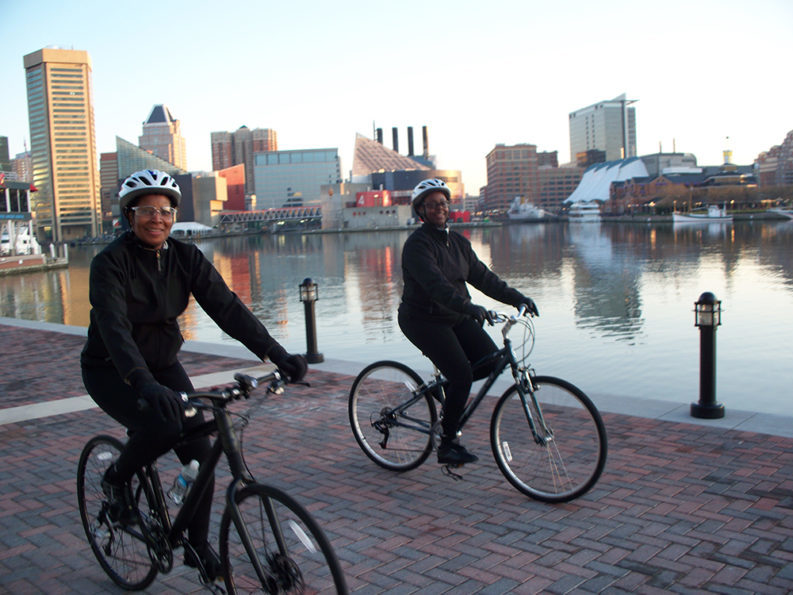 Mayor Stephanie Rawlings-Blake, joined by Baltimore City Department of Transportation director William Johnson, announced Tuesday that Baltimore is once again seeking proposals from vendors interested in managing and operating the city's long-awaited bike-sharing program.
The current plans call for at least 250 bicycles at 25 stations around Baltimore with $2.8 million in seed money already in place, according to city officials. Similar to car-sharing programs like Zipcar, bike-sharing infrastructure offers low-cost memberships for short trips and commutes, typically in high-density residential and commercial areas.
By any comparison, Baltimore's plans are modest: Boston's Hubway bike-share system, launched in 2014, hosts more than 1,300 bikes. Pittsburgh started its bike-share program this summer with 50 stations and 500 bicycles.
To date, bike-share programs are operating in more than 50 U.S. cities, with many more in the "pre-launch" phase. Worldwide, some 855 bike-sharing systems are now functioning, according to the Washington Post. Capital Bikeshare, considered the most successful programs—and one of the first in the U.S. when it began in 2010—now has more 3,000 bikes at 355 stations in D.C., Arlington County, Alexandria, VA, and Montgomery County, adding up to nearly 11 million trips since its start.
The announcement by Rawlings-Blake marks the fourth time that the city has tried get a bike-sharing program off the ground over the past four years. In 2011, Rawlings-Blake announced the approval of an exclusive negotiating contract between the City and B-cycle to develop a bike-sharing program in Baltimore—an effort that ultimately failed when B-cycle was unable to secure enough corporate and private institutional support.
In May of 2013, as part of Martin O'Malley's "Cycle Maryland" initiative, the city's bike-sharing plans were revived when the state provided a grant of $881,300 to fund the majority of the start-up costs a new program. But that effort failed as well when Bixi, the Canadian company contracted to supply the bicycles and equipment, filed for bankruptcy.
Then, in February 2014, Barry Robinson, then-Baltimore City's transit and marine services chief, told Baltimore magazine at Bike Maryland's annual state symposium in Annapolis, that the city had selected Social Bikes, a New York-based company bicycle supplier, to replace Bixi. That plan fell apart when the State Highway Administration and Maryland Department of Transportation required the city's DOT to put forward another Request for Proposal (RFP) before identifying a substitute bicycle supplier—which essentially brings the story forward Rawlings-Blake's announcement this week.
That 2014 initiative, presented by Robinson, also outlined a "Phase II" for Baltimore's bike-sharing program, calling for a second, additional group of 25 stations and 250 bikes, which was to bring the Charm City Bikeshare program to 50 stations and 500 bicycles. City DOT director Johnson, however, indicated there was no formal "Phase II" plan in the city's current plans—other than to say if the initial program goes well, efforts will be made to expand the project.
"Sometimes fumbling your way through and letting other cities make mistakes that you can learn from can be a good thing," said Greg Hinchliffe, a board member of Bikemore, Baltimore's nonprofit bicycling advocacy organization, after the press conference. "But it's generally been frustrating [waiting for a bike-sharing initiative in Baltimore]. Other cities have built light rail systems in the time it's taking."
Lengthy delays have also marred the construction of the city-planned Maryland Avenue cycle track—a dedicated two-way lane that is supposed to a create bicycle route from The Johns Hopkins University in Charles Village to the Inner Harbor area. That project was originally planned to be completed by the fall of 2014, and now is projected for the spring or summer of 2016, according to city officials.
This past December, Robinson—who oversaw the Charm City Circulator bus system and water taxi service, and under whose purview the proposed bike-sharing network fell—pleaded guilty to two counts of bribery following an FBI investigation. At Tuesday's press conference, Johnson said Robinson's dismissal and/or performance had not slowed down the city's effort to bring a bike-sharing program to fruition.
New proposals from potential vendors—such as B-cycle, Social Bicycles, Zagster, Motivate—experienced in managing bike-sharing systems are due by Oct. 21. In addition, the City is also seeking "expressions of interest" from businesses, institutions, and local organizations interested in becoming involved with Charm City Bikeshare through advertising opportunities and program sponsorships.
"There's no higher priority than bike share, and establishing a program in Baltimore," said Jon Laria, serving as chair of the mayor's Bicycle Advisory Commission. "We need it here."
A Google map of bike-sharing programs around the world can be found here.
A rendering of a section of the planned Maryland Avenue cycle track is below: