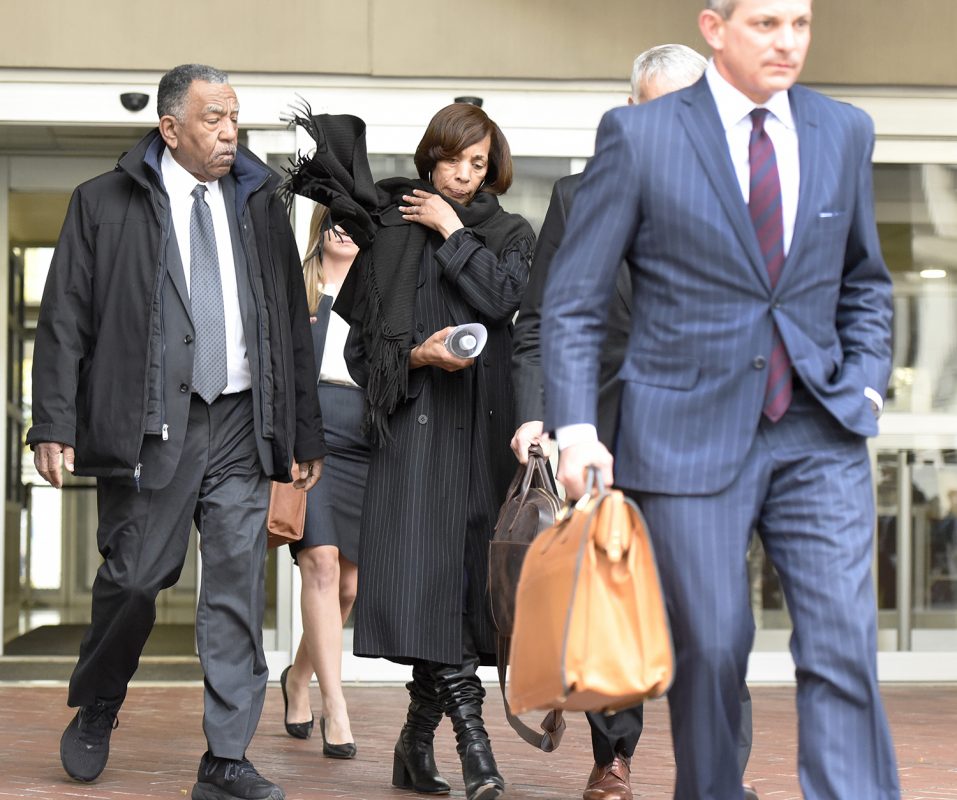 AP Photo/Steve Ruark
After former Mayor Catherine Pugh disappeared from public view over the past several months following her resignation from office, she reappeared last week to issue guilty pleas to charges of tax evasion and wire fraud related to the sale of her self-published Healthy Holly children's books for political and personal gain.
Pugh's sentencing will be held February 27. With her guilty plea to four federal felonies, the rest of her charges will be dropped by prosecutors. Although a maximum sentence on each charge could conceivably put the 69-year-old former mayor in jail for decades, that isn't likely, according to local defense attorneys. The guidelines for Pugh's sentencing, agreed upon by prosecutors and her attorneys as part of her plea deal, will recommend to the judge a length up of no more than five years in prison.
In the lead-up to the February sentencing, Pugh's defense team and federal prosecutors will continue to work on their arguments to present before U.S. District Judge Deborah K. Chasanow.
Attorney David Irwin of Towson firm Irwin, Green, and Dexter says that it's important to remember the presiding judge is not bound to the five-year sentencing recommendation that has arisen out of the plea deal. Each side's preparation will factor into the final sentencing.
"If the guidelines are five years, you're not fighting for probation," Irwin says. "You're fighting to get down to three to four years. It will be quiet from a news perspective until [February]. Unfortunately, it's another public figure caught with their hand in the cookie jar."
As far as the prosecution is concerned, they hope that the evidence they have collected related to Pugh's admitted fraud and tax evasion will speak for itself.
"Assuming the government has evidence and they've looked at her tax returns and money versus what Pugh received for the books, it's a fairly simple case," says attorney Andrew Jay Graham of Kramon and Graham, a Baltimore law firm. "This is a hard one for her to argue a mistake."
Pugh's defense team is likely to make the case that she has been a public servant and worked to improve the city for nearly all of her career. At the same time, prosecutors are likely to highlight she broke the public's trust as an elected official.
As the hearing nears, it is sure to spark debate throughout the city. Earlier this week, Baltimore City Councilman Ryan Dorsey started a conversation on Twitter, asserting that he believes Pugh should not serve jail time.
I loathed everything about Pugh as a Mayor and was infuriated and depressed by the how difficult she made my first years in government, how much more I/we could have done had she been even a decent human, but...

throwing her in jail will do nobody any good.

— Ryan Dorsey (@ElectRyanDorsey) November 24, 2019
Potentially playing against Pugh at sentencing is a scenario in which the presiding judge looks over the facts of the case, and decides it is necessary to send a message that serves as both a warning and a deterrent to other elected officials and public figures to refrain from this type of behavior.
"It's more bad publicity for the city of Baltimore," says Joe Murtha, a prominent attorney at Murtha, Psoras & Lanasa, who was lead attorney for William Porter, the first Baltimore police officer charged in relation to the death of Freddie Gray. "Sometimes judges say, 'There's been a history of this, and we would hope it would end.' For politicians who might be paying attention, you would hope that it would send a message."
Sentencing judges typically take into account the overall character and personal circumstances of an individual who has come forward with a guilty plea. Between now and the hearing, Pugh's lawyers will get written testimony from character witnesses, as well as determine who will give live testimony on her behalf. Local defense attorneys say that Pugh's health and age will become factors that are taken into consideration as well.
"She's a public servant and who had been entrusted with Baltimore City," Irwin says. "There's an argument to be made that you have to make an example of her and give her a significant sentence so that politicians won't feel that they can do stuff like this. It was a violation of public trust."
In public corruption cases like this, there is almost always part of the agreement that is sealed. The contents of this supplement could amount to nothing of note, but it also contains any details related to the cooperation on behalf of the defendant. It's unknown whether Pugh has cooperated with the government in providing information that could aid in recouping money or other materials related to the case, but if she were to do so, it could help her.
"If she is cooperating and there are other people who are to be indicted and potentially prosecuted, the normal agreement that a person makes in a cooperation agreement is to fully cooperate—meaning testifying in a grand jury or trial," Murtha says. "If that is the case, one of the things you would look for is postponement of her sentencing date. That could also be a significant influencing factor on the court's determination."
In the meantime, the former mayor's resignation, guilty plea, and upcoming sentencing will continue to cast a shadow into the new year and over the 2020 race for mayor.
"It appears to be more bad news for the city," Graham says. "It's more adverse publicity. There seems to be a run of that for the past few years. I keep hoping that we'll get some real good news. Right now, the only bright spot is the Ravens."