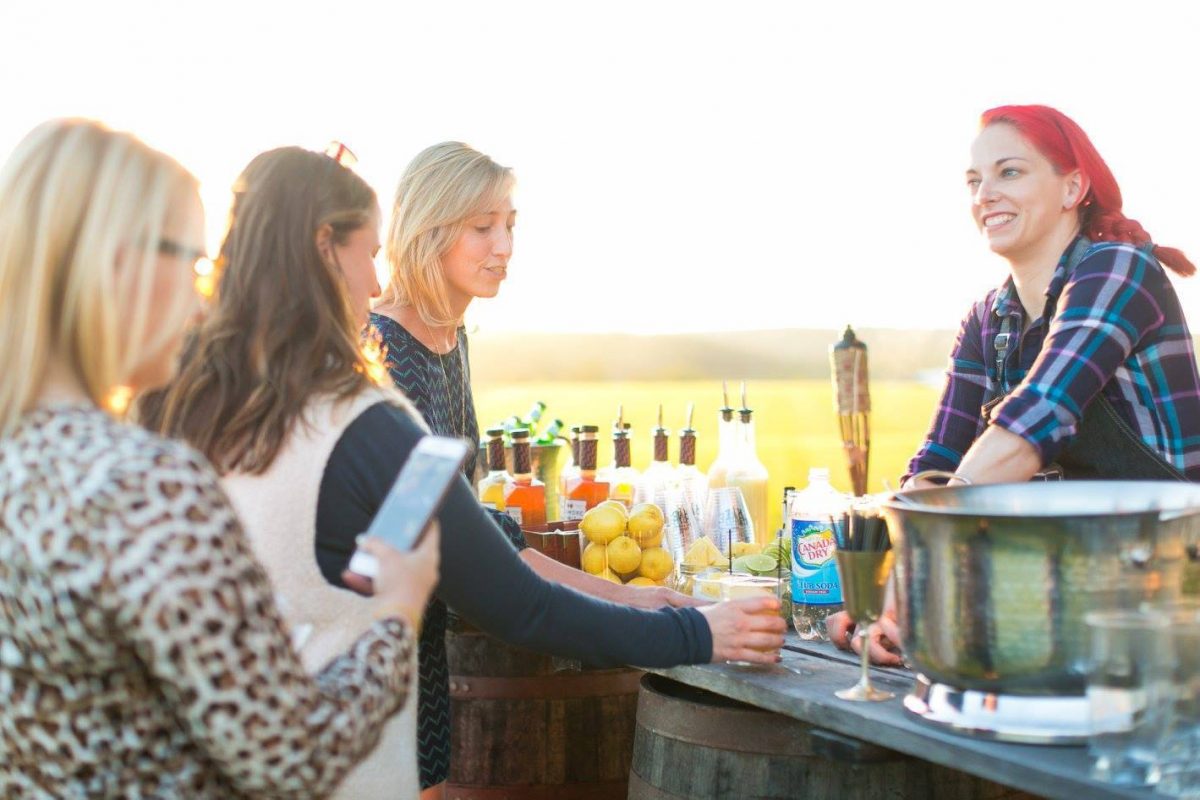 tPoz Photography
The ingredients used to make Maryland-style rye whiskey are simple and loose: spicy rye, sweet corn, and a hint of one of two other grains. Maryland farmers and distillers have been using variations of this recipe since the 1890s, but now, as the Old Line State's signature spirit experiences a local and national comeback, women have become the not-so-secret ingredient to its success.
In fact, women are some of the most direct producers of whiskey in the state at places like Sagamore Spirit, Lyon Distilling, and Louthan Distilling. And there's even a Baltimore chapter of Women Who Whiskey (WWW), an organization that unites like-minded women for events that feature educational presentations on whiskey and the distilling process, and, of course, tastings.
"We have found that women who drink whiskey tend to be super confident and proud of what they do, they're excited to encourage other women, and they're proud to be a part of groups that have other strong women in it," says Rachel Fontana, brand director of Sagamore Spirit and co-founder of the Baltimore chapter of WWW. "That is what we wanted to tap into—these women who are excited and proud of the things they're building and ready to celebrate that."
The WWW events also help to break the misconception that there's a "wrong" way to drink whiskey. By sampling everything from Japanese whisky to whiskey-infused chocolates, attendees can try local spirit variations and leave fear of embarrassment behind. For Maryland, in particular, rye whiskey has played a significant role in the state's industry.
"When you visit these distilleries and learn about the history of rye whiskey in Maryland, you learn that it's so much more than a shot," Fontana says. "People find a new excitement and understanding of what they're drinking because they know the amount of hard work that went into it."
Nikki Davidson, who writes the Cocktail Crafty blog, says she's seen more Baltimore women take an interest in whiskey and other craft spirits since starting her website in 2014. Instead of getting stares or comments when she orders a whiskey neat, she gets approached by women looking for suggestions on how to "get into" whiskey.
"I often hear 'I want to order that but I want to sound like I know what I'm talking about,'" says Davidson. "All it takes is the right bartender to show them the way, and I think more bartenders are moving away from the stereotype that women only drink vodka."
A big part of changing those perceptions is the fact that the president of the Maryland Distillers Guild is a woman, Jaime Windon of Lyon Distilling in St. Michaels.
"There's never been a better time to have a cocktail, and there's probably never been a better time to be a woman," she says. "The results are proof that we're working just as hard as we always have, but we're finally getting a little bit of credit for it."
Windon, who has been the president of the guild since its inaugural year, says that while she shares other members' motivation to promote and educate others about Maryland's growing spirit industry, she also wants to be a visible resource and leader for other women in the distilling community.
"During the first year that [Lyon Distilling] was open, I can't tell you how many times I answered the door to the question, 'Are you the wife of the owner?'" says Windon. "I want to help others; I don't want anyone else to go through that."
As a woman in the traditionally male-dominated spirits industry, Windon says she quickly realized people were going to assume that she wasn't in charge or knowledgeable about distilling. She threw herself into the business, learning about its local history and every step of the multi-year process, and she continues to lead as an advocate for local spirits.
She says that having women involved in everything from bartending to manning the still has helped drive whiskey's recent renaissance. In the 1990s, 15 percent of whiskey drinkers were female. By 2014, women represented 37 percent of whiskey swillers.
"I think the key is to provide value. That value is gained through education and women want to learn," says Davidson. "Teach the process and the spirit's history. Once they learn more about what they're tasting, they're more apt to appreciate it and try more."
This month, WWW will kick off its spring events on March 22 with the Booze and Blooms event at Old Line Spirits. Thanks to Everyday Rosé Events, guests will create take-home floral arrangements while sipping on craft rum and whiskey cocktails from one of Baltimore's favorite distilleries. The club plans to host monthly events throughout the summer and collaborate with women-owned businesses (look out for an event with Glarus Chocolatier later this year) to continue the mantra of empowering women in the business community.
"Women supporting women is always a good thing," says Fontana. "I think that we're not always raised to support, sometimes we're raised to judge, and the more we can do to support our peers the better."
With more women involved in Maryland's burgeoning whiskey scene, the novelty of being a female whiskey drinker is starting to wear off. A new wave of collaboration and support among female bartenders, distillers, and business owners, combined with whiskey's continued popularity, lets women enjoy the sips of their labor.
"I'm excited for the day that being a female in a male-dominated industry isn't a 'thing,'" says Windon. "I look forward to a time when it's not a novelty that I'm the leader of an industry and I'm a woman."