Arabbers' Mission Becomes More Urgent In the Midst of COVID-19
In addition to produce, arabbers distribute free groceries, masks, and public health fliers.
In the streets of Baltimore, it's a familiar, if sometimes forgotten, sound: the gentle clang of bells and clump-clump-clump of hoofs beating the pavement.
Yeah, bananas, cantaloupes, and watermelons. Sweet potatoes and collard greens. Sweet apples and oranges.
Heard less frequently than in the past, the historic singsong of the city's arabbers has never stopped ringing out. This spring and summer, however, the vendors' mission to bring healthy fare to underserved communities became more urgent amid stay-at-home orders and fraught trips—often by bus in low-income neighborhoods—to the grocery store. It's a mission that's also expanded in the midst of the COVID-19 outbreak.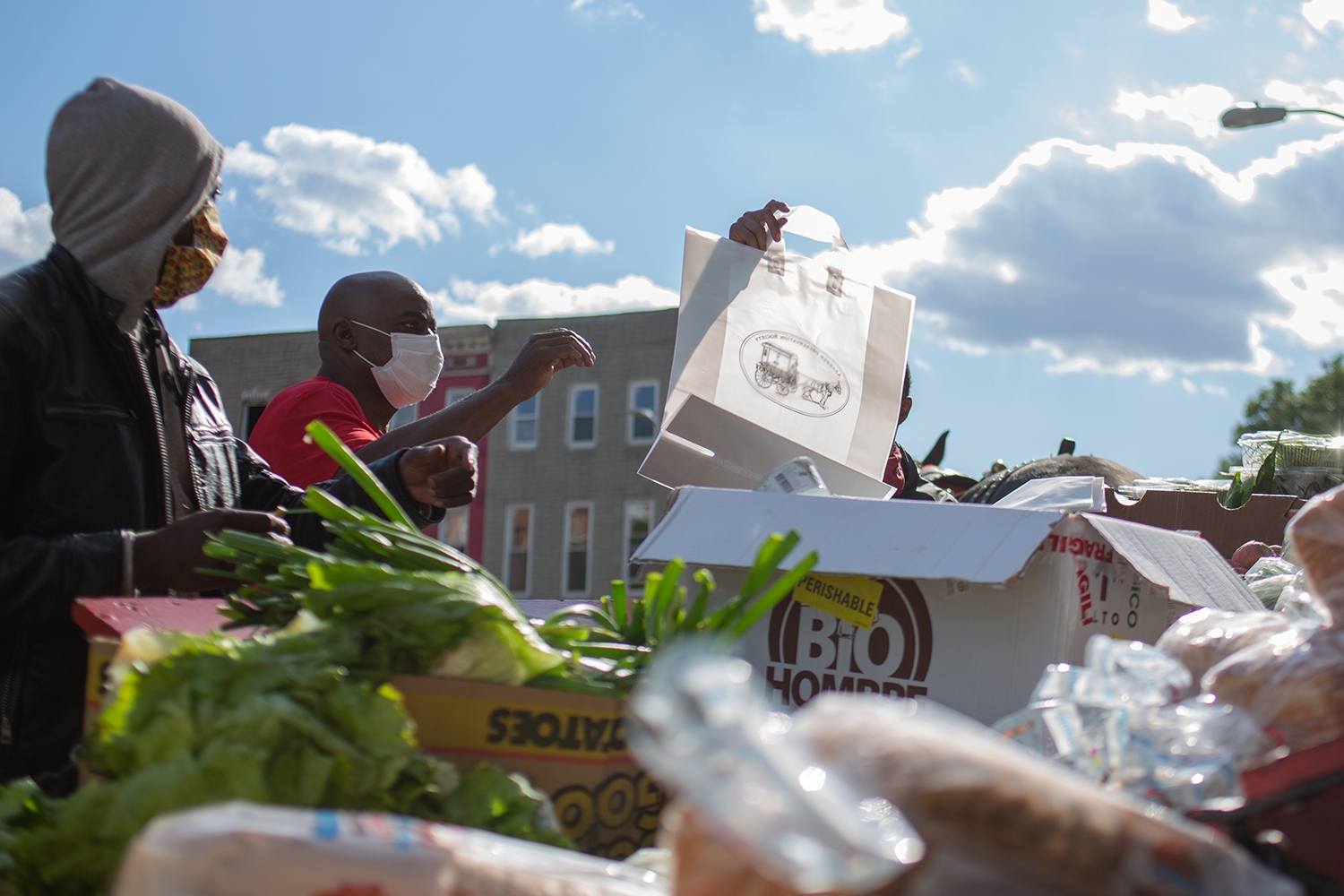 "Free fruit, free vegetables, free masks," arabber Todd "Greedy" Cornish calls out on a recent Wednesday afternoon as he, along with 22-year-old fellow arabber Shauna Chaney, leads a horse and colorful wooden cart onto West Lombard Street. "Got some information in there," Cornish continues, handing out a bag of groceries, which also include cans of soup, bread, and other staples, to a couple of appreciative senior women. "Make sure you pass it on."
In April, through a partnership between the Arabber Preservation Society and Food Rescue Baltimore, arabbers began passing out bags of free groceries in several of the city's food deserts, occasionally offering bouquets of flowers as well, along with protective cloth masks and public-health handouts about the need for social distancing.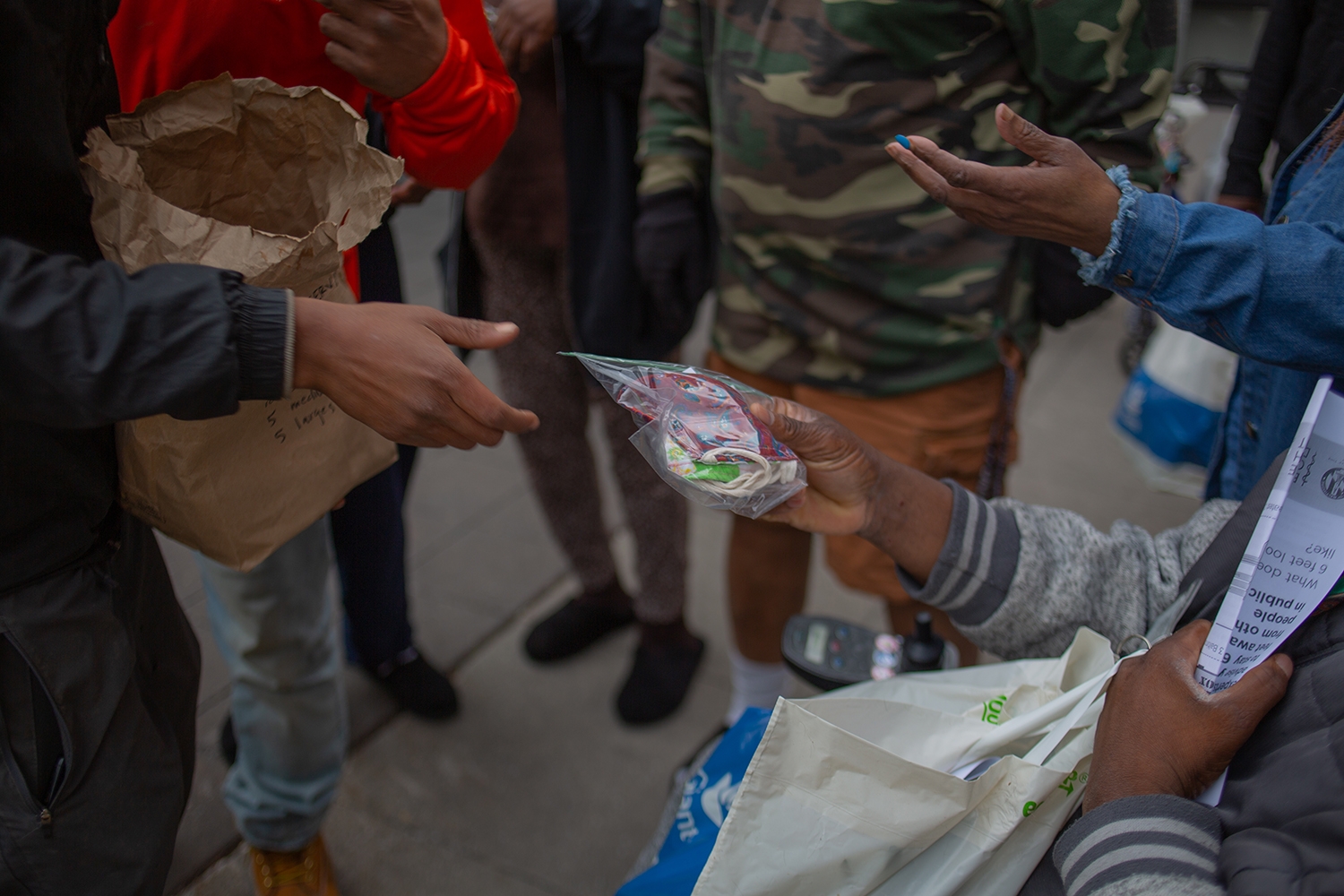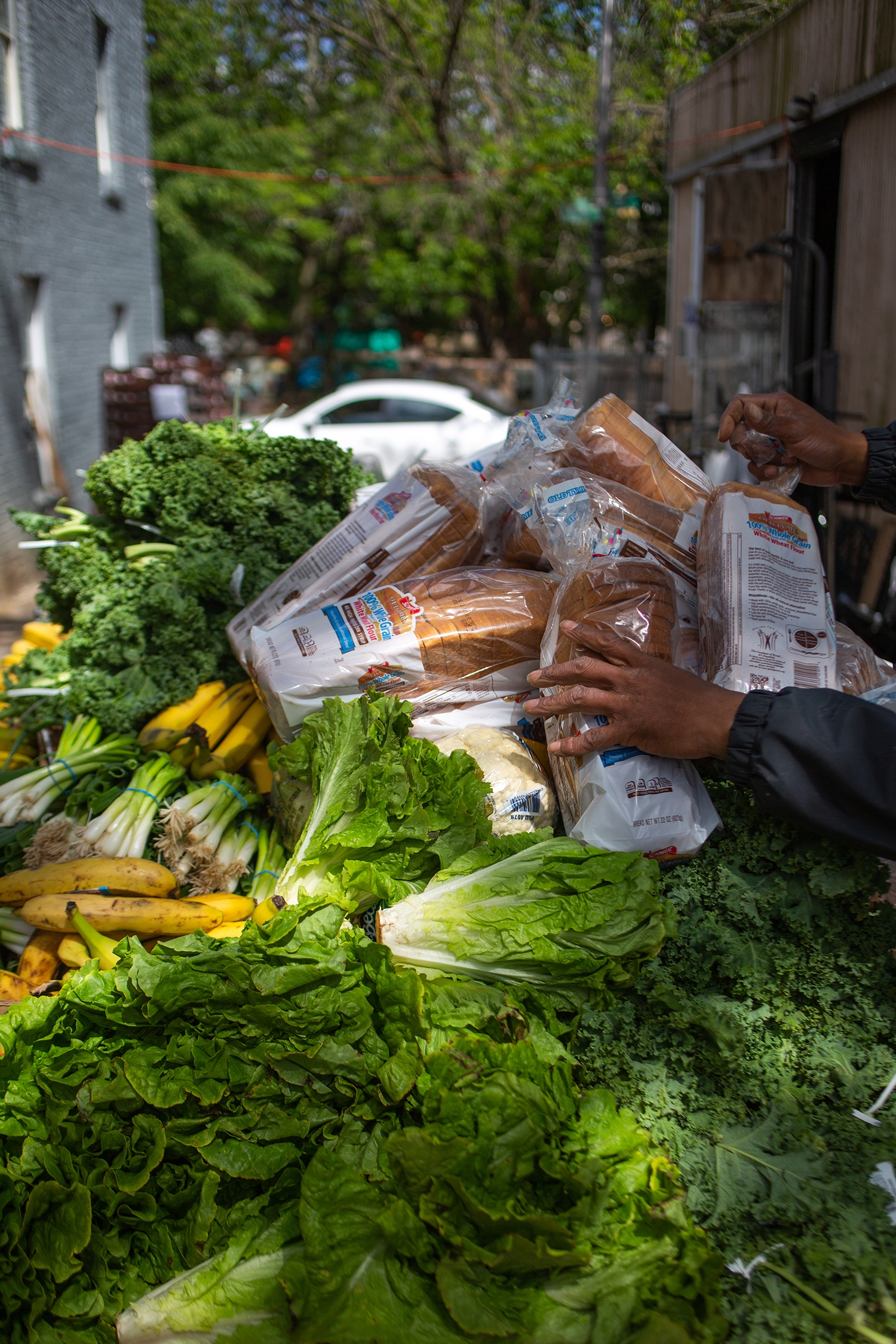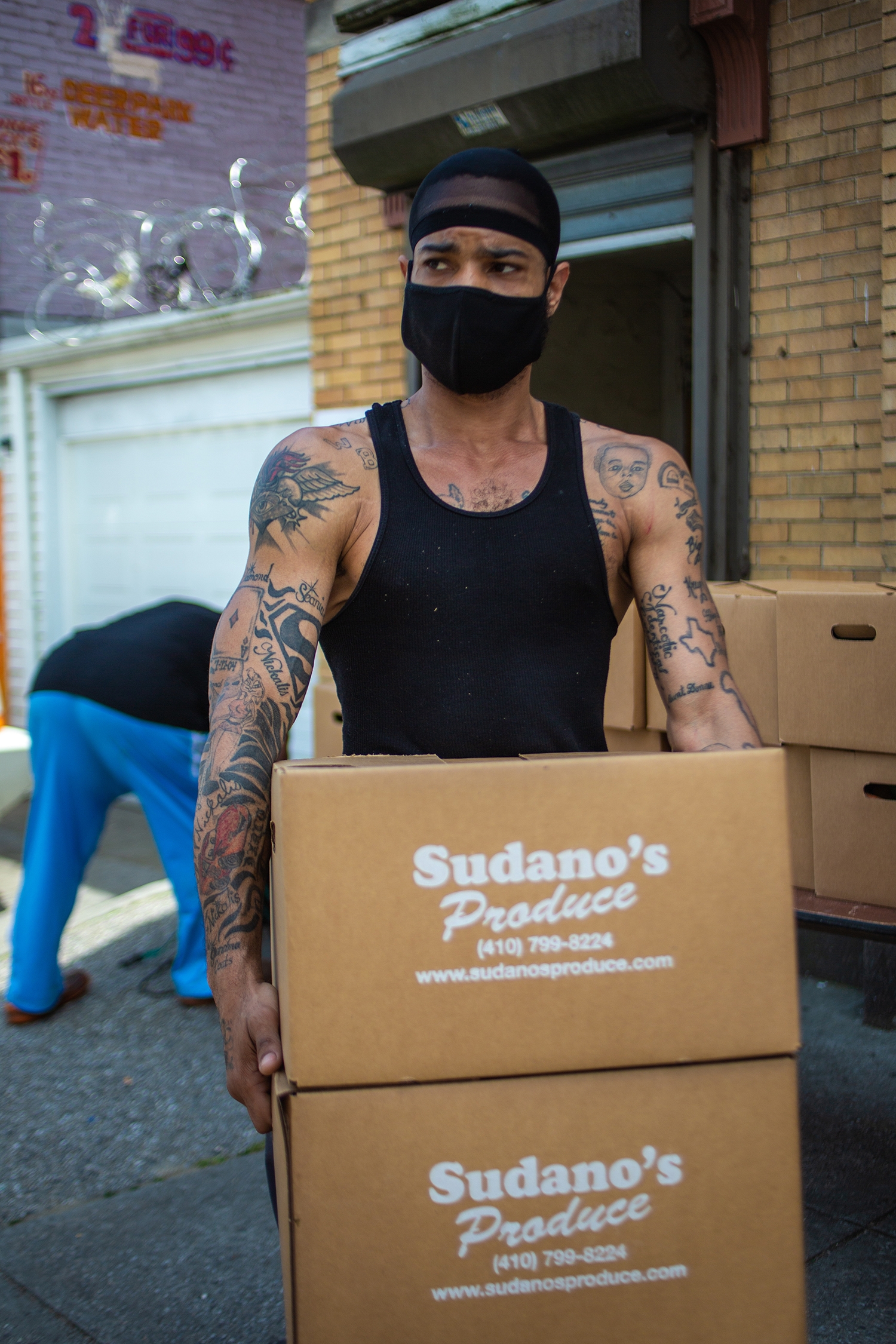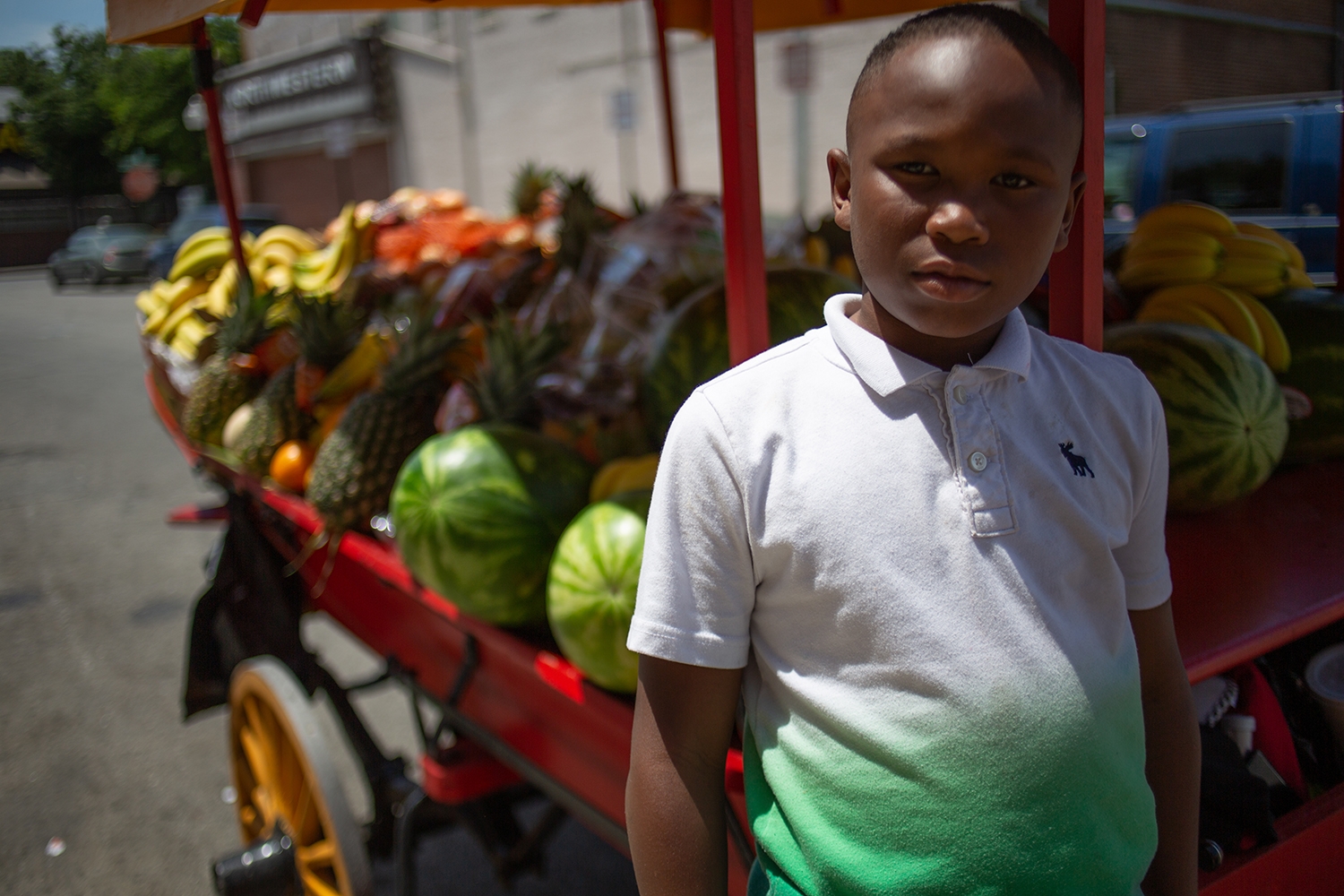 Long neglected in terms of public-health outreach and infrastructure, the majority Black neighborhoods that arabbers generally serve have been on the front lines of the ongoing COVID-19 battle. African Americans make up 31 percent of state residents, but account for nearly half of all coronavirus deaths in Maryland.
As the outbreak spread to Baltimore, the City Health Department posted educational fliers and warnings on their social media channels. But trying to dispel myths and rumors about the virus, and get accurate information into people's hands, remains an issue.
"Some people have been taking it seriously, some not," says Levar Mullens, a Safe Streets worker who also manages the stable. "It's about educating people."
"Arabbers are the perfect messenger. They're one of the most trusted institutions in the Black community," says Preservation Society vice-president Holden Warren, who has relief experience combatting Ebola in Liberia and initiated the coordination efforts. "Who better to give away food, give away masks? We've got gloves and Purell and some bleach to keep things clean on our end."
The Carlton Street Stable, which dates back to the 1850s, is one of three remaining arabber stables in the city and believed to be the oldest continuously operating livery stable in the country.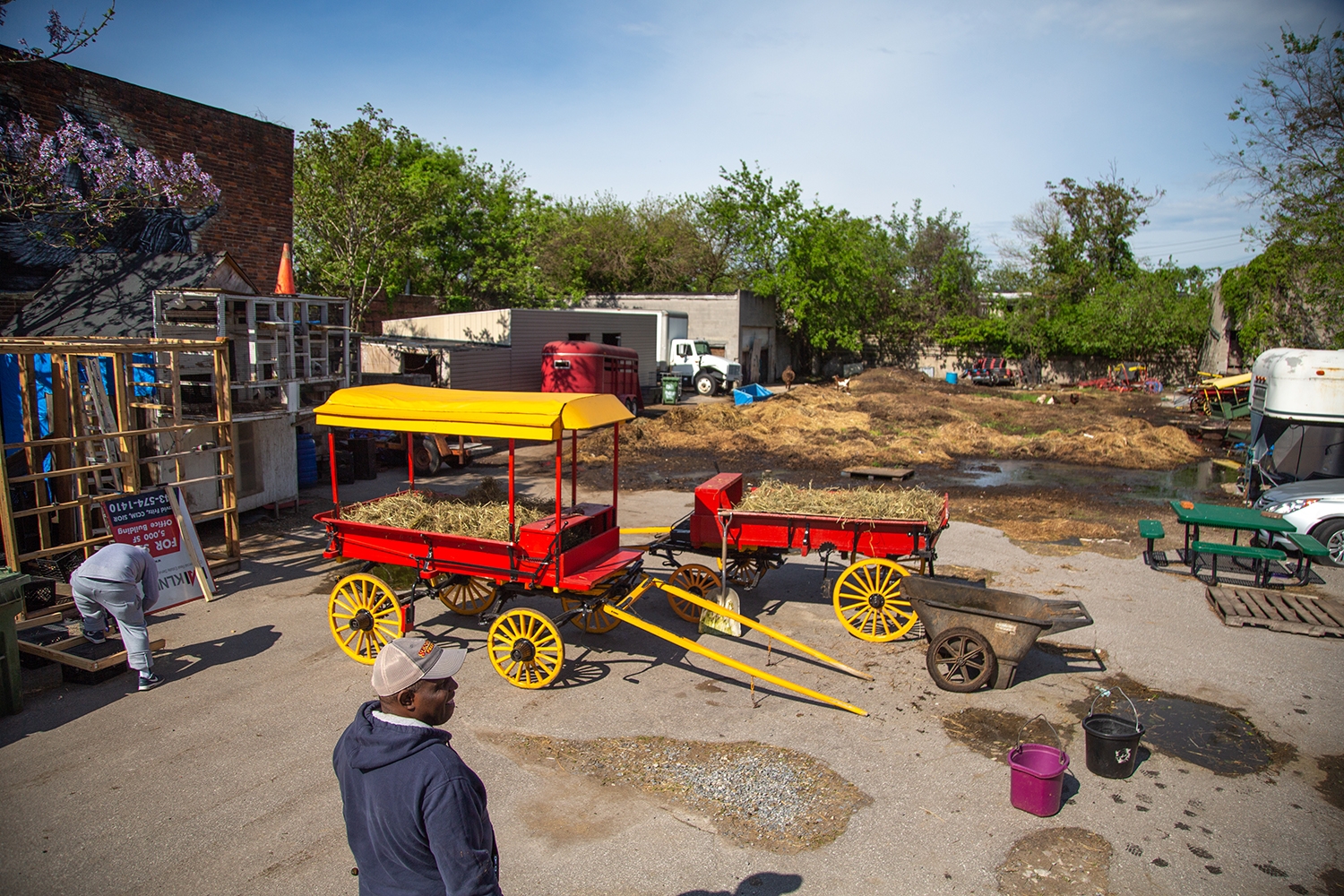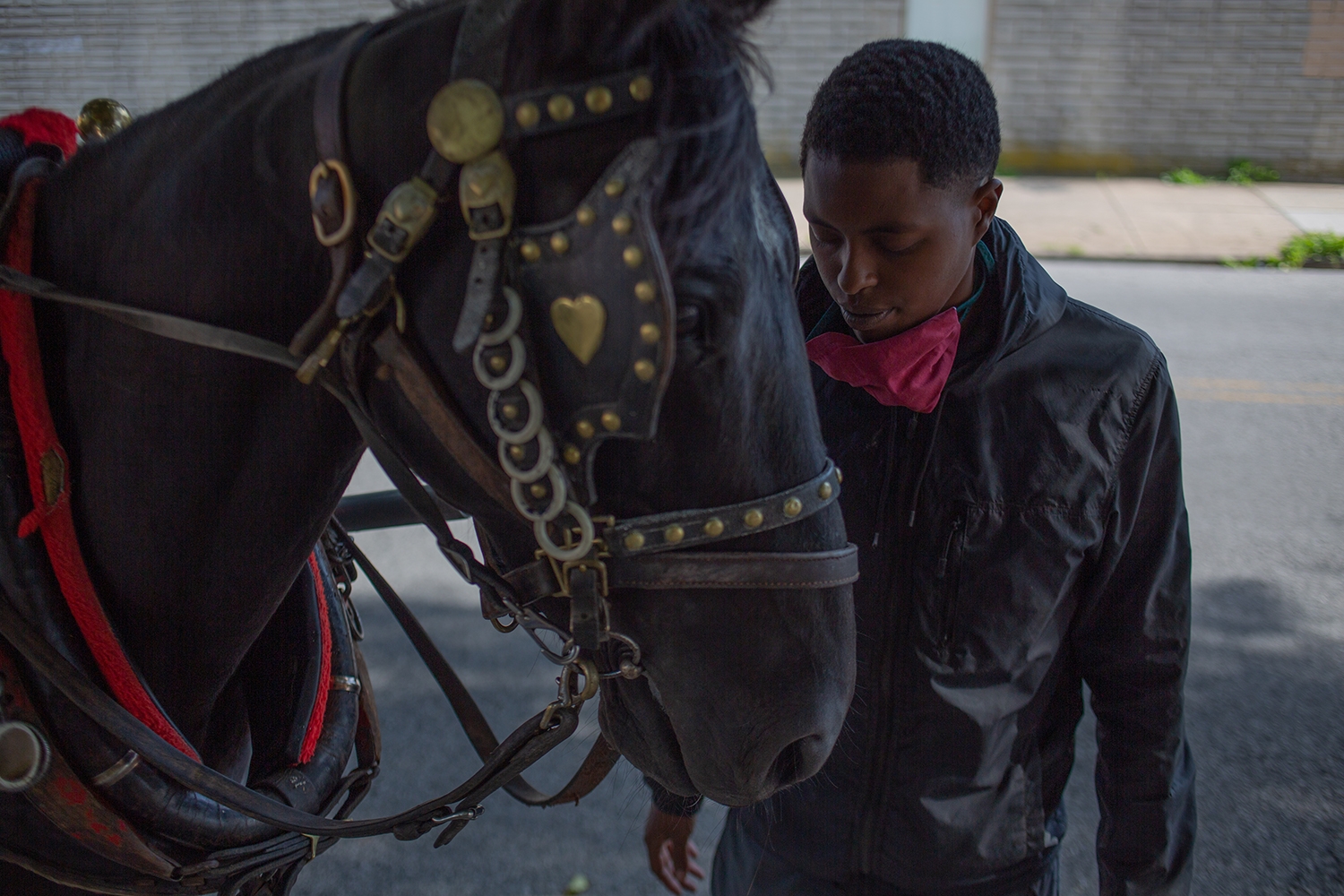 Owned and run for decades by a man named Buddy Kratz, a generous Southwest Baltimore native, merchant, and horse trader, it was the home base for more than 40 wagons in its mid-20th-century heyday, when arabbers peddled ice, wood, coal, and produce to customers summoned by their street cries. Kratz's interest in horses, and by necessity, wagons, led to a relationship with the Pennsylvania Amish, who continue to provide horses and repair the carts' old-school wooden wheels to this day.
In March, the Maryland State Arts Council awarded the Arabber Preservation Society a Creativity Grant that will fund the digital restoration of a 1976, 16-mm film documentary on the arabbers for screening at the Parkway Theatre. The last of their kind in the U.S., even then Baltimore's arabbers were both struggling for survival and viewed as a potential solution to the city's ever-expanding food deserts. Those concerns, stark when the film was shot, stand out in greater relief today.
"What is Baltimore without the arabbers?" says Chaney, in between feeding, petting, and chatting up the dozen horses inside the stable, tucked between Pratt and Lombard streets, not far from Hollins Market. "We do this every day," she continues later, referring to the care of the horses and yard full of chickens and goats, a bird coop, and stray cats. "This is a break from the stress of living in Baltimore. It's a fun thing," she says. "This is a loving experience."