Six Feet Apart
Caring for the grieving is tradition at Sol Levinson and Bros. funeral home—even during a pandemic.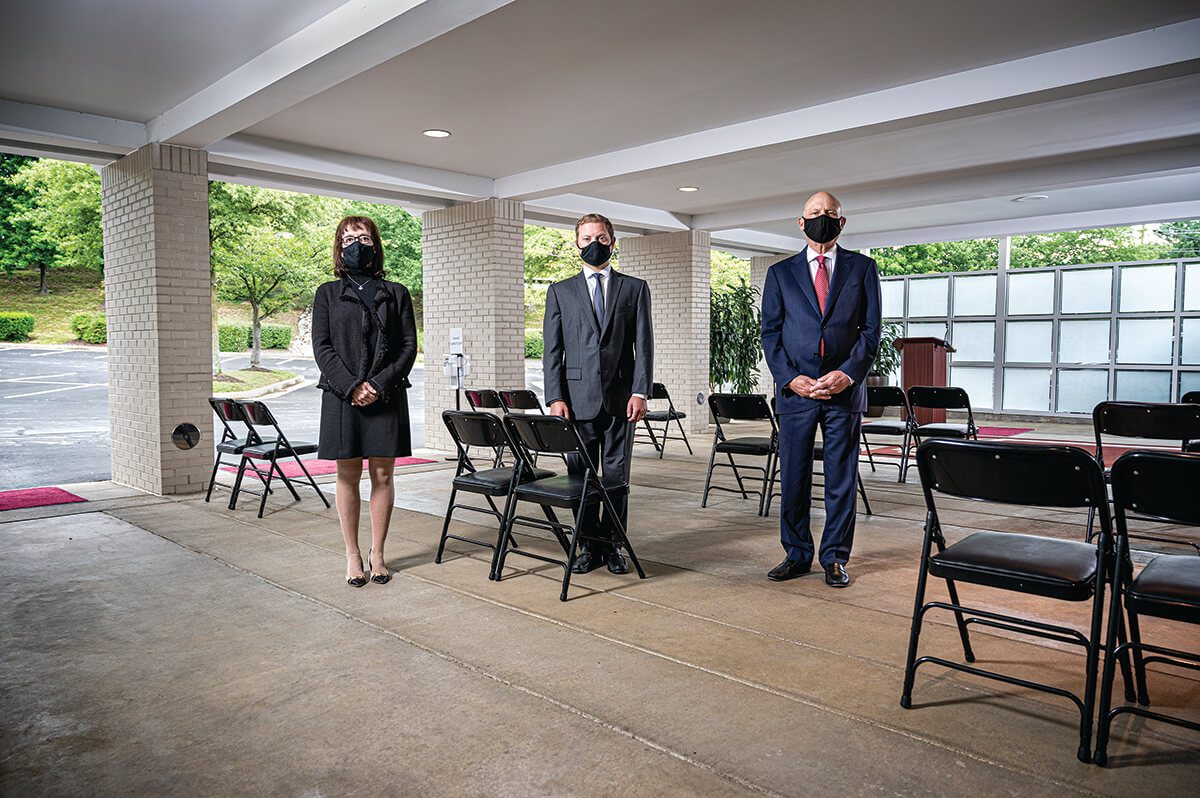 As mourners pull their cars into the parking lot of Sol Levinson and Bros. funeral home off Reisterstown Road, they are met by a young man wearing a black suit and a young woman in a black dress. Each sports a black mask that covers their mouth and nose. It's a late July morning and at 9 a.m. the temperature is already an unpleasantly sticky 84 degrees. Like almost every day of the year except for Saturdays (a day of prayer in the Jewish religion) and Jewish holidays, there's a funeral here today. The greeters direct the drivers through the massive asphalt lot on the six-acre campus, but in the age of COVID, most of the spots will remain empty. Because of the virus, a maximum of 20 people are allowed to be present at services.
Mourners are directed not inside to one of Levinson's two chapels, but to a makeshift, albeit tastefully decorated, outdoor one. Black folding chairs are spaced in groups at least six feet apart. A hand sanitizer station sits on a red carpet near the entrance. Oscillating fans are plugged into outlets in the back. Potted plants dot the perimeter.
In the before times, this space was a carport for the company's fleet of limousines.
There's hardly an aspect of society that the coronavirus has not affected, but perhaps no industry has paid an emotional toll more than the funeral business.
"We create a personal relationship with families," says Matt Levinson, president of the company that his great-great-great grandfather started. "That's a struggle right now for us because we're not meeting with people in person. We're not shaking their hand or giving them a hug. One of the things we love to do, why we do what we do, is to help people. It's more challenging right now."
When a company has stayed in the family for five generations, it has to adapt to changing times. When Max Levinson opened a funeral home in 1892, he used a horse and buggy to transport the deceased. Levinson's has persevered through fires, wars, riots, and everything else the world has thrown at it during its 128 years in business. This isn't even its first global pandemic.
So how has it not just survived, but thrived?
"There ain't much competition, so that makes the choice much easier," jokes Rabbi Mitchell Wohlberg of Beth Tfiloh in Pikesville. Though it hasn't always been the only Jewish funeral home in the Baltimore area, it is now. "I think that the community trusts us," Matt offers. "There has not been a need for another funeral home in this community because we do a really nice job."
Wohlberg concurs: "The truth of the matter is that in the 40 years that I have worked with them, not once has there been a single problem, disagreement, misunderstanding. They treat each family as family, not as a client or a chance to make another buck."
"WE APPRECIATE LIFE. WE KNOW BECAUSE WE'VE SEEN IT FIRSTHAND: LIFE IS PRECIOUS."
Max Levinson came to Maryland from Russia in the 1880s. He started a transportation business that evolved into a funeral home on High Street. That building was destroyed in the Great Baltimore Fire of 1904, but the business did not smolder out. His sons, Sol and Emanuel (and later David) joined the company, which was renamed and relocated to East Baltimore Street, where most of the Jewish community resided.
In 1937, Levinson's moved to North Avenue and in the '40s and '50s, the third generation—Sydney, Jack, Burton, and Stanley—came aboard.
Following the migration of Baltimore's Jewish population toward the northwest suburbs, Levinson's moved to Reisterstown Road in 1960. And in some cases, it had a front row seat to history: In 1968, for example, they were asked to help provide extra limousines for the Robert F. Kennedy funeral procession. Stanley took one himself and ended up chauffeuring Jacqueline Kennedy and her children, Caroline and John Jr.
In the '70s and '80s, the fourth generation joined the company. "My father and I had a running joke: I was the son he never had," says Stanley's daughter, Ellensue Levinson-Jeffers, who started in 1981 and still works as a funeral director. "He was extremely personable and I love people. I'm a caregiver by nature. Some people call me Little Stanley and I like that." (As for her impulse to join the family business? "When my grandfather passed away, I was the one that came down and found him deceased," Levinson-Jeffers says. "I called my father down very calmly and I said, 'I don't feel a heartbeat.' I felt if I could handle my own grandfather's death, that's when I knew I wanted to work in the funeral home.")
Ira Levinson, Burton's son, ran the business before his son Matt took over. Just 22 when he started at Levinson's, Ira is now 70 and still an integral part of the company.
Levinson's opened its current 26,000-square-foot facility in 1996. As a kid, Matt Levinson, now 38, remembers the impact his father's business had on the community. "One time, we were at dinner and people came up to our table five different times. Everyone knew my dad and they kept thanking him," he says. "My parents always taught me how serious this is. When my dad was on the phone everyone had to be very quiet in the house because what he was doing was very serious. I think over the years when I realized the importance our family's role plays in the community, I felt a sense that I needed to continue it."
In high school and college, Matt worked part-time in every aspect of the business— washing cars, directing traffic in the parking lot—before he joined full-time at the age of 23. His brother chose a different path, starting a company that finances solar energy in Africa.
"This type of business isn't for everybody," Matt says. "People pass away at all times of the day, not just 9 to 5. When people call us, we don't tell them we're going to call them back tomorrow. It's very difficult to leave work at work because we're always working. I decided to go into the business because I love helping people and I wanted to keep the family business going. Each generation teaches the next the basic principles that are instilled in our family: take care of people, do the right thing, be honest.
"We appreciate life," Matt continues."We know, because we've seen it firsthand, that life is precious. Anything can happen. We've seen many sudden deaths over the years. It puts a lot into perspective for us. We always say, 'Don't sweat the small stuff.'"
Anytime you call Sol Levinson and Bros., someone will pick up. There is a person answering the phone 24 hours a day, and there's always a funeral director on call. The company's goal is simple: to handle every aspect of the funeral process from the moment someone dies until after they're buried.
"We contact the rabbi, work with the cemetery, help the family write the obituary and guide them toward the service that they want," Matt says. "There are certain rituals in the Jewish religion. One is that someone called a Shomer [or guard] stays with the deceased all the time. We have someone in our building that prays with the deceased. They're never supposed to be left alone. Tahara is a washing ritual, when we dress the deceased. Then there is Shiva, which is going back to a family member's house after the burial to be with the family for up to seven days. We help the family through the whole process.
"YOU CAN'T HUG BY ZOOM AND I'M NOT SURE YOU CAN REALLY MOURN BY ZOOM."
Death is not an inexpensive endeavor. Funerals start at $6,000 but can cost up to twice that, Matt says. But Levinson's will work with families who cannot afford the cost to ensure that their loved one receives a proper sendoff, both Ira and Matt stress.
Over the years, Levinson's has prided itself on operating as if it has competition around the corner.
"I have served as a rabbi in four different communities, so unlike the rabbis who have only served here I can compare them to other communities," says Rabbi Andrew Busch of Baltimore Hebrew Congregation. "I find people I deal with who are in the funeral home business are compassionate and caring. I guess that's why they go into it. But Levinson's concern for details and for the individuals and families they are dealing with is unsurpassed."
Justan Goldstein is Levinson's general manager and a funeral director. He joined the company more than nine years ago, after his wife saw an ad on Jewishcareers.com. At first, he thought he wouldn't last that long. "If I could choose any [job] why would I want to spend the rest of my life working in an environment that would be sort of depressing?" he remembers thinking. Eventually he came to see that, "All my preconceived notions were wrong. What I didn't understand was how rewarding it was." And he appreciates that the company, despite its august history, is always progressing.
"One of Matt's least favorite phrases is, 'That's the way it's always been done,'" Goldstein says. "I remember one of our funeral assistants was driving limousines and a family was hungry. It was a long day and they hadn't had lunch yet. He came back and said why don't we have snacks in the limousines for these families? Now all of our limousines have chips, Kind bars, veggie straws, Oreo cookies—nothing that melts."
Ten years ago, Levinson's began livestreaming its funerals long before most in the industry were doing so. It was in response to people who lamented the fact that friends living far away or elderly relatives couldn't make it to a funeral. Since then, the technology has improved, and it has never been more important than right now. Like everyone else, Levinson's world changed drastically and quickly in March. When the coronavirus emerged, the company set up most of its 50 employees to work from home. It started making arrangements with clients over the phone rather than in person. Because it still needed to have some staff physically in the building and others traveling to hospitals and nursing homes to pick up the deceased, it had to scramble for personal protective equipment just like everyone else. But the biggest challenge was limiting the number of people who could attend services.
"We've been very conservative this whole time," Matt says. "We are technically allowed to have our chapels open at 50-percent capacity but we've chosen not to. At the very beginning, we had to limit the number of people to 10, which included our funeral director and the rabbi, which means the family could have eight people at the cemetery. We now are at 20 people. That's our rule. We felt that was a number that would allow most families to attend, but also keep the numbers down and continue to [enable] social distancing."
Owning a funeral home is a recession-proof business, the joke goes. Only it's not just a joke. Pre-COVID, the funerals could cause traffic jams up Reisterstown Road; knowing motorists avoided it when they saw a line of cars with their lights on. Levinson's averages about 900 funerals a year, Matt says, but was doing more than that rate during the first months of the pandemic. It conducted several services for people who died of COVID-19. Through July, not one of its employees had contracted the disease, and it knew of no one who got it during a funeral that it held.
Debbie Dooley's mother, Audrey, died on March 13, and her father, Benjamin, passed away on June 22. Both were in their 90s and neither had COVID, but that doesn't mean they—and their family—weren't victims of the disease.
Her father, who had Parkinson's, was hospitalized in February, so Dooley found an assisted living facility for her parents and their cat. But before they could move in, her mother, who had Alzheimer's, died unexpectedly in her sleep, so her father had to go to the Pikesville facility by himself.
"It was a nice place but he was stuck there on lockdown for three months until he passed," she says. "It was like he was in jail."
When her mother died, she turned to Levinson's for help. It was the very start of the pandemic, so only 10 people were allowed at the service, which had to be done graveside.
"That was really hard," she says. "It was my children, my husband, my sister and her significant other. I couldn't even have my daughter-in-law or my granddaughter there."
Levinson's livestreamed it, so other family and friends could watch. Her father was transported by the assisted living facility to the cemetery where he attended the service, then was taken immediately back.
"We were supposed to go to [the facility] to gather with my father afterwards," Dooley says. "But that morning the director called me and said the guidelines had changed and we could not do that, so we ended up just going our separate ways. It was awful."
That isolation of the grieving has been among the most difficult parts of pandemic. Normally, mourners go to the family of the deceased's house following the burial. Tears are shed. Kisses are exchanged. Food is eaten. Now, if those rituals even take place, they're done in much smaller groups or on a digital feed.
"You can't hug by Zoom, and I'm not sure you can really mourn by Zoom," Rabbi Wohlberg says.
When Dooley's father died three months later—"He wanted to be with Mom," she says—the funeral capacity had been raised to 20. Dooley was still unable to invite some cousins, nieces, and nephews, but she could rent a pavilion in a local park for a socially distanced gathering after the service
"By the end of my mom's funeral I felt like I knew Matt Levinson personally," she says. "He was calling me daily. We needed all the help that we could get, especially with things changing all the time. He never looked down on any kind of question you asked. He always kept me aware of what was going on. Even afterwards, his father, both times, called to see how we were and if there was anything else they could do. They did everything humanly possible."
The Levinson family has been doing that for more than a century. Matt and his wife, Katelyn, have a 6-year-old son, Zach, and a 4-year-old daughter, Jillian. Might they be the sixth generation of Levinsons to go into the caretaking business?
"I would love for one or both of my children to go in," he says. "But I'll say the same thing to them that my parents said to me: 'Do what you want to do, be happy, do what you're passionate about.'"