How Local Organizations are Making Youth Sports Accessible to All
These initiatives are bucking the billion-dollar, for-profit, youth athletics model in an effort to enroll more kids.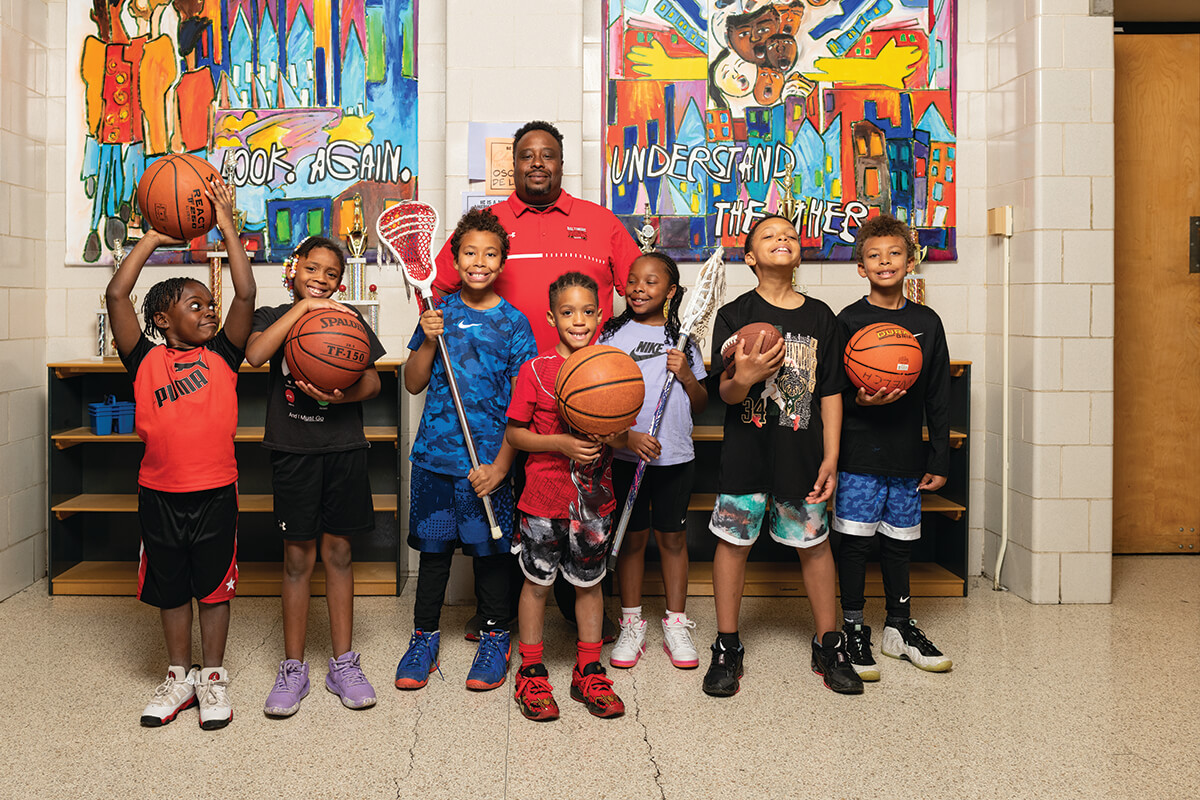 Bright stadium lights illuminate the field off Park Heights Avenue behind the now-closed Northwestern High School. It's Friday night, and a stream of parents drive into the parking lot to drop off their sons for football practice. Clusters of moms and dads linger and chat, catching up with friends and double-checking that their sons have the helmet, shoulder pads, and other gear needed to play one of the city's most popular pastimes.
"You find your cleats?" asks Kweisi Ehoize, president of the Baltimore Terps, a youth sports program offering year-round training and play for kids ages four to 13 in football, basketball, lacrosse, and cheer.
"Yeah, I found them," says Kamaire Hart, a sixth grader at Pine Grove Middle School in Spring Hill.
"Where were they?" Ehoize inquires. "In my bag," Hart answers, smiling bashfully as he acknowledges that his "lost" cleats were with him all along.
Such is a normal night of practice for the Terps, who come together three or more times a week to practice and play. When football season ends, many of the 300-plus kids in the program move on to play basketball in the winter and lacrosse in the spring.
"We're not like the private club teams that encourage specializing in one sport from a young age on," Ehoize says, referring to the highly competitive and intense club teams, also known as travel teams, that have risen in popularity nationwide. "We want kids to explore their interests and, ultimately, stay active."
"When a kid says he's a football player, I say, 'No, you're an athlete,'" he adds.
Ehoize, who not only manages the Terps but also coaches a football team for 11 year olds, started his coaching career with a club team more than a decade ago.
"In club ball, we were selective, expensive, and had to turn away kids, so I found it less fulfilling," Ehoize says. "I created the Terps in 2012 with the opposite goal: Make it affordable and take all kids, regardless of ability."
Ehoize isn't alone in his motivation to boost access to youth sports. A 2017 report by the nonprofit think tank the Aspen Institute found youth sports opportunities severely lacking in Baltimore. The report, created in partnership with local leaders from Living Classrooms Foundation, Baltimore City Recreation and Parks Department, Under Armour, and other businesses and organizations, revealed a harsh reality: Only 26 percent of Baltimore City males and 16 percent of females met the Centers for Disease Control and Prevention's recommendation of 60 minutes of daily exercise. While kids may access sports through school, access to teams and even physical education classes varies widely, ranging from non-existent and sparse, to robust and competitive.
Research shows that the dearth in physical activity can lead to problems, ranging from obesity and physical and mental health challenges, to lower cognitive function and increased high-school dropout rates. And the problems can hurt not just individuals but whole communities.
"Baltimore has a rich history of developing its children and communities through sports, from the early days of Babe Ruth, to the proliferation of recreation centers in the 1960s and '70s, to the rise of the most decorated Olympian in history, Michael Phelps," the report reads. "Sports are baked into the DNA of this unique city."
Yet today, not enough kids participate, a dilemma resulting in part from the closing of roughly 50 percent of Baltimore's publicly operated recreation centers over the last four decades. In the 1980s, city kids could register and play at more than 100 recreation centers. Now, fewer than 50 rec centers remain, with many offering limited hours of operation and programming.
Making matters worse is the exorbitant cost of club programs, for which families pay around $1,000 per season, plus fees for equipment, uniforms, one-on-one or small group training (which many deem necessary to make and stay on the team), and the biggest expense of all: transportation and hotel expenses associated with out-of-state tournaments.
"WE WANT KIDS TO EXPLORE THEIR INTERESTS AND, ULTIMATELY,

STAY ACTIVE."
For some families, this adds up to $10,000 or more a year. In comparison, to play football for the Baltimore Terps, families pay $200 per player for the season, a rate similar to that of rec ball. Basketball costs $125 and lacrosse $175.
If a family can't pay, "we 'scholarship' them and bring them on for free," says Ehoize, adding that the season price covers sports equipment. "For lacrosse, the equipment alone costs a bare minimum of $225," he says. But thanks to a partnership with Leveling the Playing Field (LPF), a nonprofit that collects and redistributes sports equipment to programs in under-resourced communities, Ehoize can give players the gear they need, at no added cost.
Founded in 2013 in Silver Spring by Max Levitt, who noticed inequities in youth sports after working in college and professional athletics, LPF has three warehouses of sports paraphernalia—one in Silver Spring, another in Baltimore, and a third in Philadelphia. The Baltimore warehouse, on Union Avenue in Hampden, opened in 2018 and features rows of large plastic bins full of everything from baseball bats and lacrosse sticks to basketball shoes and sports bras, all impeccably labeled and organized to allow youth sports managers, coaches, and teachers to easily find what they need, as though perusing the aisles of Dick's Sporting Goods.
"It's set up like a shoppable experience, without a checkout at the end," explains Kaitlin Brennan, the director of operations for LPF, which has amassed more than $3.5-million worth of gear and disseminated it to 450-plus school-based and after-school sports programs in Baltimore. Most of the equipment is used, but it's all clean and in good shape, explains Brennan, who grew up in Baltimore County playing lacrosse, "in a household that had the means to let me try a new sport, if I wanted to."
"Youth sports have stratified tremendously over the last few decades, with the rise of the steep pay-to-play model of club sports," Brennan says. Those for-profit programs leave families shelling out roughly $30 billion a year across the United States just for their kids to play sports, according to Aspen. That's more than the annual revenue of the NFL, which brought in slightly more than $17 billion in 2021.
"Private clubs can offer amazing coaching, mentoring, and swag, and I can't fault a parent or family for choosing to invest in their kids' interests," Brennan shares. "Sometimes, though, that elite investment in your kid can put undue pressure on the children and create a barbell system, with peak athletes on one end and those without any physical activity on the other."
And since club teams tend to encourage, or even require, focus on a single sport year-round, participation can lead to overuse injuries and burnout, according to the American Academy of Pediatrics (AAP). Research from Aspen supports AAP's findings, with the additional discovery that single-sport play in children under 12 actually causes more kids to drop out of sports at a younger age.
"Sports sampling mitigates those risks and helps kids stay active longer," states the Aspen report.
Along with diversifying its menu of sports options, Baltimore needs to revitalize its in-town leagues, the Aspen report recommends, and ignore the myth that kids need to play teams in far-off places to develop their athletic prowess.
"Today, house leagues [or local, in-town leagues] can be stigmatized as inferior, a casualty of tryout-based, early-forming travel teams that cater to the 'best' child athletes," the report states. "Parents with means must be given a reason not to flee early for travel teams…[and] sports providers need to develop business models that wring less money out of more participants."
For Ehoize and his Baltimore Terps, money was never the incentive. He receives no payment for running and coaching the Terps, and the league's 35 coaches volunteer their time and commit to rigorous coaching training for free, thanks to donations from sponsors like the Baltimore Ravens, Sports Boosters of Maryland, and the Glen Neighborhood Improvement Association, along with funding from the Abell Foundation. Instead, he operates the program "to build community, first and foremost," Ehoize says.
A native of Woodlawn and lifelong resident of Baltimore who works as a corporate sales executive, Ehoize believes that "no politician can solve the problems in our city," he says. "You have to take it down to a granular, grassroots level," in his case, by using sports to help kids in his community.
Travis Oliver, one of the coaches Ehoize recruited for his program, relates. A native of West Baltimore who teaches social studies at New Town High School in Owings Mills, Oliver grew up playing football, basketball, and baseball for local leagues, eventually earning spots on varsity at Edmondson High School and a scholarship to play football at Frostburg State University.
"There weren't many men in my life, and my coaches became my mentors and father figures," he shares from the sidelines. "I'm doing this to give back and help kids who, like me, needed positive influences."
Today, Oliver is the dad of a two year old who comes to practices and "runs around the track with siblings and parents of the players," he says, pointing to his son, smiling as the little boy toddles across the way, holding hands with two teenage girls. "This is the kind of program where everyone knows each other by name," Oliver explains. "It's an extended family."
Stephanie Williams, the mother of two Terps players, agrees. "The program is my connection to other families," she says. "It's my community."
Williams' son, Joshua, spent his formative years in the program before being named Athlete of the Year at Catonsville High School last spring. Joshua now plays football, as a freshman at Gettysburg College, while her sixth-grade son, Blake, plays "football, wrestles, wants to try indoor track, and will tell you his main sport is lacrosse," she explains.
"As parents, we sometimes want our kids to act like mini-adults by focusing on and getting really good at one single thing," Williams says. "But I don't think that should happen until later, when kids are in high school or beyond."
The owner of two childcare centers, Williams believes "sports are great at alleviating stress but can also cause stress when they're not handled in a developmentally appropriate way."
Rather than forcing her sons into a particular pastime, she lets them take the lead. Her approach heeds a warning from Aspen that, "the world of youth sports continues to be created by, and largely for, adults, driving professionalization, overspecialization, and hyper-competitiveness."
Instead, the Aspen report suggests, local sports leagues should cater to kids and center their voices and enjoyment, giving them a feeling of ownership that will empower them well into adulthood.
"I'M DOING THIS TO GIVE BACK AND HELP KIDS WHO, LIKE ME, NEEDED POSITIVE INFLUENCES."
For Ehoize, listening to kids is what enabled the Terps to evolve from a solitary foot- ball program into one that offers four sports. Most recently, it led to the launch of a girls' lacrosse and basketball program, along with boys' and girls' indoor lacrosse teams.
"It took a lot of politicking and lunching to secure the space to play indoor lacrosse, but we made it happen," says Ehoize, who meets regularly with leaders of other community-based programs in Baltimore to trade tips.
"The Terps aren't unique—we're how many sports programs in Baltimore operate," he says humbly, pointing to the organization he considers his inspiration, BLAX LAX, whose founders, Louie Carter and Anthony "Merc" Ryan, set out to make lacrosse accessible to kids from underserved communities. Both Carter and Ryan played lacrosse in the late 1970s for Morgan State University, the country's first historically Black university to field a lacrosse team, in 1970.
"America is a capitalist society, and if people can make money off of kids playing sports, then that won't change," says Carter. "We wanted to provide an alternative, however, and created BLAX LAX in 2002 to provide the same training and competitiveness of a top lacrosse program, at a much more affordable rate."
Carter and Ryan also started BLAX LAX "to keep kids off the street," explains Ryan, a long-time lacrosse coach at Baltimore City College, a public high school. To that end, BLAX LAX uses the tagline "On the field/Off the corner."
It's also part of what inspires organizations like SquashWise, a local nonprofit that "uses the previously unknown and exclusive sport of squash to help kids in Baltimore develop and follow-through on positive life goals," explains the program's executive director, Abby Markoe.
Started in 2008 with just 14 students, SquashWise combines squash training and playing with education and personal development pro- grams for 80 middle and high school students in Baltimore. "Squash might be the first part of our name, but it's only a fraction of why we exist," she says.
As club and travel teams continue to grow in popularity, with experts predicting ongoing exponential growth in what is already a multi-billion-dollar industry, the need for programs like SquashWise and the Terps will continue. And for Ehoize, the countless unpaid hours he devotes to the Terps are worth it, as is the fact that he still drives a gargantuan Chevrolet Suburban, long after his own children have become adults, so he can carpool players to and from practices and games.
But he wouldn't have it any other way.
"It's the right thing to do," he says, pausing to look out at his team of 10 year olds backpedaling between cones beneath a star-studded sky, on the eve of the regional playoffs. "My sales job feeds my family, but the Terps feed my soul."