GameChanger: Jasper Barnes
We catch up with the executive director of BYKE Collective.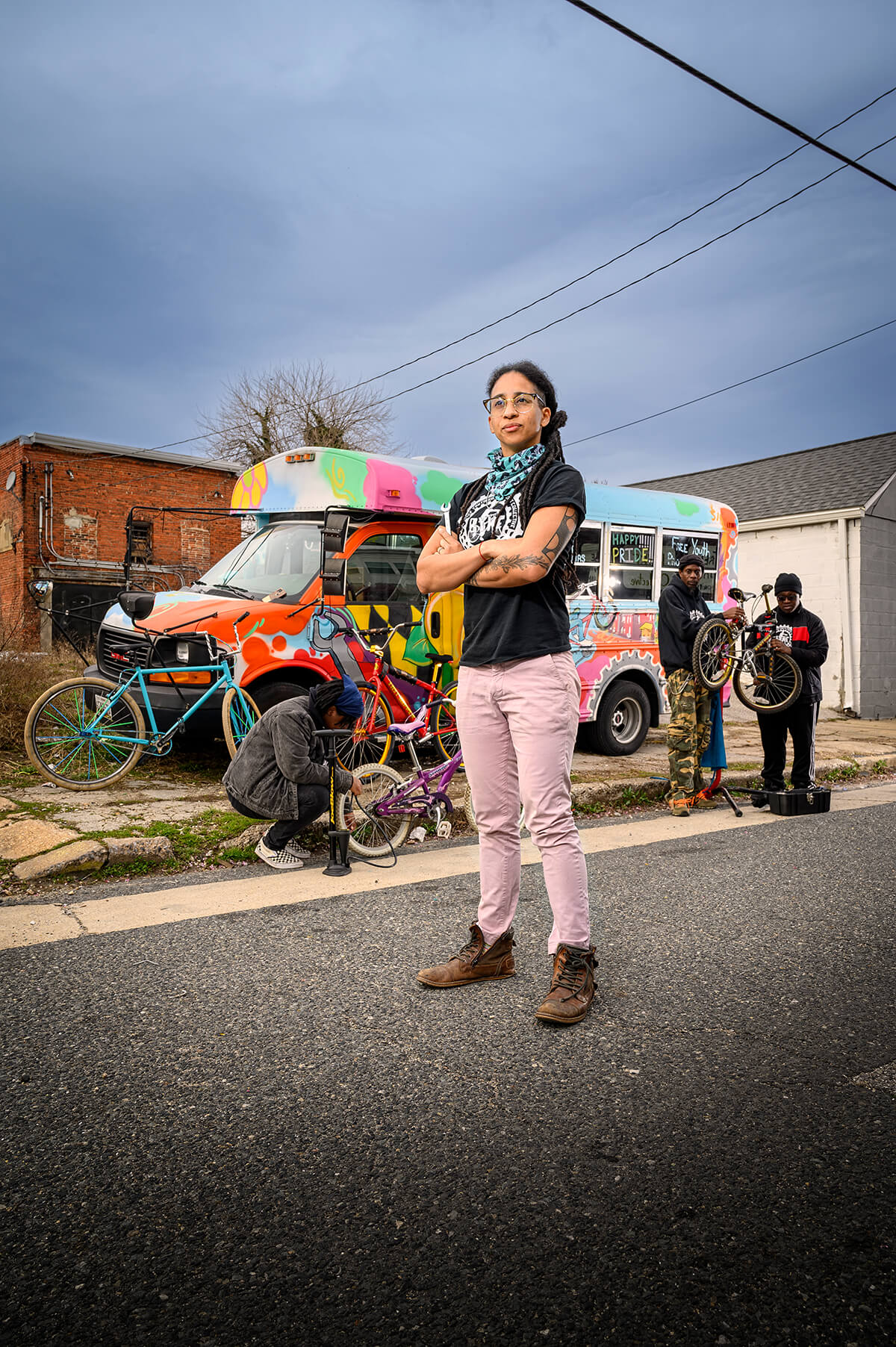 Jasper Barnes was all set to be a middle school math teacher when she was derailed by an illness. Instead, she's become an unlikely "Mrs. Frizzle," driving a Magic School Bus, of sorts, around town as the executive director of the Baltimore Youth Kinetic Energy Collective (BYKE)—which turns nine this month. The colorful Will Watson-painted bus that celebrates Baltimore and its inhabitants can often be seen maneuvering around the city.
Yes, as the acronym suggests, it's about bikes—they've given away close to 3,000 of them and also provide tools and workshops aboard the bus—but it's about so much more than that. There are free school supplies, snacks, access to resources, and games.
"It's a creative, safe space for young people to learn bike mechanics and how to contribute to a positive community," says Barnes. "The best conversations happen in here. It's almost like a living room.
BYKE was launched in 2014 by bike enthusiast and public activist Chavi Rhodes. What was the original goal?
To provide a space for youth to learn mechanics so they're not dependent on going to bike shops and paying a premium price. It turned into earning credit opportunities, where they can learn basic repairs and earn enough credits to then get a bike from our organization. The idea is that by the time they pick out a bike, they're able to fix it up how they need to make it safe and rideable.
And this creates a real sense of ownership since they are part of the process?
There are more chances that they're going to take care of this bike that they worked for and love—but they also understand how it operates. They learn that bike and get intimate with it—and it's theirs.
You've teamed up with Mission Fit and Corner Team Boxing to offer a summer wellness program—Rise Up Ride Out.
We bring in 12 individuals—from all over the city—and kids from our Golden Fleet internship program. It's physical fitness, as well as a social-emotional curriculum. And the idea is that they're going to become more autonomous by the end of the program. By the fifth week, we just stand there like, "You know what to do." And they do just fine. They also try to complete an Olympic physical fitness course. So, it's 5,200 sit-ups and 4,000 pull-ups. If they finish those physical fitness goals, as a group, then we do a big party. It's very intense. The purpose of that program is to cause a little discomfort and conflict, so they understand how to work as a group, grow as an individual, and strive for accountability.
What do you think the kids would say about BYKE Collective?
They like that they can get bikes and they love that they can get them fixed for free. I know some will be like, "Jasper's a bit too hard, but
she means well." I think overall they would just talk about how they feel when they're together. They love the environment and having a place where kids can be kids.
What are the ultimate goals for this program?
When I become obsolete—that's the goal. We want this as far away from adult hands as possible. A lot of these youth centers focus on what we think they need. It's not the most useful approach for their development. And maybe a second bus.