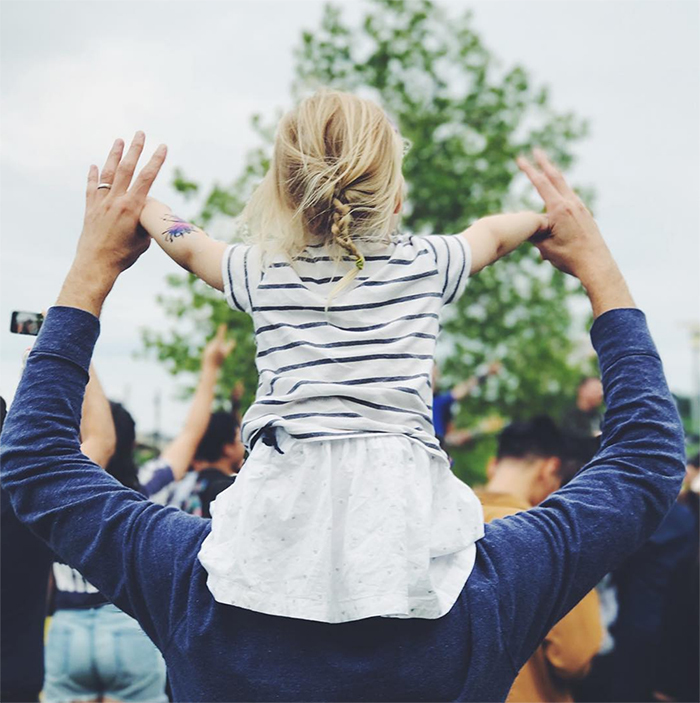 Waterfront Partnership
Having a family doesn't have to mean kissing your love of live music goodbye—at least not during Baltimore's sunny seasons. Concert-hopping can totally be tougher with kids in tow, but this time of year the city is packed with outdoor, kid-friendly events parents can actually relax and enjoy. An atmosphere that puts parents at ease while catering to young ones means concert fun for all. This year, there's plenty to choose from and few reasons to stay home.  
WTMD First Thursdays
The much-loved First Thursday concerts are back at Canton Waterfront Park starting May 3. Two stages, food vendors, drinks by The Brewer's Art, and even a kid's zone are sure to keep the whole family entertained. Artists like Jessica Lea Mayfield and Lake Street Drive will bring big crowds, so come early and post-up until those little yawns set in.
Summer Concerts at Oregon Ridge
This local park is known for its nature center and beautiful trails. But Oregon Ridge has music-lover appeal, too. From KarmaFest to Music in the Woods, and the always eagerly anticipated Hot August Music, the venue holds several day-long events perfect for every age. Kids can take listen to tunes, head over to the playground, and maybe snag a hug from the Oriole Bird, too (who tends to make an appearance at Hot August.
Belvedere Square Summer Sounds
If you're in the market (Belvedere Market, that is) for a laid-back, post-work-week hang, Summer Sounds is just what the family ordered. Every Friday evening from May 25 until September 7, the square comes alive with music by local artists, and plenty of family dancing. Delicious food and slurpable drinks are available from Grand Cru and the market shops. Kids come for the face-painting, kid-zone games, and general running amuck with neighborhood friends. Parents stay for the music and sweet sangria. Equally sweet is the adult interaction and relaxed vibes the concerts never fails to bring.
MECU Pavilion (formerly Pier Six)
Not all concert venues are family-friendly, but MECU has a few perks that make bringing the kids a sinch. With lots of lawn space to roam, you won't have to worry about tots getting lost in the shuffle or those little ear drums, either. Kids of all ages are welcome and those under two get in free. A few of this summer's shows include Primus, LSD (Lucinda Williams, Steve Earle and Dwight Yoakam), and The Barenaked Ladies. And if you're really in it for the kids, don't miss KidzBop Live on August 10.
Summer Socials on the Waterfront
Waterfront Partnership makes West Shore Park another great spot to gather and get down. Every second Friday from May through August, food trucks line the streets while Dooby's provides drinks for thirsty concert-goers. This year, performers like Kelly Bell Band, The New Romance, What's Next, and The Loose Ties take the stage. Kids surely aren't forgotten at this summer standby either, with creative kid-zone fun, like giant building blocks.
Shop and Eat to the Beat on the Avenue
Live music begins at White Marsh on May 25 and continues every Friday and Saturday through Labor Day. The first band of the year is Nelly's Echo. Other performers include the Cajun and zydeco sounds of The Crawdaddies and reggae from Jah Works. Food can be purchased from any of the avenues eateries and beer, wine, and crushes are available in the event area. With plenty of retail stores to hit up nearby, there are tons of reasons to check out the family-centric weekly events.
Feet on the Street in Towson
Bands, bouncy castles, face-painting, and more make this Towson mainstay an event local families look forward to every year. On Friday evenings from May 18 through September 28, local bands like Jury, Crushing Day, and Kitty Black will perform. Families can relax, eat, drink, and get their feet moving over on Allegheny Avenue.
Summer Concerts at Merriweather Post Pavilion
While you might not want to take your kids to the Vans Warped Tour on Sunday, July 27 just yet (though the event is all ages—and they might just enjoy the mohawks and crowd-surfing!), Merriweather has plenty of day-long events that are perfect for the whole family. From the Capital Jazz Festival on Sunday, June 3 to the Summer Spirit Festival on August 4 and 5, there are more than a few concerts to choose from. The kid-friendly site has a spacious lawn with plenty of room for the kids to wiggle, cruise the vendors or just rock out.