The National Aquarium's Rainforest Exhibit is Back and Better Than Ever
Now reopened after renovations, the Upland Tropical Rain Forest recreates one of the planet's most biodiverse ecosystems with dozens of exotic plant and animal species.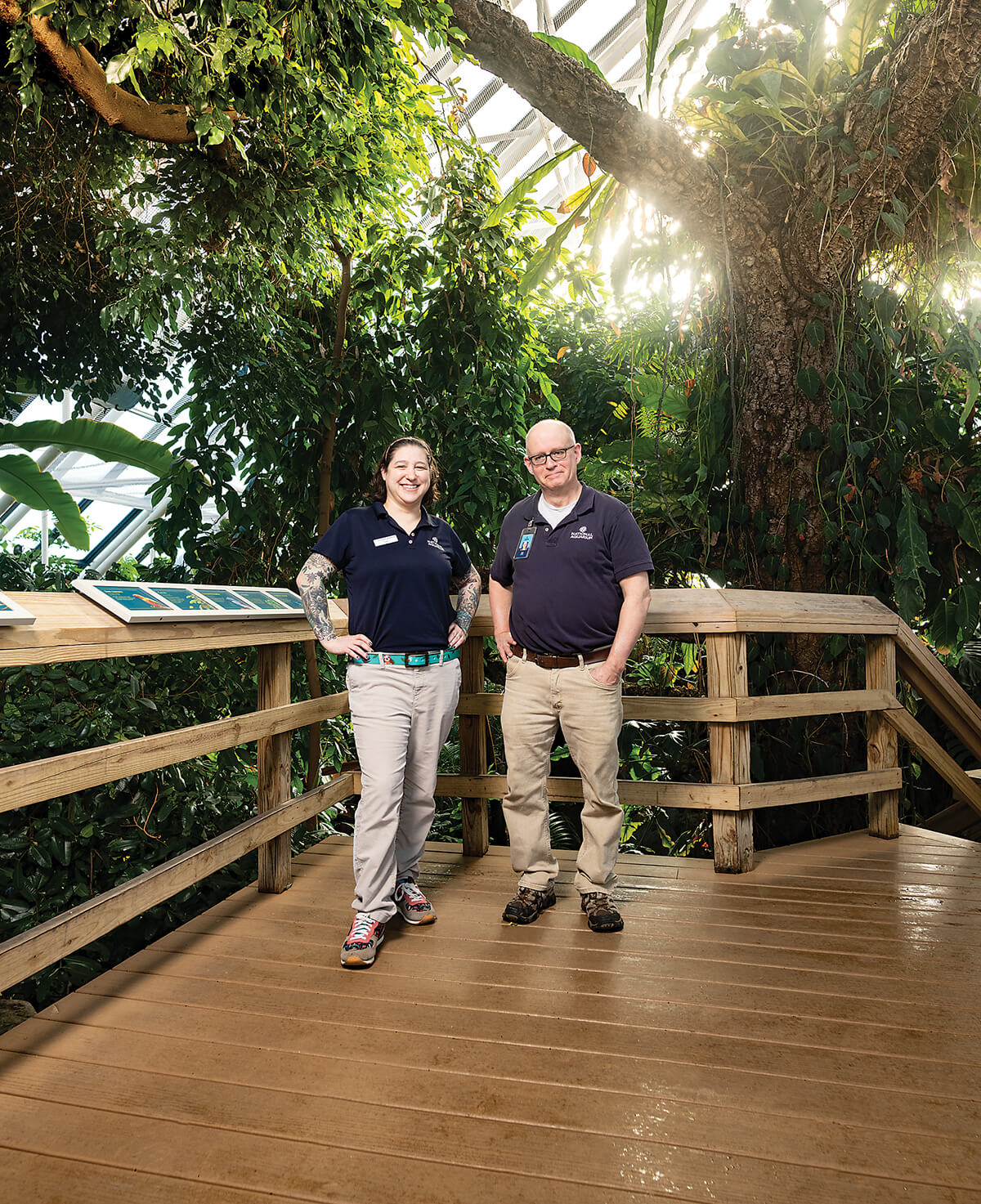 In Baltimore, we always say, "It's not the heat, it's the humidity." But inside the National Aquarium's Upland Tropical Rain Forest, which remains a balmy 80-ish degrees along the edge of the Inner Harbor all year long, that's kind of the point.
On a February morning, assistant curator Debra Dial walks through the newly renovated exhibition, motioning to two-toed sloths and multi-colored birds in flight. The fifth-floor space, enlivened by the sounds of rushing water and chock full of vegetation, is an urbanite's oasis. Recreating one of the planet's most biodiverse ecosystems, it features dozens of species of exotic plants and animals.
"It's our own moment of Zen," says Dial, pictured left, above. The 6,000-square-foot space, which reopened last November after being closed eight months for renovations, was $8 million and four years in the making.
First and foremost, this included the replacement of its iconic glass pyramid rooftop featuring 600-plus windowpanes, which has served as both the exhibit's ceiling and a famous symbol of the city's skyline since first opening to the public in 1981.
After more than 40 years of wear and tear, "The time had come," says curator Ken Howell, who also oversees the aquarium's Australia: Wild Extremes exhibit with Dial.
Outside, the pyramid's glass received new energy-efficient windows, which provide more adequate light to the wildlife while also protecting migratory birds from collision as they pass by—an issue for high-rise buildings in urban settings. Inside, plumbing, ventilation, and flooring repairs and replacements took place, while the tortoise habitat received a facelift, and an upper-level walkway was added to the animal enclosures.
It was an ambitious project. Perhaps the biggest task of all, though, was that during renovations, most of the exhibit's wildlife—many of which had not left the exhibit in decades—had to be temporarily relocated, some moving to the aquarium's off-site Animal Care and Rescue Center. And then they had to be reintroduced to the space.
"Sometimes people think that you can move animals out and then just put them back directly," says Dial. Instead, the animals need to be reacclimated. "We staged introductions back into the forest—I think it took a solid month of thinking about who would be best in the environment first, second, third, and fourth. It was all very calculated."
Still, the process was rewarding for the two curators, who say they have enjoyed watching the animals get comfortable in recent months. Dial says two birds—a yellow-rumped cacique and turquoise tanager—have welcomed offspring since returning home to the exhibit. And already, Howell is pleased to see the plants—cacao, vanilla orchids, bananas—respond well to the new windows. Sloths continue to be a main draw, they both agree, with the revamped rainforest holding many wonders for both the curators and visitors alike.
"It doesn't happen every day, but when a sloth is moving," says Howell, pictured right, above. "it's just an amazing moment—one of those things that transfixes people."
But there is certainly a lot to transfix—if you just know where to look.
"I love telling people who come through to stop—if you listen and look, there's activity everywhere," adds Dial. "All of the small tanagers are picking up nesting material and any insects they can find off of the leaves…They're doing all the things that they would naturally be doing [out in nature], and it's our job to support that."
After almost 20 years with the exhibit, the excitement of the rainforest remains intact for both curators. And for his part, Howell, as a lifelong biologist, can't imagine doing any line of work other than caring for these plants and animals.
"We get to know them on a really intimate basis," he says. "It's not a bad gig."