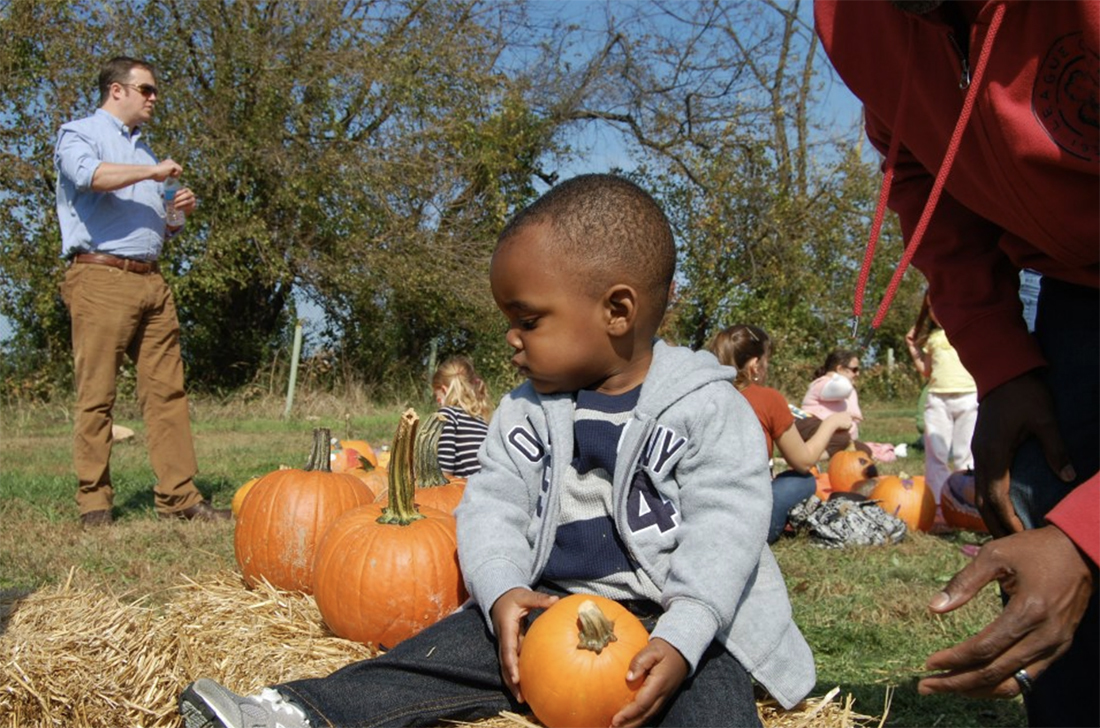 Irvine Nature Center
It's that perfect time of year in Baltimore. The sun is still shining while the air is turning cool and crisp. And in the evenings when you step outside it always smells like your neighbor's burning fire pit.
With the change in season comes a bounty of fall fun, too. For families, the autumn happenings are piling up as fast as the mountain of unraked leaves in your yard. But skip the raking (or better yet, make the kids do it) and be sure you don't miss out on any of these local activities that only come around during this gorgeous time of year.
The Barnyard at Weber's Cider Mill Farm
Fall is the absolute best time to take a trip to Weber's Cider Mill Farm. You can grab some delicious donuts and cider while you shop for produce or Halloween decor, but the outdoor barnyard is truly the place to be.
With its haunted house, massive slides, hay maze, and, of course, barnyard animals, kids will want to stay and play all day. Feed the goats, stuff a scarecrow, or hop on a hayride. But whatever you do to pass the time—don't leave without a pumpkin or five.
Pumpkinfest at Irvine Nature Center
If you're looking to get in the fall spirit, Irvine Nature Center has all the outdoor fun you can handle. It's yearly festival which celebrates the offerings of autumn has music, food, magic shows, face painting, and more. You can get crafty painting pumpkins, hop 'till you drop in a sack race, interact with the animals, or just relax the day away at one of Baltimore's most scenic spots.
Great Halloween Lantern Parade and Festival in Patterson Park
It's almost time for one of the city's best yearly parades, produced by the Creative Alliance and Friends of Patterson Park. It happens on Saturday, October 27, and you can expect things to get spooktacular. This event comes with lanterns and costumes and candy, oh my. The festival starts at 3 p.m. and the parade lines up at 6:30. If you need assistance with your lantern-making, you can head to one of Creative Alliance's several workshops to make sure your lantern is properly lit.
Pick Pumpkins at Gaver Farm
While it's a bit of a hike, heading to Gaver Farm in Mount Airy this time of year is worth the trek. The pumpkin patch is now open every day to pick your own and hayrides to get you there are free. Apple picking is only open on Saturday and Sundays, so if you're in need of a bussell for all those pies, make sure you stop by the orchard on the weekend. While you're there, enjoy all the attractions (open until November 4) like giant slides, pedal carts, corn mazes, and more.
Honey Harvest Festival at Oregon Ridge
On October 6-7, come celebrate all things honey at the annual festival where bees are the headliners. Learn about the incredible creatures by watching honeybee hive demos. And, if you get hungry, enjoy all the food trucks have to offer, then go ahead and make some honey-flavored ice cream for dessert. The best part about this all-ages gathering (aside from the fact that you'll take home more honey than Pooh) is that admission is totally free. How sweet is that?
Apple picking at Butler's Orchard
Butler's Orchard in Germantown is another sweet spot to hit up this time of year. It has some of the best harvesting around including apples galore (Stayman and Golden Delicious) for $1.99 a pound. Now that's a lot of applesauce! There are, of course, pumpkins to pick and flowers, too. While you're there, the kids can enjoy the fun of hayrides, pony rides, and even visiting the farm's two miniature donkeys.