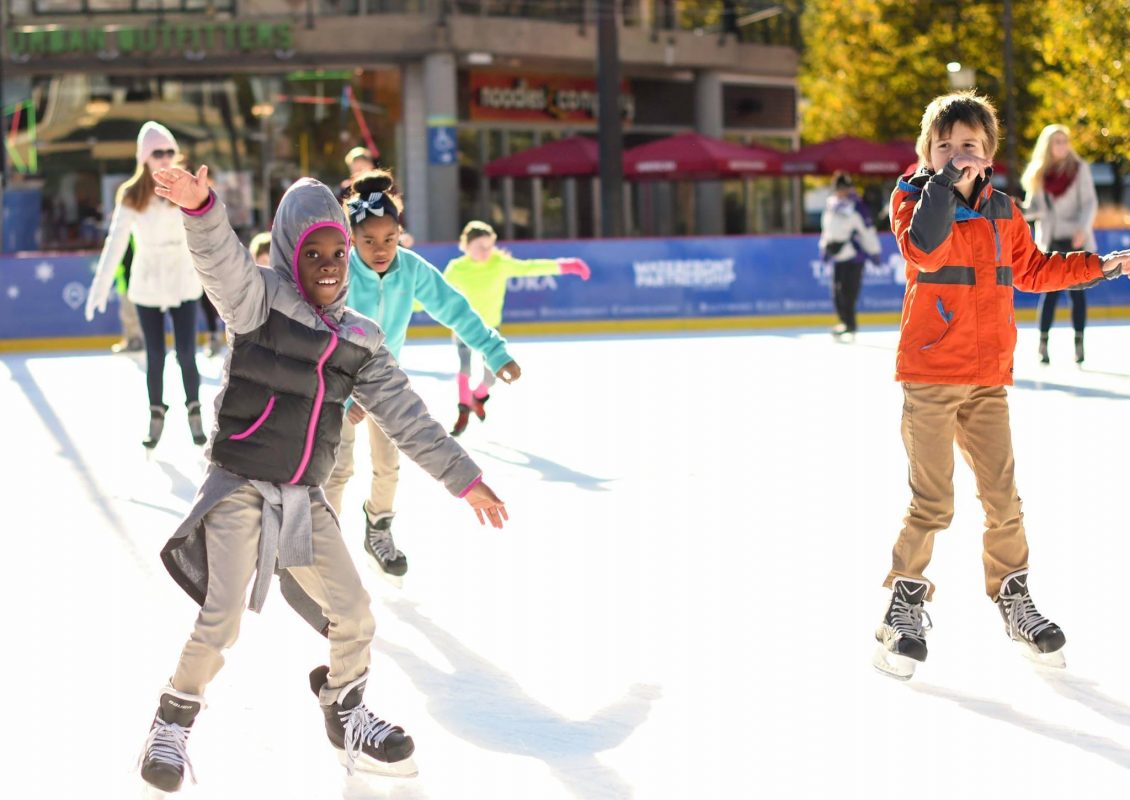 Pandora Ice Rink
New Year's Eve is historically a night to class it up, toast champagne, and hopefully snag a kiss at midnight. And, while there's certainly no shortage of adults-only events in this town, kids always love to get in on the festive fun, too.
This year, you can do it all because there's tons of daytime action happening that your littles will gladly toot their noise-makers for. So, save the sparkly dresses and hors d'oeuvre for later and check out one of these kid-friendly events on NYE.
Midnight Noon at Maryland Science Center
At this annual New Year's Eve celebration at the Maryland Science Center, kids can watch the ball drop long before bedtime. The ball drops at 12 noon, but there's tons of celebrations from 10 a.m. to 2 p.m., like a live concert by the kid's band Milkshake and tons of science-based play to be had. Plus, all the NYE activities are completely free with your admission, too, so you don't have to worry about spending a ton to ring the new year in with the kids.
Kiddie Scoop Ball Drop at The Charmery
It's a Baltimore holiday tradition to celebrate New Year's at The Charmery. This year, the festivities take place at the ice cream factory's newest location at Union Collective. The ball drops at 8 p.m. and it wouldn't be complete without ice cream, shakes, beers, and the tunes of Bon Jovi by cover band Heart n Dagger. Doors open at 6:30, so come, eat, drink, and dance. But most importantly? Get those kids to bed before 2019.
Noontime New Year's Eve at Port Discovery
The kid-fun is always endless at Port Discovery and New Year's Eve is no different. Come December 31, there will be tons of celebrating happening all over the museum. With cool crafts, special performances, juggling, live animals, and more, it's the perfect way for children to ring in the new year. Play and explore all day, but don't miss the confetti-filled ball drop at noon, complete with a special snack of juice and cookies. It's also a chance for kids to say goodbye to the KidWorks climbing structures that will soon be replaced in 2019.
Day of Family Bowling at Bowlero
If you're looking for a little friendly competition, purchase a family bowling package at Bowlero. With two hours of unlimited bowling, champagne for the adults and cider for the kids, knocking down pins is the perfect way to spend a day together—not to mention, it's both active and affordable. Try to stay out of the gutter and enjoy some quality time together both New Year's Eve and New Year's Day (packages are available for both).
Skate Late at Pandora Ice Rink
While it's not on the early side, older kids and parents alike will love to have a late skate at the Inner Harbor rink, which is open until 12:30 a.m. Aside from the skating fun at the gorgeous ice rink, the totally amazing view of the downtown fireworks display is a site to be seen and a pretty good reason to rent some skates (even if you hug the wall the entire time). If you've yet to practice your crossovers at the Inner Harbor, the NYE late skate is the perfect opportunity.
Read Your Way Into 2019 at Baltimore County Public Libraries
On New Year's Eve, little bookworms can visit any one of the Baltimore County Public Library locations to ring in the new year at noon. Count down with some friends and check out some great titles. Because, really, what better way is there to head into a new year than with a whole bag of new books, aka, new adventures?