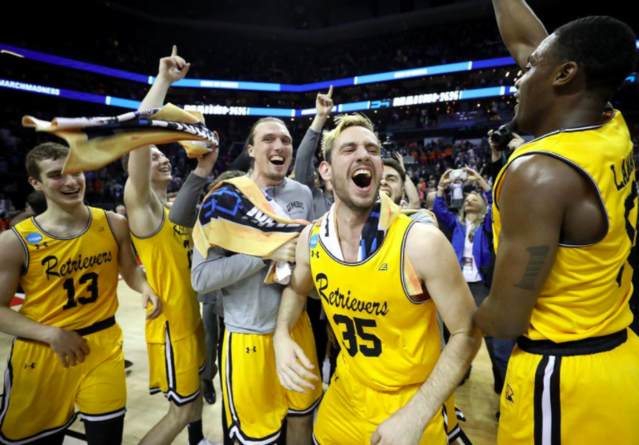 UMBC
Looking back on it, maybe we should have seen the greatest upset in college basketball history coming. After all, how great is this? As the TNT broadcast crew told a national television audience afterward: "UMBC: U Might Be Cinderella." 
The 15 members of the men's basketball team from the University of Maryland-Baltimore County—as we've long known the school as—stunned the sports world, busted brackets across America, and sent Twitter into a frenzy.
The relatively tiny public research university in Catonsville of 14,000 students, recognized more for its science, tech, and engineering programs than anything else before Friday, will now be associated with something much different for as long as the memories of the historic night exist.
Like these…
In an unforgettable and surprisingly dominant performance, second-year coach Ryan Odom's Retrievers, who got into the NCAA tournament on a last-second shot in the America East title game last Saturday, followed that up with an upset of the 68-team national bracket's No. 1 overall seed Virginia, 74-54, in a first-round game in Charlotte, North Carolina.
UMBC became the first 16-seed to ever beat a No. 1 in a NCAA men's tournament, in 136 such games played, and will now face Kansas State in the Round of 32 on Sunday. 
"It's just amazing," play-by-play announcer Jim Nantz said in the waning moments when it became clear the Retrievers would win, after yet another bucket by star graduate student guard Jairus Lyles, who finished with 28 points, coming in a variety of ways, while fighting through cramps in the second half. "I've never seen anything like it."
By that time, UMBC had already broken parts of the internet (including its own), as people from around the country looked for more information on the school with a four-letter acronym that was about to make history…
C'MON GUYS, you crashed our dang website, our IT people wanna watch the game too, please form an orderly line

— UMBC Athletics (@UMBCAthletics) March 17, 2018
It's hard to believe it all just happened. The game was tied at 21 before the Retrievers pulled away in the second half. Lyles scored 23 of his 28 points after halftime, and shot 9-for-11 overall.
Like him, the UMBC Athletics official Twitter account was a star of the evening, going from less than 6,000 followers before the game to more than 30,000 in the 30 minutes after. Whoever thumbed replies throughout the game to curious strangers and sports journalists alike did so with a healthy dose of hardscrabble sass.
UMBC is beating virginia by14. UMBC looks fantastic! btw, anyone know what UMBC is?

— Jon Heyman (@JonHeyman) March 17, 2018
PUT SOME RESPECK ON IT! WE HAVE DEFEATED NO.1 OVERALL SEED VIRGINIA 74-54

— UMBC Athletics (@UMBCAthletics) March 17, 2018
As we said with a smidge less snark in a preview of the game on Thursday, when out-of-towners ask about the school, just say it's University of Maryland-Baltimore County, of course. 
Now there's another name in play—that Cinderella one. How crazy, how unlikely, how fun. How long will the story continue?