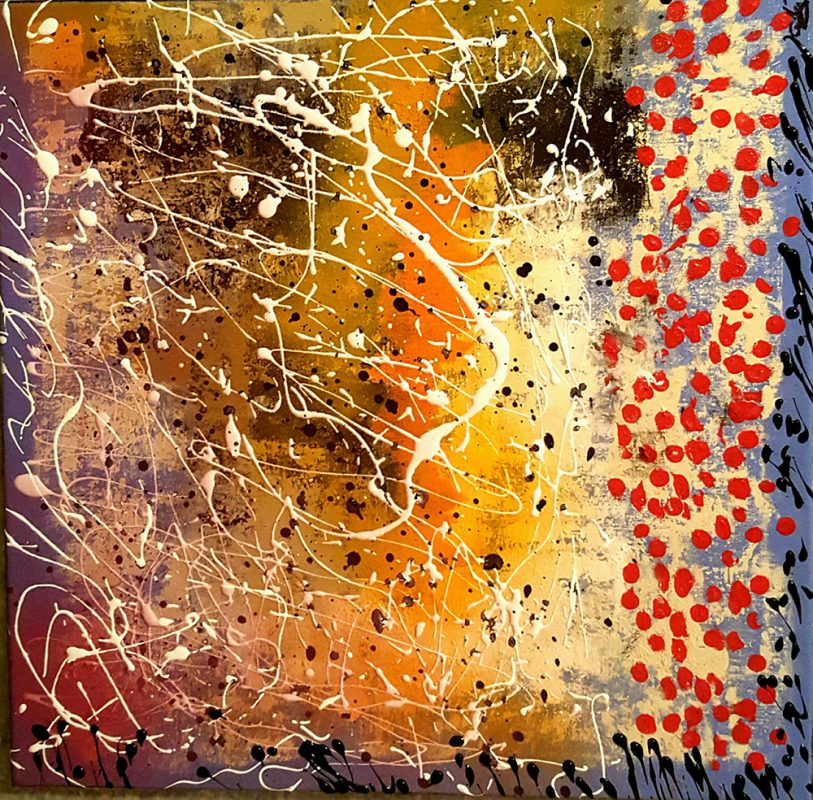 Alma Roberts
Visual Art
WOKE Exhibition by Alma Roberts
Opens Dec. 8, Baltimore City Hall, 100 Holliday St. Ste 101. By day, Alma Roberts is a healthcare executive but, when she's not working on serving her community through health initiatives, she's enriching it through poetry, plays, and, of course, painting. Roberts brings her work to Baltimore City Hall to share pieces that communicate awareness of social, political, and racial injustices, as well as her hope for an equitable future.
James Hennessey: Enduring Concerns
Open Dec. 9, Creative Alliance, 3134 Eastern Ave. Over the 37 years he spent teaching painting at MICA, James Hennessey influenced thousands of artists. Step into the shoes of those many students as Creative Alliance takes a look back at Hennessey's decades-spanning career in Baltimore and the large paintings that define it. For more insight into the fables and influences that emerge from his canvases, stop by for a free gallery talk on Jan. 6 at 7 p.m.
Performing Art
The Revolutionists
Opens Dec. 6, Everyman Theatre, 315 West Fayette St. A notorious queen, an assassin, a playwright, and a spy walk into a room. What could happen? Take a trip back to the French Revolution with some of the baddest babes in history: Marie Antoinette, Charlotte Corday, Olympe de Gouges, and Marianne Angelle. These French femmes are sure to have you laughing as you learn more about their incredible lives and legacies.
ArtsCentric Presents Sister Act
Opens Dec. 8, Motor House, 120 W. North Ave. Revel in the gospel vibes and hilarious twists of this classic convent caper. ArtsCentric brings the story of diva Deloris Van Cartier (Whoopi played her in the movie, but you knew that), the murder she witnessed, and her new life as Catholicism's funkiest nun to the Motor House stage. This show is sure to be just heavenly.
Cirque de la Symphonie Holiday Spectacular
Dec. 22-23, Joseph Meyerhoff Symphony Hall, 1212 Cathedral St. Spice up your symphony experience for the holidays with a visit from aerial flyers, acrobats, contortionists, dancers, jugglers, balancers and strongmen. These cirque performers will showcase their talents through choreography set to classical scores performed by the BSO. Come early for festive fare and a visit from St. Nick himself.
Hedwig and the Angry Inch
Dec. 21, Ottobar, 2549 N. Howard St. Join East German glam goddess Hedwig and her backing band, The Angry Inch, as they rock their way through Hedwig's glitter- and innuendo-filled story of sex, love, music, and discovering exactly who she is. She made it over the great divide, now she's coming for you.
A Christmas Carol adapted by Ian Gallanar
Opens Dec. 8, Chesapeake Shakespeare Company, 7 S. Calvert St. You've seen the original by now, so why not take in a different version of this Charles Dickens classic? Opt for a uniquely regional retelling of the tale of Ebenezer Scrooge and his ghostly visitors with CSC artistic director Ian Gallanar's adaptation, which swaps out London for Victorian-era Baltimore.
Events
We Are Baltimore Rising
Dec. 12, The 29th Street Community Center, 300 E. 29th St. Come for the screening of director Sonja Sohn's HBO documentary, Baltimore Rising, following activists, police officers, gang affiliates and community leaders in the wake of the death of Freddie Gray. But stay for the discussion to follow with those still addressing the issues covered in the film. Strong City Baltimore, which is hosting the event, encourages "young community leaders" ages 16-30 to attend. Lunch will also be provided.
Brown Lecture Series: Paul Butler
Dec 13, Enoch Pratt Free Central Library, African American Department, 400 Cathedral St. Listen as author, professor and former federal prosecutor Paul Butler shares insights from his book Chokehold: Policing Black Men. In it, he describes a system that isn't broken, but is instead made to manufacture fear of black men from politicians, police, and ordinary people. This frank discussion of widespread issues with crime, law enforcement, and the criminal justice system is not to be missed.
A John Waters Christmas
Dec. 19, Baltimore Soundstage, 124 Market Pl. Nativity plays and Nutcracker performances not your thing? Consider attending this one-man show from longstanding resident of Santa's naughty list John Waters. The Pope of Trash will share his yearly holiday musings and answers to age-old questions such as, "Is Prancer the only gay reindeer?" and "What would a Gaspar Noé Christmas movie look like?" among other, filthier queries. But leave the kiddies at home for this holiday outing, this show is (obviously) for adults only.
News
Several people and projects with Baltimore ties are up for NAACP Image Awards come January. On November 20, photographer Devin Allen, author Ta-Nehisi Coates, the documentary Step, and HBO docudrama The Immortal Life of Henrietta Lacks all received nominations for the annual awards honoring outstanding people of color in film, television, music, and literature. Winners will be announced Jan. 15.
Maryland natives also have several chances to shine at the Grammys. Country duo Brothers Osborne (Deale) is nominated for Best Country Duo/Group Performance for "It Ain't My Fault." Rapper Logic (Gaithersburg) scored a nom for "1-800-273-8255 (feat. Alessia Cara & Khalid)" in the Song of the Year and Best Music Video categories. Father John Misty (Rockville) is looking to score his first Grammy with Pure Comedy after a loss last year. Pure Comedy is nominated for Best Alternative Music Album and Best Recording Package. Columbia's Brent Faiyaz also as a shot at a Grammy nod for his work on DC rappers Goldlink and Shy Glizzy's "Crew," which is up for Best Rap/Sung Performance.