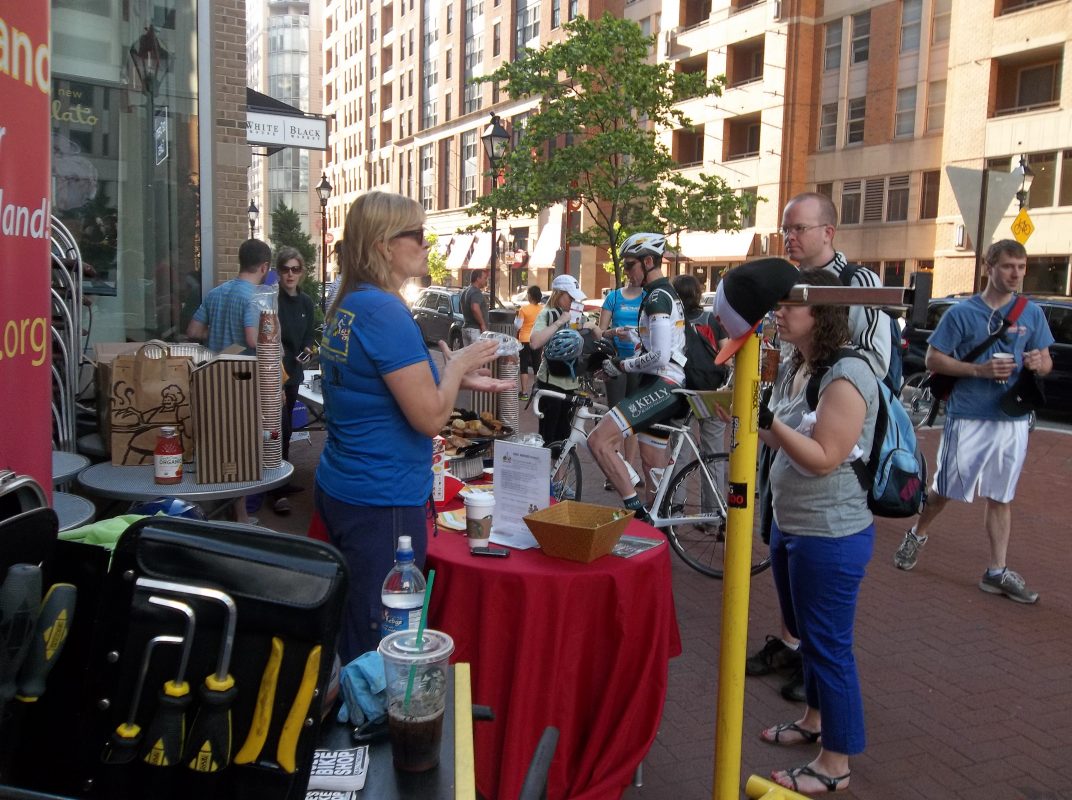 Photo courtesy of bmorebikes.com
National Bike to Work Day, sponsored locally for the 18th year by the Baltimore Metropolitan Council, will be celebrated in Baltimore City and the surrounding area at 33 area destinations, offering coffee, bagels, and in many cases, a little bike schwag to boot.
The best part? You get to rub elbows with fellow bicycle commuters before work.
Most of the "pit stops" around the region, including 14 in Baltimore City, are open from 7-9 a.m.
The full listing of area events, which include pit stops in Anne Arundel, Baltimore, Carroll, Howard and Harford County, can be found here. Online registration is free and recommended, but not required.
On its website, the Baltimore Metropolitan Council lists a bunch of reasons to ride rather drive to work. To avoid traffic jams and parking problems, for example—and to save money, too. Not only does the Baltimore City Parking Authority offer free, secure bike parking downtown near City Hall, AAA estimates that it costs an average of more than $9,000 annually to own and operate a car. The Baltimore Metropolitan Council also notes the personal health benefits—the average bicycle commuter loses 13 pounds their first year—and the public health benefits. (Single-occupancy vehicles contribute to ground level ozone, notably in Baltimore City, where smog levels reach hazardous levels each summer.)
The best reason, though? Bicycling is just more fun than driving. At least that's the reason we love it.
Of course we bike to places besides work, too, like WTMD's First Thursday concerts at the Canton Waterfront Park. (Maybe we need some more bike parking there?)