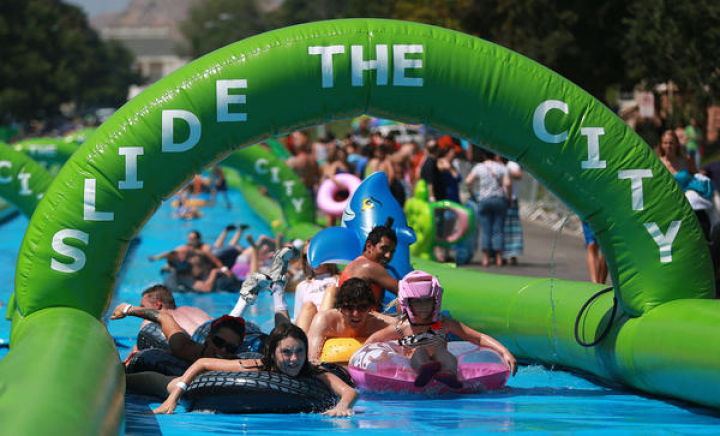 Courtesy of Slidethecity.com
Baby boomers played in sprinklers. Gen Xers and millennials favored Slip 'N Slides. Is Slide the City the next generation in recreational cooling?
Baltimoreans can decide for themselves on June 13, when this new event turns a 1,000-foot stretch of Hillen Road near Lake Montebello into a padded vinyl water slide, open for the slipping, sliding, and sloshing. Tickets start at $10 for an advance-purchase single trip down the slide and go up to $65 for an "Unlimited Slider" pass purchased the day of the event. In addition to the slide, event organizers hope to foster a festival atmosphere with food and product vendors, plus music. Furthermore, they're looking to partner with a local charity, which would receive a portion of the proceeds. Interested vendors and nonprofits should contact [email protected].
Katelin Goings, a spokesperson for Slide the City, noted that the event is still in its infancy, but has been met with enthusiasm everywhere it has been tried. "We did a couple test runs last year," says Goings. "And then, this year, so far, we've done about 10 events and are planning on doing quite a few more. Reaction has been great. People are excited for a new fun event, especially going into summertime."
According to Goings, one of the main challenges in staging the event is finding hilly enough terrain. Another is finding roads, which the city will agree to close for the duration of the event. This criteria eliminated the very flat and very busy Inner Harbor, and explains why the event is being held in generally sleepy North Central Baltimore. Thus far, the event is the only one organizers are planning in Maryland.
More information can be found at the Slide the City website, including a FAQ page, which spells out rules and regulations for attendees. (You must bring your own inflatable tube, or purchase one on site.) We also suggest perusing the site's gallery to get an idea of the scope of the slide. It doesn't necessarily sound like much, but 1,000 feet is about three football fields long, much longer than your childhood Slip 'N Slide.