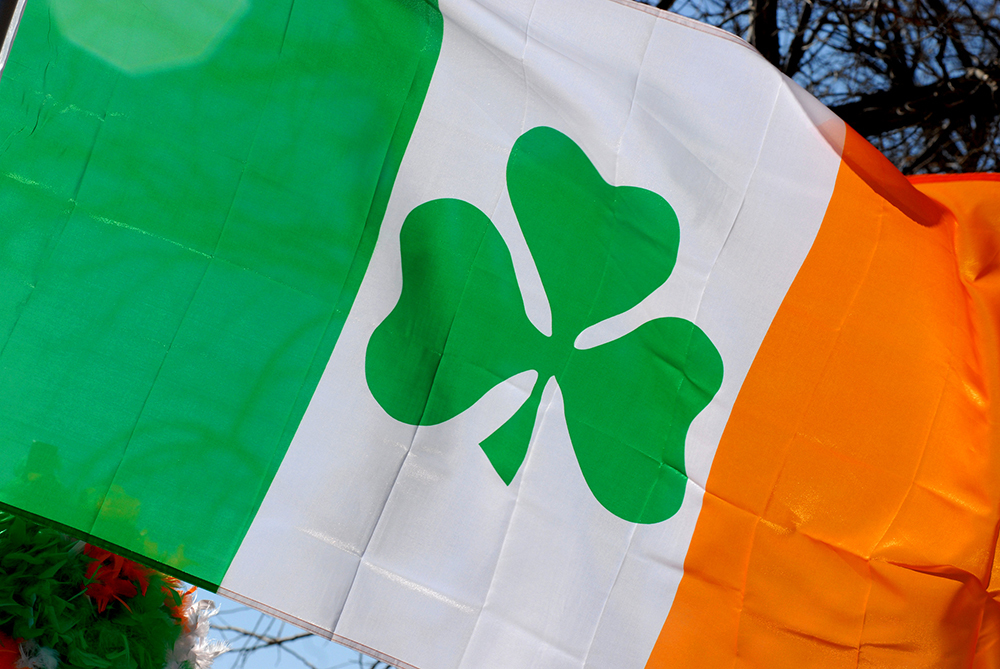 Flickr / Creative Commons
In Charm City, everything starts to get a little greener once March rolls around. Aside from the natural signs of spring, expect to see a surplus of shamrocks, emerald garb, and even green beer, all in honor of St. Patrick's Day. Though we lost a few beloved Irish pubs this year (RIP Patrick's of Pratt Street and Liam Flynn's Ale House), there are still plenty of places to properly raise a glass to the Emerald Isle. So whether you're planning to partake in a boozy bar crawl, jam to Celtic rock, or pair a pint of Guinness with some classic Shepherd's Pie, here are our picks for the best local St. Paddy's celebrations.
BAR BLARNEY
3/3: Guinness Pairings Dinner
To kick off Slainte's annual 17 Days of St. Patrick festivities leading up to the big day, the Fells Point pub is hosting this special dinner that pairs five courses with signature Guinness brews. Dishes to look out for include Oysters Rockefeller, Shepherd's Pie fritters, blonde ale mussels, Guinness-braised short ribs, and a layered bourbon chocolate cake. Slainte Irish Pub, 1700 Thames St., 6-8 p.m., $35, 410-563-6600
3/4: Canton Irish Stroll
Crawl around Canton's O'Donnell Square to enjoy drink deals including $3 Miller Lite, $4 Blue Moon, and $5 Summer Shandy cans, as well as $5 Jameson shots. Participating bars include El Bufalo Tequila Bar, Portside Tavern, Southern Provisions, and Irish favorites Looney's and Claddagh Pub. O'Donnell Square, 2900 O'Donnell St., 1-9 p.m., $12
3/11: Second Annual Broad Street Bar Crawl
Timonium watering holes Ryleigh's Oyster, Five Martini Bar, and Mother's Grille are teaming up to co-host this second annual crawl. Don your green to enjoy food and drink specials and live music at each spot. Multiple locations including Ryleigh's Oyster, 23 W. Padonia Road, Timonium, 12-9 p.m., 410-539-2053
3/11: Federal Hill Irish Stroll
Take to the streets of Federal Hill to sip discounted drinks, cheer on strolling bagpipers, and experience a raging outdoor block party on East Cross Street. Deals at participating bars—think favorites like Ropewalk Tavern, Wayward, Boiler Room, and Magerks Pub—will include $3 Miller Lite, $4 Blue Moon, and $5 Summer Shandy cans. Register at Mother's Grille, 1119 S. Charles St., 1-9 p.m., $20
3/12-17: St. Paddy's Week at James Joyce
Post up at this Harbor East pub all week long for events emphasizing live music, pint glass engraving, and a sampling of beers to be featured at Guinness's new brewery in Relay. On St. Patrick's Day, the pub will open its doors at 7 a.m. offering $3.17 pints, Irish dancers, bagpipers, and traditional delicacies all day long. James Joyce Irish Pub, 616 President St., 410-727-5017
3/17: St. Patrick's Day at R. House
Beloved bartenders Amie Ward and Aaron Joseph will be pouring special "Irish Goodbye" boilermakers (Brewer's Art Zeke's coffee porter and a shot of Jameson) to pair with festive eats from all of the purveyors at this raved-about Remington food hall. Expect bites including vegan shamrock smoothies and green mac and cheese from Stall 11, mint hummus from Arba, chicken soup with green dill matzoh balls from D.C.-based pop-up Prescription Chicken, and a special "San Patricia" arepa filled with corned beef, sweet peppers, and cilantro sauce from White Envelope. 301 W. 29th St., 443-347-4570
3/17: St. Patrick's Day at Tark's
For one night only, this Timonium hangout is transforming into O' Tark's Grille, a festive concept that offers drink specials, Emerald Isle-inspired eats, and live performances by Irish music masters Laura Byrne and Dominick Murray. The party will mark the inaugural event inside the restaurant's new heated and tented outdoor pergola. Tark's Grill, 2630 W. Joppa Road, Ste. 116, Timonium, 410-583-8275

3/17: Saint Pirate's Day
Known for its tiki cocktails and karaoke nights, this Glen Burnie bar certainly knows how to throw a party. The Island-themed spot is celebrating with a blowout boasting green beer, Guinness pints, Jameson pickle-back shots, corned beef, bangers and mash, and Bailey's ice cream sundaes. Mutiny Pirate Bar & Island Grille, 1653 Marley Ave., Glen Burnie, 410-787-2050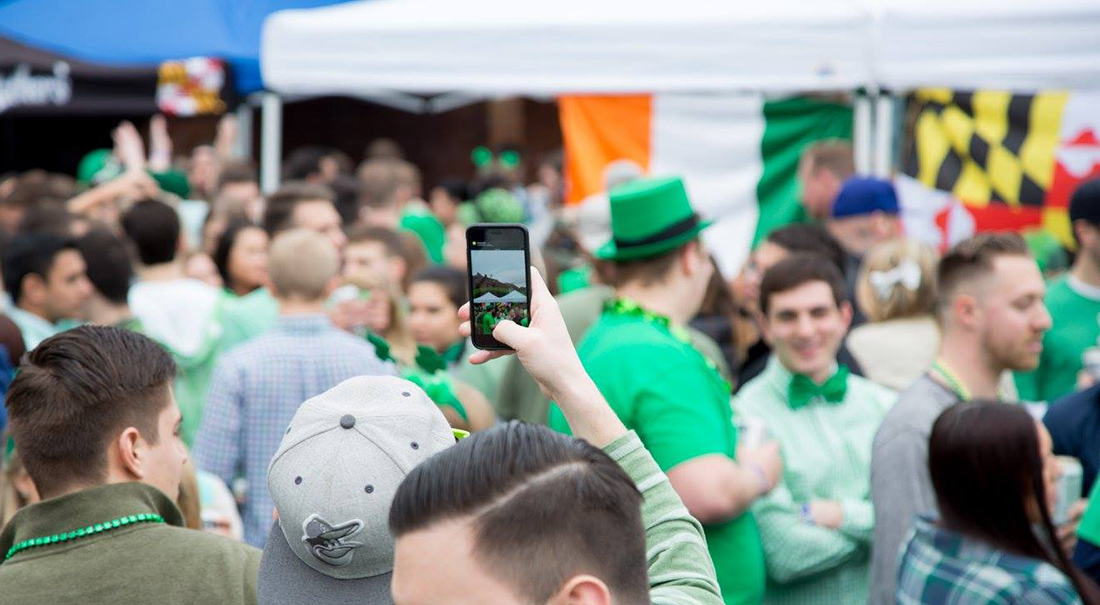 3/12-18: St. Patrick's Day Spirit Cruises
Step aboard this festive booze cruise decked out in green decor, which boasts a full bar, buffet menu, and live DJ entertainment. Spirit of Baltimore 561 Light St., Inner Harbor, Times vary, $36-51, 866-312-2469
3/17: St. Patrick's Day Hooley at Tilted Kilt
This White Marsh pub is opening its doors bright and early on St. Paddy's Day, serving free breakfast paired with $3 mimosas and Bloody Marys. Throughout the day, enjoy ice luge, bomb and shooter specials, and a holiday menu showcasing eats like Scotch eggs and corned beef and cabbage. Tilted Kilt Pub, 8133 Honeygo Blvd, White Marsh, 410-497-0792
3/17-18: St. Patrick's Day Bash and Inaugural Block Party at Delia Foley's
This South Baltimore staple is going all out for St. Patrick's Day weekend, kicking things off with a rager on March 17 highlighting basket giveaways, live music by local rockers Star Crush and Bond and Bentley, and drink specials like $5 Jameson shots and $7 Irish trash cans. The festivities continue with the bar's first-ever St. Paddy's block party on March 18 featuring ice luge, food specials, multiple tents, a Guinness beer truck, and live music by Bumpin Uglies and Honey Extractors. Delia Foley's Pub, 1439 S. Charles St., Times vary, Free-$10, 443-682-9141
3/17-18: St. Patrick's Beer & Oyster Weekend
The Boathouse Canton is getting into the spirit by offering St. Patrick's Day specials including $2.50 craft drafts, $4 Guinness pints, and $5 Jameson drinks. To keep the party going, the waterfront spot will host a Maryland Beer & Oyster Festival on March 18 with live music by Eastern Shore-based singer-songwriter Justin Ryan, $1 oysters, and $1 pours from local breweries including Heavy Seas Beer, Jailbreak Brewing, Monument City Brewing, and Waverly Brewing Company. The Boathouse Canton, 2809 Boston St., Times vary, Free, 410-773-9795
3/18: Green Kegs & Eggs Rally
Make your way over to downtown's nightlife district to enjoy live DJ entertainment, breakfast sandwiches from Luckie's Tavern, and plenty of green beer at participating bars including PBR and Leinenkugel's Beer Garden. Power Plant Live, 34 Market Place, 10 a.m.-3 p.m., $30-60
CELTIC CONCERTS
3/11: Teelin Irish Dance Co.
Marvel in the work of this Columbia-based dance troupe, which fuses Celtic dance music with its high-energy routines. The Carroll Arts Center, 91 W. Main St., Westminster. 3 & 7 p.m. $14-16. 410-848-7272.
3/17: St. Patty's Day Banger
Local rockers 3PM, Others May Fall, The Great Heights Band, Underdog Champs, and The Stifled are gathering to play this special St. Paddy's show at Baltimore Soundstage. Celebrate in style by taking advantage of the venue's $30 bottomless beer package. Baltimore Soundstage, 124 Market Place, 7:30 p.m., $10-15, 410-244-0057
3/17-18: Meet in the Street 2017
Now in its 22nd year, Claddagh Pub's weekend-long block party is back with heated tents, local bands, and plenty of Irish car bombs to go around. Swing by O'Donnell Square to catch sets from Liquid A, Kristen and the Noise, Hot Tub Limo, and Starcrush. Claddagh Pub, 2918 O'Donnell St., 11 a.m.-11 p.m., Free, 410-522-4220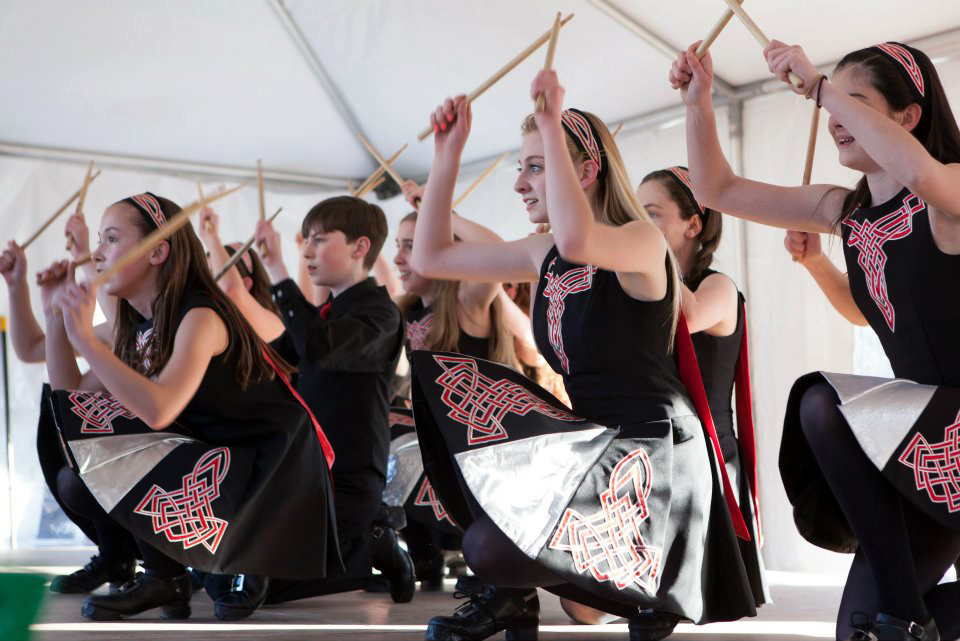 3/17-19: Celtic Celebration
Conductor Jack Everly and the BSO SuperPops will be joined by a few special guests for an evening of bagpiping, step dancing, and performances of recognizable Irish titles (think "Danny Boy"), as well as pieces from films like Titanic and Braveheart. Joseph Meyerhoff Symphony Hall, 1212 Cathedral St. Fri.-Sat. 8 p.m., Sun. 3 p.m. $33-99. 410-783-8000.
3/17: Shamrocks & Shenanigans 2017
Squeeze your way into the crowd at Power Plant Live's main stage to jam to live covers by Mr. Greengenes with special guests Laura Lea and Tripp Fabulous. Plus, sip green beer from the district's surrounding bars and have your phones ready for a special green balloon drop. Power Plant Live, 34 Market Place, 6 p.m., $15-20
3/17: Shamrock & Roll Party
Union Jack's might technically be a British Pub, but we're all Irish on March 17. Head to the Columbia mainstay to down drafts, enjoy free Irish breakfast from 9-10 a.m., enter into the scary leprechaun contest, and get down to '80s covers by The Reagan Years. Union Jack's, 10400 Little Patuxent Parkway, Columbia, 2 p.m.-1:30 a.m., $5, 410-720-5225
FAMILY FUN
3/4: For the 'Wee Little Ones
Bring the kids for a morning of face painting, shamrock crafts, complimentary breakfast, and dance tutorials led by the O'Connor School of Irish Dance. Adults-only specials include $5 Irish coffees all morning long. Slainte Irish Pub, 1700 Thames St., 7 a.m.-1 p.m., Free, 410-563-6600
3/11: Celtic Canter
Throw on your greenest attire for this annual 5K around historic Westminster, which offers a special Leprechaun Chase for kids. The fun run descends into a post-race party with archery demos, Gaelic football, and Irish-inspired crafts and games. Main Street, Westminster. 9 a.m., $14-16. 410-751-5501
3/12: Shamrock Shindig
Dress up your little ones in green and gold for this annual harborfront festival, where they can indulge in everything from crafts and dancing to face painting and temporary tattoos. Plus, food trucks, beer and wine, and live music by The Shamrogues will all be featured for adults to enjoy. Pierce's Park, Inner Harbor & Pier V, 10:30 a.m.-2 p.m., Free-$30
3/12: St. Patrick's Snakes
Ancient lore has it that Saint Patrick banished all of the snakes from the Emerald Isle back in the fifth century. The snakes in Ireland might be lacking, but locally, you can find plenty of them at Lake Roland. Kids are invited to meet some of the slithering reptiles up close and create a festive craft at this annual event hosted by the Lake Roland Nature Council. Lake Roland, 1000 Lakeside Drive, 2-4 p.m., $2-3, 410-887-4154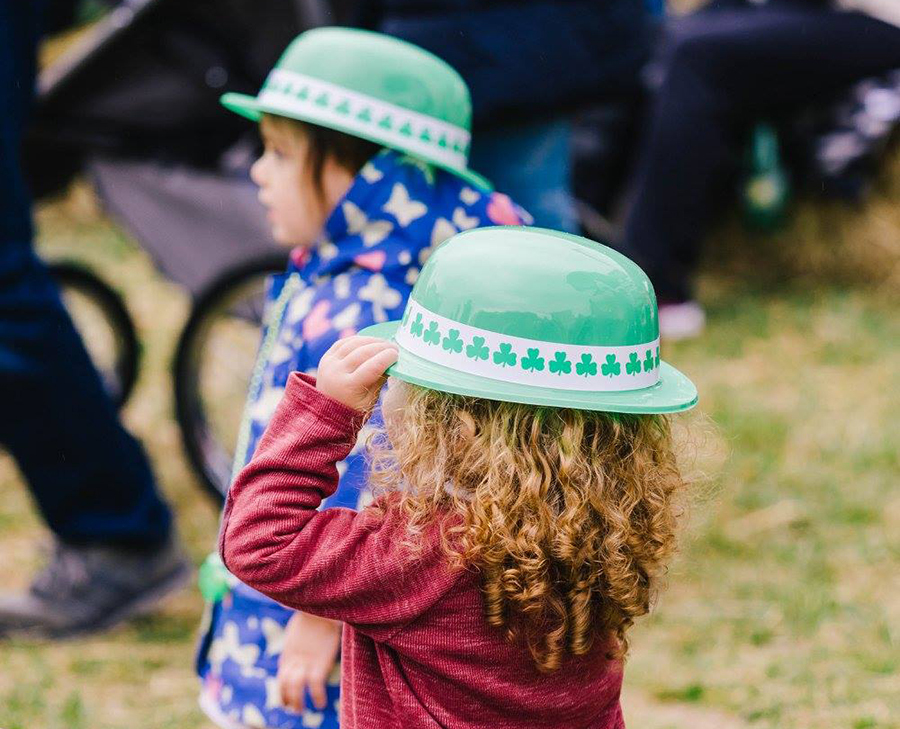 3/17: St. Patrick's Day at The Corner Pantry
Celebrate the heritage of British-born chef/co-owner Neill Howell—who just so happens to be half Irish—at this family-friendly haunt in Mt. Washington. Delicacies to be featured on the BYOB restaurant's special holiday menu include lamb stew, fish and chips, corned beef and cabbage with scallion mash, and Irish whiskey cake with Bailey's caramel sauce. Adults are encouraged to celebrate in style by bringing their own Guinness. The Corner Pantry, 6080 Falls Road, 7 a.m.-8 p.m., 667-308-2331
3/17-18: St. Patrick's Day Tea
The Carroll County Farm Museum is bringing back this annual holiday event, which offers a three-course Irish breakfast followed by a guided tour of the farmhouse led by a costumed curator. Carroll County Farm Museum, 500 S. Center St., Westminster, seatings from 11 a.m.-4 p.m., $20, 800-654-4645
3/18: Irish Family Day
The Stil in Timonium will be closing out its weeklong festivities (which encompass Irish trivia, live music, open mic nights, and daily food and and beat-the-clock drink specials) with a soiree for the entire family boasting clowns, crafts, balloon animals, face-painting, and a jam-packed live music lineup. An Poitin Stil, 2323 York Road, Timonium, 11 a.m., Free, 410-560-7900
3/25: Walking Tour of an Irish Neighborhood
Head to Mount Clare Station, the oldest surviving building on the B&O Railroad Museum campus, to learn about its roots as an immigrant Irish workplace. Baltimore & Ohio Railroad Museum, 901 W. Pratt St., 10:30 a.m.-12 p.m., Free, 410-347-4747
3/25: Traditional Irish Breakfast
Wrap up St. Paddy's month by joining the Police Emerald Society of Baltimore at this fundraiser that supports Charm City's annual parade. Chow down on traditional breakfast fare prepared by local chef Jim Farace while enjoying Irish dance performances and a presentation by the Irish Railroad Workers Museum. FOP Lodge 34, 740 Wampler Road, Middle River, 10 a.m.-1 p.m., Free-$27
PARADE PARTIES
3/4-5: Annapolis Irish Weekend
Downtown Annapolis' annual weekend-long celebration kicks off with a gala at the Annapolis Waterfront Hotel, followed by the fifth-annual St. Patrick's Day Parade that steps off from West Street in front of Fado Irish Pub on March 5. Locations & times vary. 410-280-0445
3/12: Shamrock 5K
Start parade day off right with this jolly jog around the city, which concludes at Power Plant Live with a post-race party featuring free beer and live music by Super Bueno. Charles & Mulberry Streets, 1:15-4:15 p.m., $45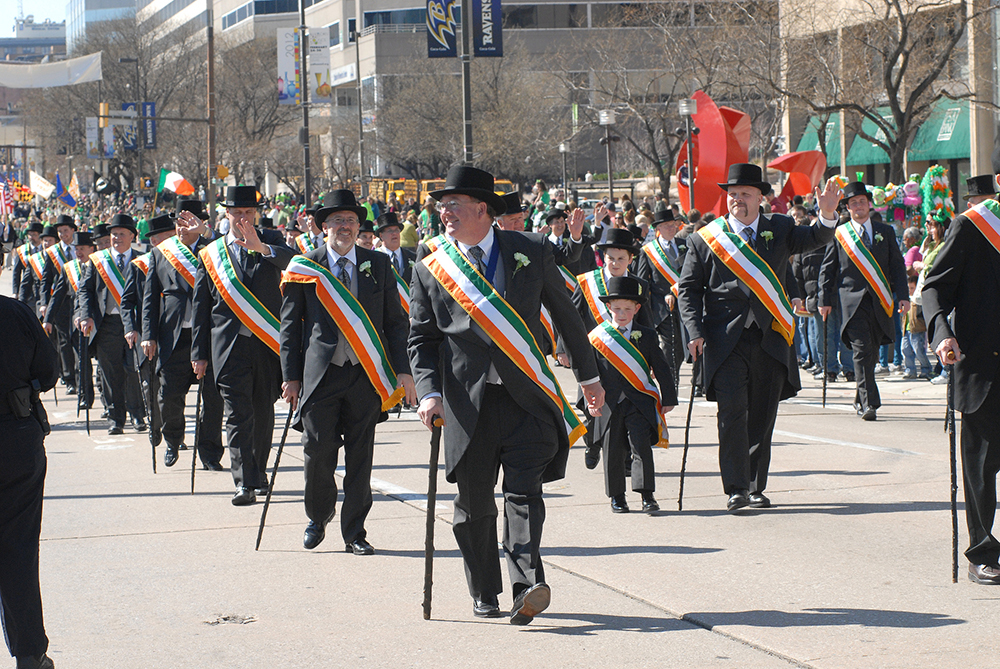 3/12: St. Patrick's Day Parade
'Tis the season to celebrate the Emerald Isle, with green beer, green clothing, and the 62nd annual St. Patty's Day parade. After you run in the annual Shamrock 5K race, make your way to the Washington Monument on Charles Street for a great view of the bagpipers, floats, dance groups, and local officials hoofing it to celebrate the contributions of Irish Americans. Washington Monument, 699 Washington Pl. 2 p.m. Free.
3/12: The Second Annual St. Patrick's Day Parade Party Bus
Forget about parking and Uber surges on parade day. The Life of Reilly in Butcher's Hill is offering round-trip transportation to and from Mt. Vernon, and an after-party with dinner, drinks, and tons of prizes and giveaways back at the bar. Bus departs from Life of Reilly, 2031 E. Fairmount Ave., 1-4:30 p.m., $55, 410-327-6425
3/12: Parade Day at Mick O'Sheas
Snag a front row seat to watch the floats make their way down North Charles Street at this Irish staple in Mt. Vernon. Following the procession, stick around to hear rockers Gaelic Mishap take the stage at 3 p.m. Mick O'Sheas Irish Pub, 328 N. Charles St., 410-539-7504
3/12: Parade Day Brunch at The Elephant
Parade Day just so happens to overlap with what will be the first-ever Sunday brunch service at The Elephant in Mt. Vernon. Reserve a table for brunch and stick around to watch the procession prance down North Charles Street. 924 N. Charles St., 443-447-7878