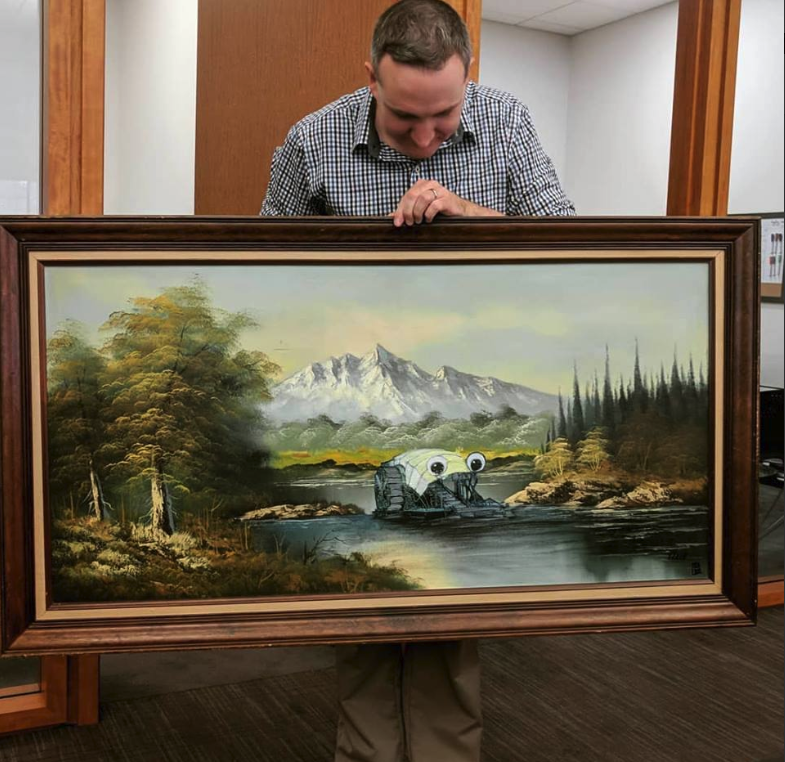 Matt Muirhead
When local artist Matt Muirhead finds a piece of casted-off art at a thrift store, he doesn't see trash—he sees an opportunity to improve the piece and bring new life to it. So when he thought about what to add to a waterscape painting that he found at the Salvation Army in Cockeysville, he realized that Mr. Trash Wheel—the downtown water wheel that captures debris from the Jones Falls River—does the same thing for Baltimore's waterways.
"I love the the idea that Mr. Trash Wheel stands between our civilization and nature," says Muirhead. "He filters out all of the waste and helps keep nature in her pure state."
It's locals like Muirhead and the water wheels' hordes of other adoring fans that inspired the first-ever Trash Wheel Fan Fest. After four years of people honoring the city's googly-eyed mascots through songs, murals, beer, pledges to the Order Of The Wheel, plush toys, and everything in between, the trash-guzzling family is returning the love with a downright kooky night to remember.
"When people started getting tattoos of the trash wheels," says Adam Lindquist, director of the Waterfront Partnership's Healthy Harbor Initiative, "that's when we said, 'We need to do something to celebrate how amazing our fans are.'"
This Saturday at Peabody Heights Brewery, fans of all ages will pack the Abell taproom for a party filled with trash-tastic activities like a costume contest, a Jeopardy-style trivia show, and a mini-exhibit of fan art, featuring Muirhead's "Guardian" painting. In between enjoying all-you-can-drink brews and singing along to the trash wheels' theme song, attendees can walk through a museum made up of one-of-a-kind novelties like Mr. Trash Wheel's first pair of googly eyes and some of its strangest snacks. (Spot the football that was taken from Mr. Trash Wheel's belly and then signed by Baltimore Ravens kicker Justin Tucker.)
Since Peabody Heights started brewing its first of two trash wheel-inspired beers last year, it's raised close to $40,000 for the Healthy Harbor Initiative through fundraisers and beer profits. Eddie O'Keefe, the marketing director of the brewery, says that, through Peabody Heights' work with the Waterfront Partnership, he's seen how passionate Baltimoreans are about advancing the health of the harbor.
"People from here really care about small businesses and they care about cleaning up the waterways," he says. "They really want to see the city be the best it can be."
Along with giving trash wheel devotees the chance to celebrate their fandom with others who share it, Lindquist says the fan fest is a way to thank the community that's rallied behind the Waterfront Partnership and its message. Although it's yet to be determined whether the Trash Wheel Fan Fest will become an annual affair, he says this is the kind of event that could only work in Baltimore.
"Baltimore has a great community that embraces kitsch and the sillier side of art," Lindquist says. "It's clear that there's a culture and a place in this city for unique ideas."