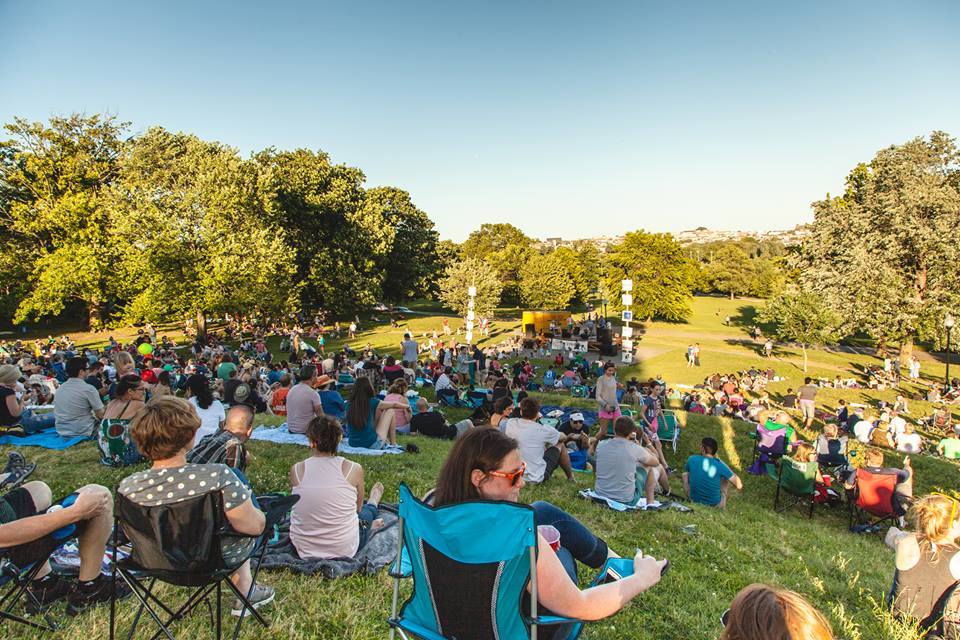 Friends of Patterson Park.
Five things to eat, drink, see, hear, and do with your Charm City weekend.
 EAT
Salt Tavern, 2127 E. Pratt St. 4-6:15 p.m. $5-10.
As we reach the middle of August, it sadly means that our city's beloved outdoor concert series will slowly start coming to a close. This Sunday, before you make your way to Patterson Park for its last live music of the season, swing by Salt Tavern in nearby Butchers Hill to pregame the show with our local NPR affiliate (and concert co-host) WYPR. At this 11-year-old Best Restaurant, fill your belly with a smattering of small bites by renowned chef Jason Ambrose—hopefully including the stalwart's trademark Wagyu foie gras slider and tempting truffle fries—then scramble down Pratt Street to hear local 1960s soul collective, The Bellevederes.
 DRINK
Boordy Vineyards, 12820 Long Green Pike, Hydes. 6-11 p.m. $45.
What better form of encouragement for an evening run than endless amounts of wine? This Sunday, lace up for a 5K race through the picturesque Boordy Vineyards in Baltimore County, all the while reminding yourself of the finish-line reward: fine wine and cheese. Bring your friends and family to sample the winery's roses, reds, and whites, with live music and a continued run of unseasonably cool weather—we hope.
 SEE
Baltimore Convention Center, 1 W. Pratt St. 9 a.m.-5 p.m. $70-2,000. 
For one weekend a year, the streets of Baltimore transform into a colorful, cartoon paradise as fans of My Little Pony convene for the annual BronyCon festival. With a cult following of "bronies," this cosplay convention features three days of autographs, costume contests, gaming, and one giant BronyPalooza concert. Whether you're ogling as an onlooker or joining in the equine fun, head to the Inner Harbor to bear witness to this once-a-year affair.
 HEAR
The Crown, N. Charles St. 8 p.m. $7. 
Last month, we were wowed by the new album of Baltimore indie-rocker Us And Us Only. The quintet's second full-length release, Full Flower, is a feat of lush guitars, punching drums, and earnest vocals, created in part by the soon-to-be-closing Mobtown Studios. Each song fills the room with a nostalgic summer sound, like on "Kno" and "sun4u," and solidifies their status as a Baltimore Band To Watch. Catch them live this weekend at The Crown, with Baltimore's own psych-pop group Raindeer and folk singer Nina Gala, plus Brooklyn-based shoegaze trio with possibly the best band name ever: Really Big Pinecone.
 DO
Druid Hill Park, 3001 East Dr. 10 a.m.-8 p.m. Free.
For the past 40 years, the AFRAM festival, formerly known as the African American Heritage Festival, has kicked off in the high heat of Baltimore summer with thousands of festivalgoers at Camden Yards. This year, however, a few big changes are taking place, with a shorter timeslot, new venue, and more local than national focus. Though the revisions have incited some backlash, this celebration of African-American culture is still sure to be a jam-packed day full of art, music, community outreach, and family fun in its first-ever location—the verdant landscape of Druid Hill Park.