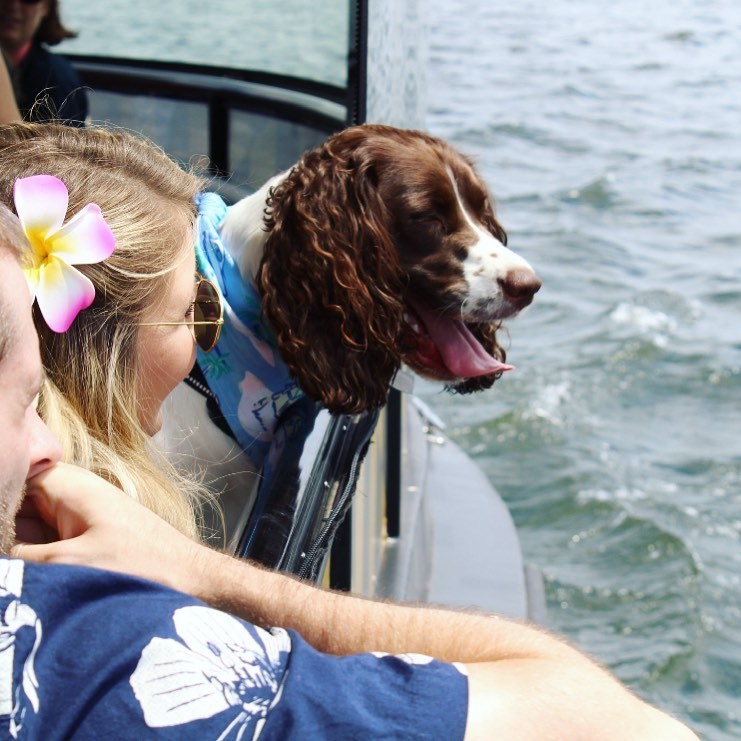 Courtesy of Dogs of Charm City
EAT
R. House, 301 W. 29th St. 11 a.m.-9 p.m. Free.
We love R. House—Remington's modern, industrial-style food hall—for many reasons, but especially because it provides a space for up-and-coming chefs to test new recipes and engage with the community. This weekend, D.C.-based restaurant FishScale will take over the rotating stall to introduce local foodies to its chef-crafted burgers made from wild caught fish or true-blue Maryland crab. The best part? The fish sandwiches (served with housemade sides like grilled corn and romaine salad), are sustainably sourced in accordance with the Monterey Bay Aquarium Seafood Watch Program.
DRINK
Canton Waterfront Park, 3001 Boston St. 12-3 p.m. $15-18.
If you're tired of paying for a dog sitter while you're out and about, BARCS Animal Shelter is here to help with the perfect Saturday day drink. Kick off the afternoon with this waterfront bar crawl beginning at Canton Waterfront Park, which will benefit the locally loved animal care center. Enjoy views of the harbor while downing Raw Bar's bottomless mimosas, Raw & Refined's house sangria and margaritas, and Bo Brooks' specialty cocktails. As you sip on summertime libations, your furry sidekicks can indulge in pup-friendly ice cream. End the day with a ride on the water taxi, where non-alcoholic dog "beer" will be served.
SEE
Y:ART Gallery and Fine Gifts, 3402 Gough Street. Fri. 12-6 p.m., Sat. 10 a.m.-6 p.m. Free.
What is a superhero? Is it someone with supernatural strength? Is it a cape-wearing figure? Or maybe just someone with immense courage? Those are the questions that more than 80 area artists explore through varied mediums in this group exhibition at Y:ART Gallery and Fine Gifts. This weekend, illuminate your senses and consume fascinating 2D, 3D, and performance art that highlights each artist's unique interpretation of an extraordinary being. Don't miss your last chance to visit the successful summer exhibition in the Highlandtown contemporary gallery before it closes on August 17.
HEAR
Creative Alliance, 3134 Eastern Ave. 8 p.m. $15-18.
Shortly after it was announced that Woodstock 50 would take place at Merriweather Post Pavilion later this month, the co-founder cancelled the anniversary concert. But local rock fans don't need to be too disappointed, because this Friday local psychedelic band Fractal Cat is hosting a commemorative show to honor the legendary festival. Hear a set of original material along with the septet's selection of 1969 hits by the likes of The Beatles, The Rolling Stones, Jimi Hendrix. In between sets by special guests Jax Martone of Psycho Killers, Quinton Randall, James von Lenz, and Kim Gravatt, the musicians will share stories and visuals inspired by the cultural and political events of that momentous year to round out this truly nostalgic evening.
DO
Druid Hill Park, 3001 East Drive. Sat. 12-8 p.m., Sun. 12-6 p.m. Free.
AFRAM, one of the largest African-American festivals on the East Coast, returns to Charm City this weekend for its 43rd year. The two-day festival in historic Druid Hill Park will feature tons of noteworthy musical acts including "Aston Martin Music" rapper Rick Ross, R&B singer-songwriter Sevyn Streeter, local favorite Dru Hill, and actor-turned-singer Quincy. Between sets, curb your appetite with local fare and engage in a little retail therapy at the open-air marketplace. This family-oriented event will also have a designated kids zone with games, sports, and crafts for your little ones.