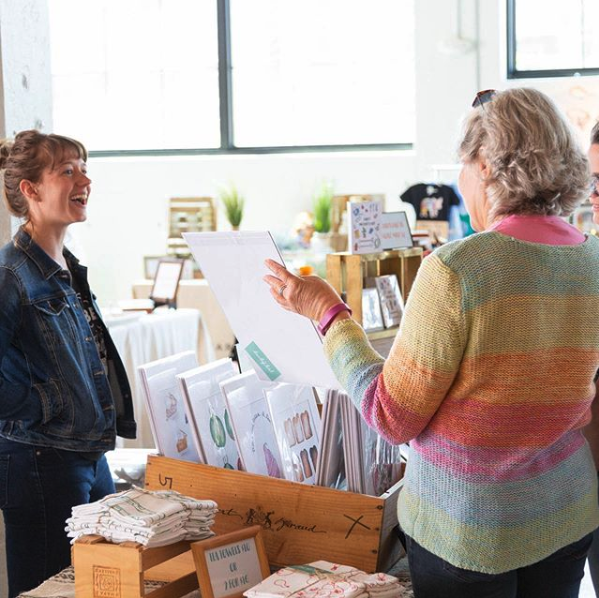 Photography by Micah E. Wood
EAT
Monument City Brewing, 1 N. Haven St. 5-10 p.m. Free.
If you haven't yet tried the crispy empanadas from this up-and-coming food truck, this Friday is the perfect opportunity. A mainstay at city and county festivals, 410 Empanadas will make its Monument City debut with its signature bites stuffed with combinations like crab and Old Bay, spinach and cheese, and barbecue pulled pork. If you have room for dessert, try the seasonal pumpkin pie empanada and wash it down with Monument City's barrel-aged imperial stout.
DRINK
Seya CrossFit and Wellness, 3301 Eastern Ave. 12-5 p.m. $40-75.
There's plenty of reasons to stock up on wine before the holidays: office parties, White Elephant swaps, and late-night gift-wrapping sessions, to name a few. Luckily, the first-ever Highlandtown Winter Wine-derland will fill Seya CrossFit and Wellness with more than 90 wines to sample on the spot or take home to wrap. Along with a curated tasting and discount bottle prices, this holly-jolly affair features a boozy hot chocolate station, pictures with Santa, complimentary gift-wrapping, and eats from local food vendors. Spring for the VIP package to enjoy a mini wine class with experts, charcuterie, and a local prize raffle.
SEE
Maryland Art Place, 218 W. Saratoga St. 6-10 p.m. $25-30.
This annual event is one of the highlights of the holiday season in the local art scene, with free-flowing beer and spirits, a lumberjack theme, and, most importantly, tons of affordable and original works of art. Now in its seventh year, this first-come, first-served art sale features works by dozens of local and regional artists, including the likes of Katie Pumphrey, Phaan Howng, and Peter Cullen. Browse through the downtown gallery to find a piece (or two) to purchase and take home, and then head down to the basement to watch holiday films and rub elbows with fellow collectors and artists.
HEAR
Ottobar, 2549 N. Howard St. 10 p.m.-1:30 a.m. $3-5.
It's officially been one year since an unassuming rowhouse on North Howard Street transformed into the home of Beyond Video, a crowd-sourced, nonprofit video store complete with a hypnotic paint job and thousands of titles on VHS, DVD, and Blu-ray. To celebrate its first birthday, pack the Ottobar to dance the night away to vintage soul, funk, and disco tunes provided by local legend DJ Mills. Stick around to snag Beyond Video merch, raffle prizes, and giveaways, and don't forget to bring a few movies of the store's wishlist to donate in exchange for raffle tickets and free admission.
DO
R. House, 301 W. 29th St. 11 a.m.-4 p.m. Free.
There are tons of holiday markets to choose from this time of year, but this tried-and-true monthly shopping extravaganza has our hearts. After grabbing lunch inside the Remington food hall, spend the afternoon browsing through everything from handmade clothing to one-of-a-kind jewelry made by more than 50 local vendors. Bop along to beats by DJ Amy Reid (of GRL PWR fame) while you shop, and come back on Sunday to shop the exclusive mini-mart for a second day of shopping.