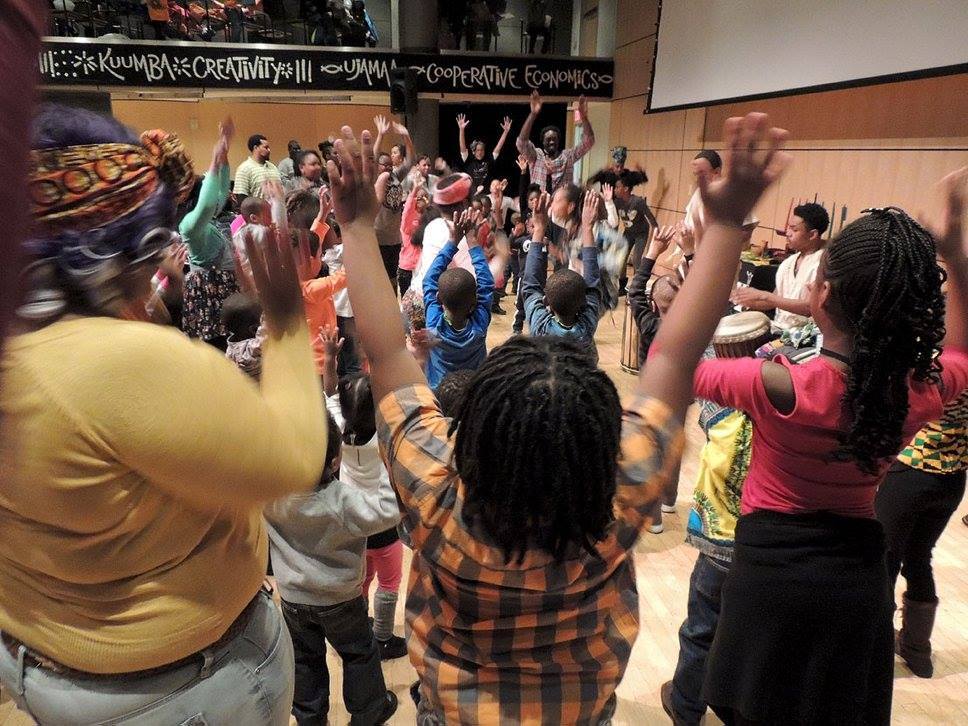 Courtesy of the Reginald F. Lewis Museum
EAT
The Urban Oyster, 1704 Whetstone Way. 3 p.m. $7.
If you're looking for a fun way to kill the awkward period of time between the holidays and New Year's Eve, please turn your attention to this knock-out drag brunch at The Urban Oyster. In between bites of chef/owner Jasmine Norton's cajun jambalaya, shrimp BLT on a waffle bun, and fried oyster and crab benedict, watch in awe as local drag performers Dee Dee Dereon, Kayden Amore Chloe, and Venus Fastrada sashay through the Locust Point restaurant. Snag tickets to the sure-to-sell-out afternoon show and get ready to indulge in killer seafood dishes, brunch cocktails, and beats by DJ Rob G3.
DRINK
Monument City Brewing Company, 1 N. Haven St. 1-6 p.m. Free.
After weeks of shopping for presents, attending a never-ending string of holiday parties, and downing eggnog, you're probably experiencing what's known as a "holiday hangover." Luckily, the teams at Monument City Brewing and Dough Boy Fresh Pretzel Co. have the perfect cure for your holiday cheer-induced headache. Stop by the Highlandtown brewery on Saturday for a low-key afternoon full of Penchant Pils and Battle IPAs, as well as made-to-order pretzel creations from this up-and-coming food truck.
SEE
Carroll Mansion, 800 E. Lombard St. Free.
The historic Carroll Mansion has been home to many things since the early 1800s, including a saloon, a vocational school, and a neighborhood recreation center. Now through this Sunday, the Lombard Street mansion is the site of a thought-provoking exhibition about a series of mourning rituals. Through videos and photographic documentation of three performative works, this exhibition shows artist Leah Clare Michaels cleaning the brass cobblestone memorials in Berlin and Rome that are dedicated to victims of the Holocaust. Take in these expressive works and examine how they challenge viewers' ideas of public memory, public space, and mourning rituals.
HEAR
Ottobar, 2549 N. Howard St. 9 p.m.-12 a.m. Free.
For the third year in a row, Baltimore-based rapper Butch Dawson will host this all-out holiday show, featuring the likes of standout artists Damn Kham, Shido, Lamatic, Baby Kahlo and Miss Kam, and Jurdan Bryant. Pack the Ottobar on Saturday night to hear Dawson perform tracks from his latest NSFW album Ollieworld, and keep the party going with back-to-back sets that are guaranteed to keep the crowd hype all night long.
DO
Reginald F. Lewis Museum, 830 E. Pratt St.. 11 a.m.-4 p.m. $5.
Every year, the Reginald F. Lewis Museum hosts an all-out Kwanzaa celebration that brings Baltimoreans from all walks of life together to honor the week-long holiday that lauds African heritage in African-American culture. Head to the downtown museum to experience African dance and drumming performances, workshops, lectures, crafts, and even a marketplace highlighting the theme Ujima: Collective Work and Responsibility. In between activities, walk through the galleries to view exhibitions such as EMPOWERED! Black Action Figures, Superheroes, and Collectibles.