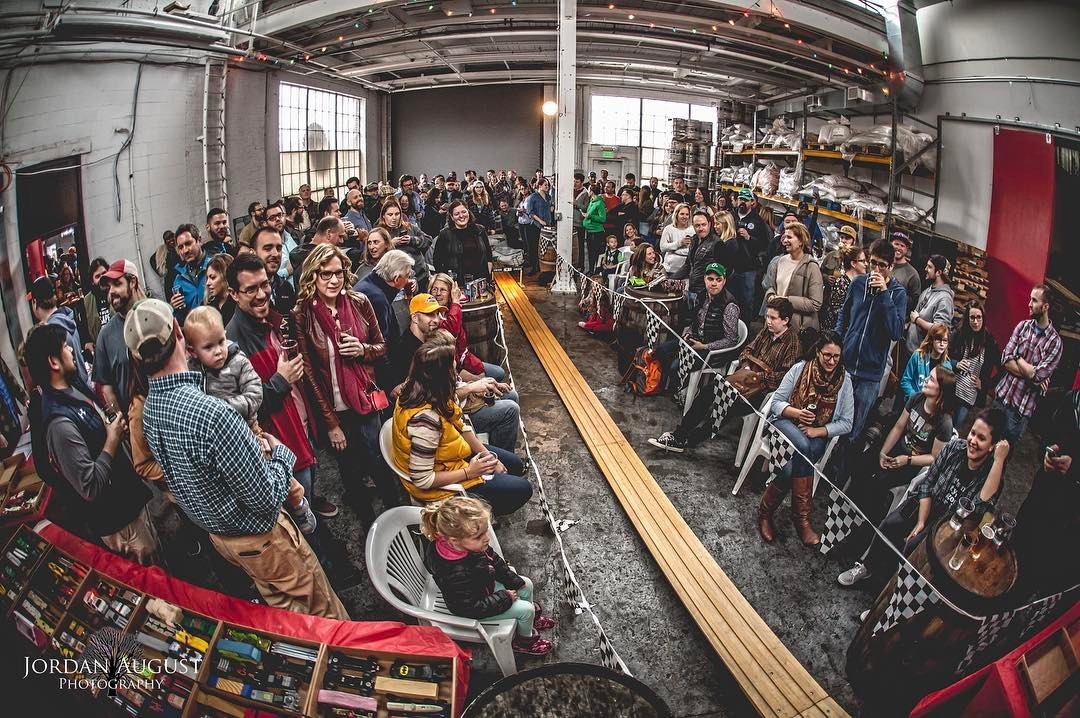 Jordan August Photography
Five things to eat, drink, see, hear, and do with your Charm City weekend.
 EAT
The Elephant, 924 N. Charles St. 5 p.m.-12 a.m. 443-447-7878. 
If you're ready to hit the refresh button after the first 44 days of 2018, start the year over with a Chinese New Year-inspired main course at The Elephant. This weekend at the historic mansion in Mount Vernon, executive chef Orlando Amaro is serving up peking duck, a famously celebratory dish with Beijing roots. Prepared five days in advance with a perfectly crisp crust, this dish guarantees a positive start to the year of the dog.
 DRINK
Union Craft Brewing, 1700 Union Ave. 12-5 p.m. $5-10. 410-467-0290.
This Sunday, put your cub, boy, and Eagle scout merit badges to the test and head to Union Craft Brewing to compete in an old-fashioned pinewood derby. Yes, we're talking about the wooden toy race cars that prevailed in the '50s, so ride this wave of nostalgia and grab a build kit, make a racer, and run it down their 40-foot derby track. Racers can design their cars however they want—shaped like a beer bottle, sporting the Maryland flag, or mirroring the Batman mobile—and compete to win a trophy and a can of every 2018 special release beer. If you'd rather watch the four-wheeled waggery from the sidelines, grab a few Duckpins and soak up the suds with signature wood-fired pies by Well Crafted Pizza.
 SEE
Frederick Douglass-Isaac Myers Maritime Park and Museum, 1417 Thames St. 12-4 p.m. Free. 410-685-0295.
This week, Governor Larry Hogan officially proclaimed 2018 as the "Year of Frederick Douglass," a fitting move since the father of the civil rights movement turned 200 this year. His birthday celebration continues this Saturday at Baltimore's Legends & Legacies Jubilee, where visitors can check out interactive exhibits from local museums, sample eats from Popsations and Connie's Chicken and Waffles, and get an up-close look at the new Frederick Douglass wax figure. Another local legend, Baltimore's own Davon Fleming, who stole our hearts during his time on NBC's The Voice, will host a singing competition for any brave challengers.
 HEAR
WTMD, 1 Olympic Pl., Towson. 8-10:30 p.m. $12-15. 410-704-8938.
If you get antsy and bored during a 2-hour classical music program, don't worry, you're not alone. Classical Revolution Baltimore, a collective of musicians that performs classical music in non-traditional spaces, is pairing up with WTMD to present a program that's perfect for people with short attention spans. In this "Cliffs Notes of Classical Music," hear the most notable parts of well-known classical pieces (think Mozart's "Lacrimosa" and Beethoven's "Symphony No. 7") featuring performances from local artists Pique Collective, Outcalls, and Dominic Shodekeh Talifero. If you can't make the performance, tune into the live broadcast on 89.7 to hear this one-of-a-kind mix of classical and contemporary ensembles.
 DO
Locations & times vary. $20-120. 443-579-7766.
We might be weeks away from warm weather and music festival season, but we can always count on the Frozen Harbor Music Festival to start the party early. With a forecast of cloudy skies, rain, and snow on Saturday, the harbor will indeed be frozen while this 2-day festival hosts 160 acts across 10 stages downtown. Build an itinerary, map out your weekend, and hop from venue to venue to catch local and national artists, including big names like Keller Williams and George Clinton and Maryland favorites like Jimmie's Chicken Shack and Sam Grow.