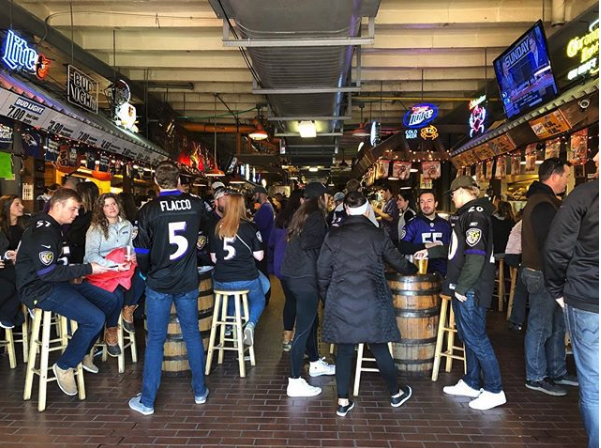 Instagram
EAT
Cross Street Market, 1065 S. Charles St. Fri., 11 a.m.-10 p.m.; Sat. and Sun., 11 a.m.-9 p.m. Free.
After a string of high-profile restaurant closings last year, Baltimore is, sadly, adding another to the list as we bid farewell to Nick's Inner Harbor Seafood. Raise a glass to this 50-year-old Federal Hill institution and celebrate the stall's long run with one last pound of steamed shrimp and, of course, some freshly shucked oysters. Don't worry if you're a little late to the party—Nick's plans to extend its normal hours if enough seafood lovers want to stay for another round.
DRINK
Locations vary.
This Sunday, the Ravens, our newly crowned AFC North champs, will face off against the Los Angeles Chargers at M&T Bank Stadium, meaning the city will be in pregame mode all weekend long. If you want to be at the heart of the action, head to Pratt Street Ale House for can't-miss drink deals or stop by the Bmore Around Town Purple Tailgate, where you can indulge in an open bar and the chance to snap a picture with Super Bowl champion Jamal Lewis. In Federal Hill, Mother's Grille is offering a $35 all-you-can drink special on their infamous Purple Patio, and in Hampden, Frazier's will serve up $2.50 cans of Boh and discounted appetizers all afternoon long. For more playoff specials and celebrations, check out our game-day roundup.
SEE
George Peabody Library, 17 E. Mount Vernon Pl. Fri., 10 a.m.-3 p.m.; Sat., 10 a.m.-1 p.m. Free.
Since its founding in 2014 by local artist and writer Kimi Hanauer, Press Press has been making waves in Baltimore and beyond for its grassroots approach to publishing that amplifies voices that often go unheard. Press Press is entering its fifth year as the George Peabody Library Research Residency's artist-in-residence, which culminates with this exhibition of the initiative's entire body of work, including pieces like 100% Yes Manifesto and Megaphone! Megaphone!, in the atrium of the historic Mt. Vernon library. The exhibit runs through September 7, so if you can't make it this weekend, you have plenty of time to make the trip.
HEAR
Normal's Books & Records, 425 E. 31st St. 7:30 p.m. Free.
Chances are you've been humming "Auld Lang Syne" under your breath since Tuesday. Wash away the last few traces of holiday music during Normal's Books and Records first show of the year, featuring four of the bookseller's favorite Abell acts. On the chill end, sway to ukulele covers by the John Street Genes and indie folk by James BonTempo & Truth Tables. On the other, post-punk outfit Silver Gulls and local rock supergroup In Love With the Weather Girl are guaranteed to bring up the energy—a perfect post-new year palate cleanser.
DO
Four Seasons, 200 International Dr. Fri., 4-8 p.m.; Sat. and Sun., 12-8 p.m. $15-25.
This weekend marks the final few days of rooftop ice skating at the Four Seasons Hotel in Harbor East, and whether it's your first visit this winter or your 50th, it's worth the trip. In between attempting triple axels on the 1,500-square-foot rink, take in the sights while listening to live music, sipping on hot cocoa, and snacking on roasted chestnuts. Afterwards, grab a drink or two at The Bygone, the hotel's top-floor restaurant, to warm up and catch another glimpse of that breathtaking view.