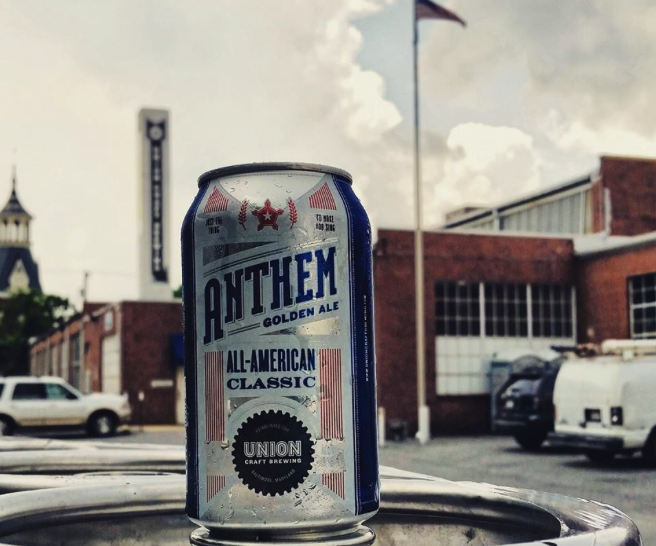 Union Craft
Five things to eat, drink, see, hear, and do with your Charm City weekend.
EAT
Union
Craft Brewing, 1700 Union Ave., D. 5-10 p.m. Free. 410-467-0290
.
Celebrate the first Friday of July by topping
off your growler, listening to DJ Bohfunk spin his signature blend of 1970s
funk and soul music, and best of all, sampling food from local chef Cyrus
Keefer's new pop-up, Défie Moi. Keefer, best known for his time at Birrotecca,
Fork & Wrench, and 13.5% Wine Bar, will be serving up his new Asian-French
street food concept, with its name translating to "dare me," epitomizing
Keefer's no-holds-barred approach to creating bold combinations. With a Steady
Eddie in hand (our preferred new beer of the summer), try dishes like mushroom
katsu with vermicelli and BBQ-chicken-and-shrimp dumplings with potato salad.
DRINK
Idle Hour, 201 E. Fort Ave. 8 p.m. Free. 410-468-0357.
Idle Hour is back, baby! After an 18-month hiatus, the beloved Riverside dive is celebrating its anticipated return with a 'murica-themed blowout featuring beloved bartenders Doug Atwell (formerly of Rye, currently of Modern Cook Shop and Blue Pit BBQ) and Chelsea Gregoire (formerly of Dooby's, currently of Pen & Quill) slinging Chartreuse all night and local DJs Doug Hoepker, Lance Rautzhan, and Matthew Scott Mayer running the turntables. And, of course, it wouldn't be Independence Day Eve without hot dogs. There are still some interior changes to come, and it will take us a while before we get our green-drinking tolerance back, but we've said it before and we'll say it again: Long live Idle Hour.
SEE
Little Italy, at the corner of High and Stiles Sts. Music 7 p.m. Movie 9 p.m. Free. 410-727-6876.
Few things say "Baltimore summer" quite like sitting in the parking lot of Da Mimmo Ristorante, watching old movies outside on a summer evening, amidst row homes and twinkling stars. Such is the beauty of Little Italy's Cinema al Fresco open-air film series, now in its 17th season. On Friday nights through the end of August, gather some friends and unfold some lawn chairs for live music, free popcorn, and the main event. This weekend, it begins with the ever-comedic Moonstruck, followed by the likes of Diner, The Sound of Music, and The Good, the Bad, and the Ugly.
HEAR
The
Crown, 1910 N. Charles St. 8:30 p.m. $10. 410-625-4848
.
For one Saturday night, you can catch
six of Baltimore's standout performers and DJs on one stage. Pack The Crown's
Red Room to hear avant-garde R&B singer :3ION, impactful composer Ruby
Fulton, up-and-comer Alex Silva, as well as DJ sets from the ever-soulful Joy Postell
and Book of Morrin. To top it all off, local electronic music legend Dan Deacon
will be stopping by for his last set in Charm City until Fields Festival in
August. It's a celebration of Baltimore's booming music scene, and a perfect
excuse to dance.
DO
American
Visionary Art Museum, 800 Key Hwy. 10 a.m.-12 p.m. Free. 410-244-1900
.
From a goat dressed like Uncle Sam to a tortoise with a red, white, and blue cooler strapped to its shell, the American Visionary Art Museum's annual Fourth of July pet parade has seen it all. This year, join hundreds of pet owners and their four-legged friends for a talent show, games, and the best dog-gone parade in Baltimore. Pets of all shapes and sizes can enter to win prizes for the best costume, most patriotic, most visionary pet, least likely to succeed as a pet, visionary pet tricks, and more.