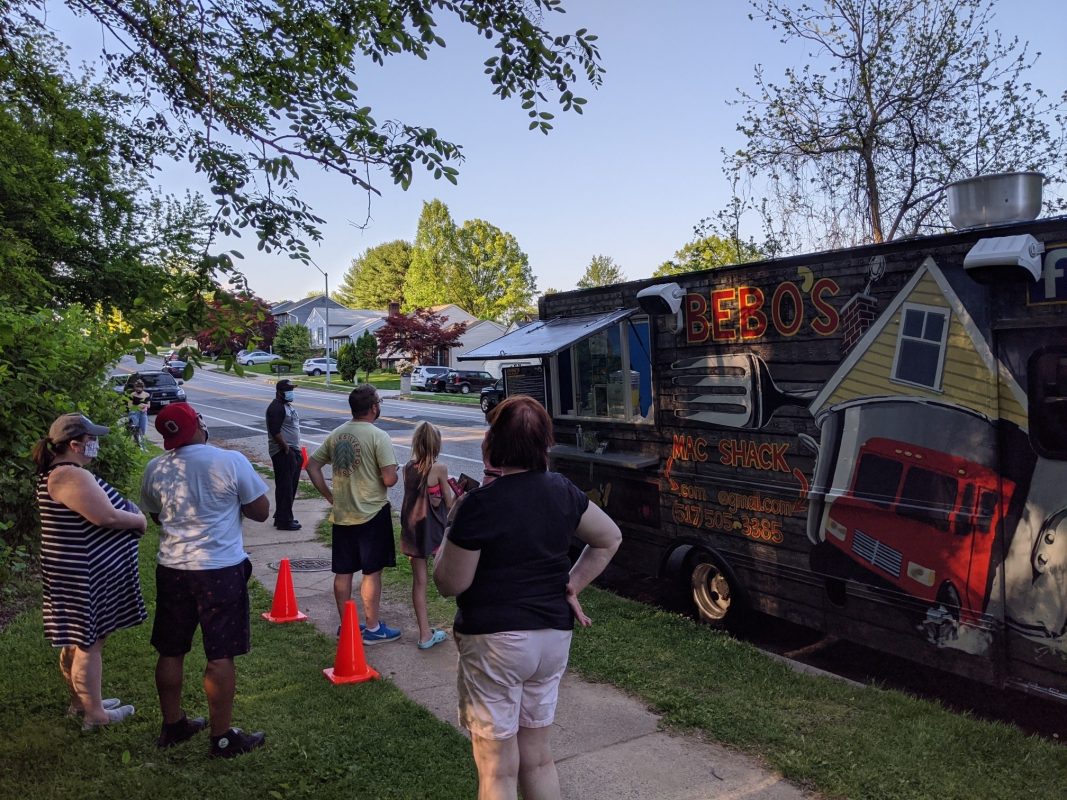 Maryland Food Truck Week
---
EAT
Locations vary. 11 a.m.-8 p.m.
Maryland's annual two-week-long celebration of our local kitchens on wheels kicks off this weekend with a special focus on the trucks that have been serving frontline workers throughout the pandemic. More than 75 trucks will be out and about on a daily basis, ready to serve up everything from classic American dishes to international fare. On opening day, Wolo Eats will be bringing hand-breaded fried chicken, crabby creations, and grilled burgers to Harbor Market. Presented by the Maryland Mobile Food Vending Association, the event benefits Meals on Wheels of Central Maryland—which delivers meals to state residents who are unable to leave their homes.
DRINK
Center Plaza. 120 W Fayette St. 5-8 p.m. Free.
Downtown Partnership's beloved outdoor happy hour has returned—with proper social distancing measures, of course. Fill up the cooler with your favorite beer or wine and spend the evening taking in the sights and sounds at Center Plaza. Local vendors will also be on site offering ice-cold libations in case your cooler needs to be restocked. Folk rockers Polar Opposites will kick off the live music for the ongoing summer series, which continues on the second Friday of the month in August and September.
SEE
Maryland Science Center. 601 Light St. 12-4 p.m. Prices vary.
The team at the Maryland Science Center has missed their favorite scientists, so what better way to celebrate their reopening than with a bubble party? You and your youngsters will have the chance to create bubbles out of dry ice and engineer a way to drive bubbles through air. World-renowned bubble artist Casey Carle will also pop in to put on his show Bubble-Ology 101: The Secret Science of Soap. Head to the Inner Harbor museum on Saturday or Sunday for the sudsy celebration. If you'd prefer to tune in virtually, visit the Science Center's Facebook page to celebrate Bubble Day online.
HEAR
1350 Lancaster St. Times and prices vary.
Legendary pianist Cyrus Chestnut will take the stage at Harbor East jazz club Keystone Korner this weekend, performing two shows of his remarkable rhythm and riffs each day. The Fells Point venue knows one way to relax during these challenging times is by listening to jazz, so they've put in the work to ensure visitors can escape from the chaos while remaining socially distant and safe. Plus, livestream passes are available for those who would like to enjoy the smooth sounds from the comfort of their own homes.
DO
Rotunda. 711 W 40th St. 1-9 p.m. Free.
It's hard to beat a Friday spent outside with fresh air, cocktails, food, and live music—which is why The Rotunda's Garden Party classifies itself as Hampden's best socially distant outdoor event. Spend your afternoon on the green while enjoying poke bowls, barbecue, and cupbap provided by Poke Max. As the sun sets, listen to the soulful sounds of Washington, D.C.-based Brent & Co. Just don't forget to bring the lawn chairs and picnic blankets to secure a comfortable seat six feet apart.