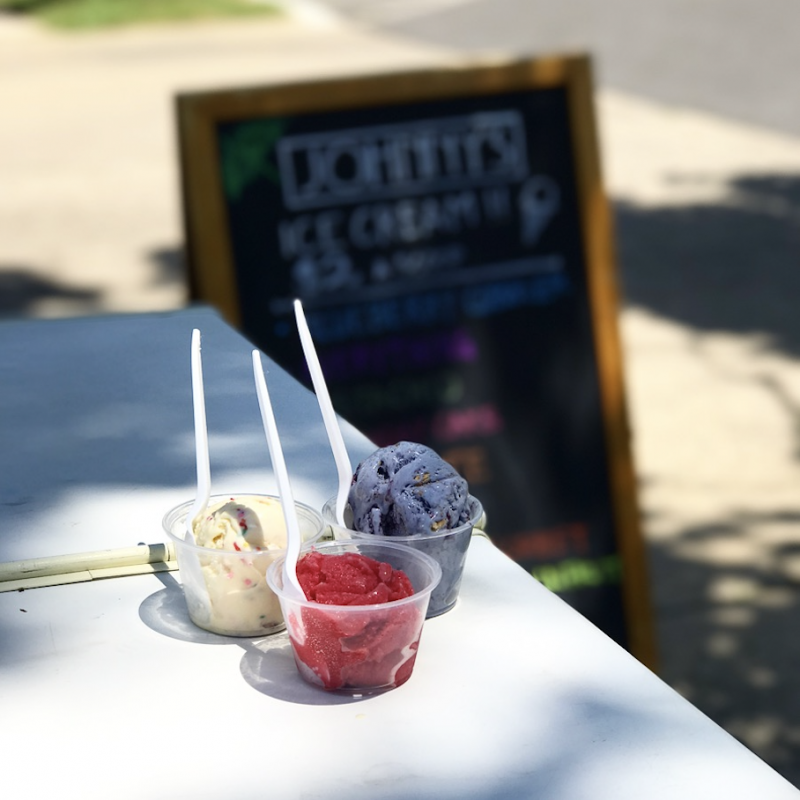 Courtesy of Johnny's
Five things to eat, drink, see, hear, and do with your Charm City weekend.
 EAT
Roland Park Shopping Center, 4800 Roland Ave., 11 a.m.-8 p.m., $2
We all remember the excitement of spotting a pop-up lemonade stand during the dog days of summer, and Johnny's is mimicking that feeling with its roadside ice cream cart in Roland Park. Stationed in front of the Roland Park Shopping Center daily, the cart peddles scoops of house-churned flavors including pistachio, birthday cake, blueberry cobbler, and coconut-passionfruit sorbet. Make sure to have your phone handy this weekend, as the restaurant is offering a buy-one, get-one deal for anyone who tags Johnny's on social media. With temperatures creeping up near the 90s this weekend, we can't think of a better way to cool down. 
 DRINK
Baltimore Museum of Industry, 1415 Key Highway, 12-3 p.m., $15-50
In case you haven't already heard, Maryland is killing the distilling game. (Just a few weeks back, our own Baltimore Whiskey Company's Shot Tower gin was awarded top honors at the prestigious World Spirits Competition in San Francisco.) At this Sunday afternoon showcase, gather beneath the harbor-side pavilion at the Baltimore Museum of Industry to feel the warm breezes while mingling with some of the most innovative distillers in the state. Line your stomach with light bites before sampling spirits from 15 members of the Maryland Distillers Guild hailing everywhere from Charm City to St. Mary's County. Be on the lookout for favorites like Old Line Spirits' malt whiskey, Lyon Distilling's 90-proof rum, Lost Ark's spiced rum, and Blackwater Distilling's beloved Sloop Betty vodka. Ticketholders will also be granted full access to the museum. Sunday Funday, indeed.
 SEE
Center Plaza, 100 N. Charles St., 8-11 p.m., Free
Downtown Partnership is starting the summer off right with its annual outdoor movie screenings on the lawn at Center Plaza downtown, which continue this weekend with a special showing of the new Ghostbusters reboot. Okay, okay. So it isn't the original version, but we happen to think Kate McKinnon, Melissa McCarthy, Leslie Jones, and Kristen Wiig did the 1984 classic plenty of justice. Bring popcorn and your favorite movie candy when you gather around the giant inflatable screen to laugh aloud and partake in what we're sure will be an epic "Who you gonna call?" chant.
 HEAR
Rams Head Live, 24 Market Place, 7 p.m., $24
You might remember Jack Antonoff as the lead guitarist of indie-pop trio Fun, which dominated in 2012 with chart-toppers like "We are Young" and "Some Nights." Since then, the New Yorker has spearheaded this bold solo project fusing an alternative sound with diverse spoken-word samples and catchy, '80s-influenced beats. All of which are evident in energetic anthems like "Rollercoaster" and Bleachers' debut single "I Want to Get Better." (We bet you'd know it if you heard it.) This Friday night, pack into Ram's Head Live to hear the shout-along hits in person, plus new tracks off of the recently released album Gone Now. The show kicks off with an opening set from female synth-pop superstars MUNA—who hit the road with former One Direction heartthrob Harry Styles later this summer.
 DO
Manor Hill Farm, 4411 Manor Lane, Ellicott City, 1-5 p.m., $15-25
Back in 2011, Victoria Gastro Pub owners Randy and Mary Marriner purchased a 54-acre working farm in Ellicott City. And, while it wasn't originally their intention, it didn't take long for the couple to realize that the grounds were ideal for farm brewing. This weekend, celebrate the beautiful evolution of Manor Hill Brewing at this festival featuring tours of the facility and hop-harvesting tutorials from the staff. Outside, crack open a cold one and get down to the live sounds of local blues group Dirty Secret and funk jam band Soul Island Rebels. There will also be tons of on-site food vendors, including sister-spots Victoria Gastro Pub and Manor Hill Tavern offering duck-fat fries, corn on the cob, pulled chicken sandwiches, and chips with fruit salsa. The bash will double as a release party for the brand-new Malt Shop Imperial IPA and Dust Up Pale Ale.