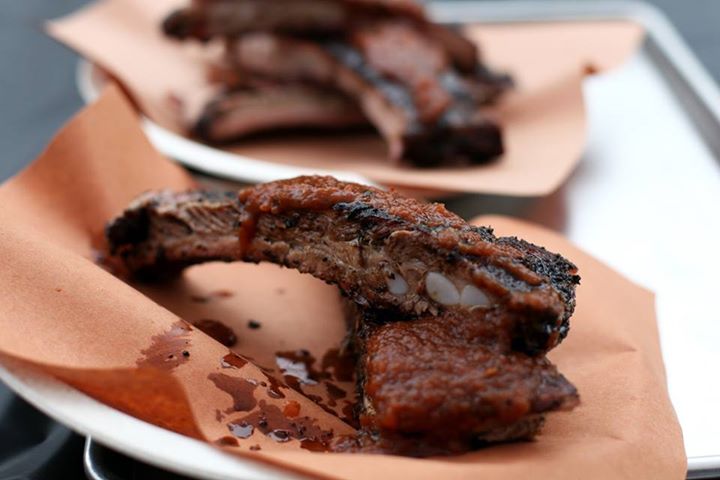 Five things to eat, drink, see, hear, and do with your Charm City weekend.
EAT
June 25: Union Craft x Blacksauce Kitchen Black Friday 2.3
Union Craft Brewing, 1700 Union Ave. 6-10 p.m. Free admission; pay as you go. 410-467-0290. unioncraftbrewing.com.
It's the last weekend in June. It's the first full weekend of summer. Next Saturday, it will be July, which means, before you know it, it will be winter. So go, get out of the house, and onto the city streets. Drink a beer. Drink a few beers. Eat some delicious food cooked over an open flame and howl up at the bright light of the early summer moon. This Friday, do it at Union Craft Brewery, with Blacksauce Kitchen in tow to throw their last summer hops and hogs celebration of the season. Tip back some Duckpins, crush some smoky BBQ ribs, and dig on tunes by DJ Daniel Biltmore. Look up into the night sky. Ah-ooooo.
DRINK
June 26: SPCA's Wine & Wag
Maryland SPCA, 3300 Falls Rd. $10-15. 410-235-8826. mdspca.org.
It's
the dog days of summer in Hampden tonight, and best of all, its BYOD. Bring
your own dog, that is, to the Maryland SPCA's last summer "Wag & Wine" happy
hour of June. It's fun for people—with live music by Jordan August Band, food
by Jimmy's Seafood and The Local Oyster, and beer and wine from the Wine
Source—as well as pups—with wading pools, treats, and paw-paint art activities.
Whether you're a dog owner, lover, or friend to all animals (which hopefully
means all of you), toast to our furry friends and maybe make some of your own.
SEE
To June 28: Single Carrot Theatre's Blind From Here
Single Carrot Theatre, 2600 N. Howard St.
Fri. & Sat. 8 p.m., Sun. 2:30 p.m. 443-844-9253. singlecarrot.com.
Set in the 1990s, this world-premiere play is a coming-of-age story about a small-town indie rock band that embarks on a cross-country road trip in search of their big marquee dreams. Naturally, drama ensues, as the trio takes to the open road, dealing with the age-old tropes of young love, sibling rivalry, and the potent possibility of fame. It also features live music and was written by SCT ensemble actress, playwright, and Goucher grad Alix Fenhagen. Catch the closing weekend, with free wine and beer, plus a Friday after party with a screening of The Punk Singer rock-doc as well as a Sunday Blast from the Past Party, where you dress up as your favorite historical figure. (Dibs on Amelia Earhart.)
HEAR
June 26: Lea Gilmore's Big Fat Blues Cabaret Jacksons
Creative Alliance at The Patterson, 3134 Eastern Ave. 8 p.m. 410-276-1651. creativealliance.org.
If you don't know Lea Gilmore already, you should, and you should do so promptly. The blues/jazz/gospel singer and civic activist is a Baltimore gem, not to mention an international superstar. When performing abroad, her concerts garner hundreds of thousands of guests—fans from around the world—and luckily for us, she's coming home, performing at Creative Alliance on Friday night. On the tiny Patterson stage, Gilmore's soulful, intimate, cabaret-style performance will be accompanied by her full band and surprise musical guests, including the one-and-only Joyce Scott.
DO
June 27-28: Patterson Park LatinoFest

Patterson Park, 27 S. Patterson Park Ave. 12–9 p.m. 410-563-3160. latinfest.org.
This weekend, for the 35th year, the hills of Patterson Park will come alive for a colorful fiesta, celebrating the vibrant, burgeoning Hispanic and Latino communities of Baltimore. The two-day festival is a feast for the senses, with cultural cuisine, salsa lessons, and lots of live Latin music, including merengue, bachata, cumbia, reggaeton, duranguense, mariachi, and dancers in elaborate costumes. There's lots for the kids to do, too, with arts and crafts on display and family-fun activities like rock-climbing walls and face painting. All proceeds benefit Education Based Latin Outreach (EBLO), a local nonprofit that helps empower Hispanic and Latino communities through education and cultural initiatives
---
We also suggest you continue to support local restaurants, bars, and businesses, to take part in community events, and to donate to or participate in the growing number of volunteer efforts around the city. Some examples include the Inner Harbor Project,Maryland Food Bank, and Big Brothers Big Sisters of the Greater Chesapeake. Others can be found via Maryland Unites, which lists several non-profits that are accepting donations like the Red Cross of the Greater Chesapeake, Central Region United Way, and Associated Black Charities, and through the Mayor's Office of Neighborhoods, which continues to update an online spreadsheet for volunteer and donation opportunities.