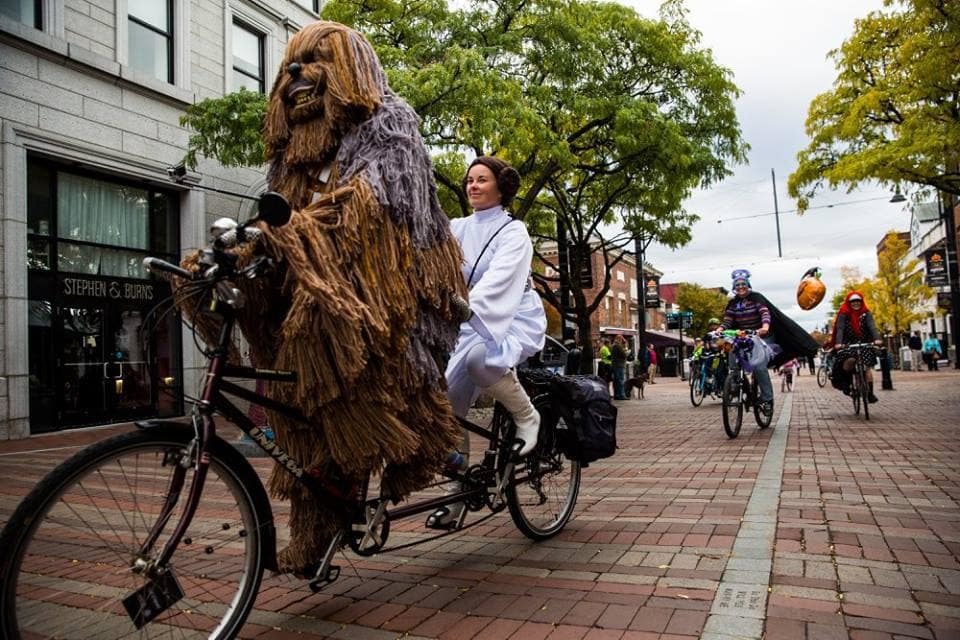 Courtesy of Baltimore Bike Party
Five things to eat, drink, see, hear, and do with your Charm City weekend.
 EAT
Paulie Gee's, 3535 Chestnut Ave. 9 p.m. Free.
When you think of New Orleans, you don't necessarily think of pizza, but this Friday, head to the back bar of Paulie Gee's in Hampden for slices of pie alongside the Big Easy sound of Sac Au Lait. The quirky six-piece is known around Charm City for their energy and humor, and has performed everywhere from bars and restaurants to parades and Mardi Gras festivals for more than 10 years. Just don't miss the "Stinger Bell," named after Idris Elba's infamous character from The Wire, and covered with mozzarella, lemon slices, and fresh basil. 
 DRINK
Hysteria Brewing Company, 9570 Berger Road, Columbia. Sat. 12-11 p.m., Sun. 8-11 p.m. Free. 
Just as Maryland's beer scene seems like its about to burst, along comes Hysteria Brewing Company, ready to join the ranks in Columbia. During their grand opening weekend, test their new brews in a pop-up beer garden, with local food trucks, lawn games, and live music. Check out the new digs with group tours and come back a week later when they open for full service. The weekend's festivities are family friendly—just leave your four-legged friends at home.
 SEE
American Visionary Art Museum, 800 Key Hwy. Tue.-Sun. 10 a.m.-6 p.m. Free-$15.95.
One small moment in time was all it took for Albert Lee Wagner to have an epiphany that would completely alter the course of his life. On the eve of his 50th birthday, the Cleveland moving-company owner was struck by the inspiration to start marking art. His hobby progressed into a movement, and Wagner (who went onto become a reverend) became one of America's most prominent visionary artists with his plethora of bold and colorful paintings and sculptures. Commemorating that pivotal eureka moment and the man himself, this new exhibit will include more than 50 of his recently donated masterpieces, including the featured Red Sea.
 HEAR
Merriweather Post Pavilion, 10475 Little Patuxent Pkwy., Columbia.7:30 p.m. $40-55. 
Okay, so we're suggesting you go to Columbia a lot this weekend, but with summer concert season officially upon us, it's time to shake out that old camping blanket and head over to Merriweather for some quality lawn time. This Friday, hear the acclaimed musical sounds of former Drive-By Truckers frontman Jason Isbell and his four-piece band. Since his departure from the group in 2007, the singer-songwriter has pursued a successful solo career, and his blues-riddled Southern sound is perfect for a warm summer night beneath the stars. 
 DO
Ride starts at St. Mary's Park, 600 N. Paca St. Party starts at Lexington Market, 400 W. Lexington St.  6:30 p.m. Free.
Throw it back to the days of Avril Lavigne, MySpace, and trucker hats with this month's Baltimore Bike Party. In a celebration of the early aughts, the monthly bike ride will end with an outdoor party at Lexington market, complete with DJs, food vendors, and Heavy Seas beers. After avoiding potholes and obeying traffic signals, flaunt your best "Hey Ya" dance moves in your low-rise, boot-cut jeans.