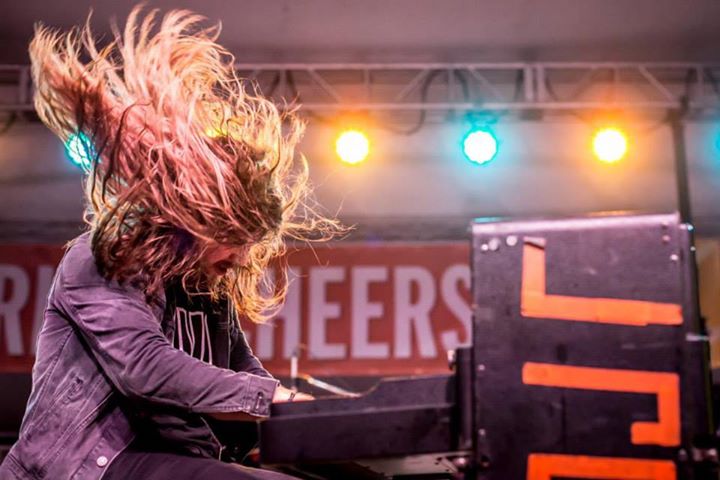 Photo by Rich Tarbell.
Five things to eat, drink, see, hear, and do with your Charm City weekend.
EAT
June 6: The Gathering's Taste of Three Cities Food Truck Rally
Patterson Park, 2806 Eastern Ave. 12-9 p.m. $5-$65. 410-276-3676. tasteof3cities.com.
The Charm City food truck collective is rallying its troops for another mobile food festival, but this time, they're including two of their four-wheeled friends from other cities: Philadelphia and D.C. At the Taste of Three Cities, enjoy eats from more than 60 food trucks, including rolls from the capital's Red Hook Lobster Pound, fried cheese from PA's The Cow and the Curd, and gooey deliciousness from Baltimore's own Grrchee. Vote for your favorites, sip on some beer and wine, and listen to music from the likes of Yellow Dubmarine, Herd of Main Street, and Black Masala. Sounds like a perfect Saturday to us, plus proceeds benefit Meals on Wheels and the RED Campaign.
DRINK
June 7: The Big Lebowski Party
B&O American Brasserie, 2 N. Charles St. 7- 11 p.m. Free. 443-692-6172. bandorestaurant.com.
The Dude abides in Baltimore this weekend, with B&O American Brasserie throwing a Big Lebowski-themed shebang. Expect plenty of El Duderino-approved White Russians, as head bartender Brendan Dorr joins guest bartender Shaher Misif of Boston's Highball Lounge and the rest of the B&O bar team to mix up movie-inspired cocktails, beer, and shots (all for $7). Meanwhile, Chef Michael Ransom will be making his own take on bowling alley food, and there will be music, dancing, and kiddie bowling to boot. Themed attire is strongly encouraged, so get out those bathrobes, old sweaters, tinted sunglasses, and sweatpants—or Viking-horned helmets and cowboy hats—and just drop in (to see what condition your condition is in).
SEE
June 6: Kevin Hart
Royal Farms Arena, 201 W. Baltimore St. 7p.m. & 10p.m. $49.50-$125.50. 410-347-2020. royalfarmsarena.com.
It's been a big year for this little ball of comedic energy. Kevin Hart has starred in blockbusters with comedy legends (Will Ferrell in Get Hard) as well as underrated funnies with rising humorists (Josh Gads in The Wedding Ringer). He's worked with Ice Cube, Chris Rock, and our Empire favorite, Taraji P. Henson. He's hosted Saturday Night Live, producing one of its most on-point skits, and he was the ringleader of Comedy Central's recent roast of Justin Bieber, though we'll argue that he was outshined by homegoods maven Martha Stewart. He's also about to shoot a new film with Dwayne "The Rock" Johnson. It seems like the actor-comedian is everywhere, including Baltimore, where he'll be performing back-to-back stand-up shows on Saturday night.
HEAR
June 5: J. Roddy Walston & The Business
Power Plant Live, 34 Market Pl. 8p.m. $5. 410-727-5483. ramsheadlive.com.
J. Roddy Walston & the Business might have been born out of Tennessee, but they cut their chops in the Land of Pleasant Living. Charm City, to be exact. Since then, they've toured the country, played the likes of Bonnaroo, Lollapalooza, and Austin City Limits, and their music has even graced the silver screen in a Coors Light commercial. This weekend, the Southern rock quartet brings it back home with a performance at Power Plant Live. If you've never seen them before, now's your chance, with Walston's onstage presence alone being enough to keep you entertained. With their Kings-of-Leon-esque sound, the lead singer puts on a Jerry Lee Lewis-worthy performance as he belts out his at-times soulful, at-times screamy vocals and head bangs his long lochs over the guitar, piano, and across the stage.
DO
June 6: Baltimore 10 Miler

Druid Hill Lake Park, 2600 Madison Ave. 7:30a.m. $60-$65. 410-605-9381. baltimoretenmiler.com.
After days of gray and rain, we might finally get a glimmer of sunshine this Saturday. Get up early and make the most of it at the 8th annual Baltimore 10 Miler. As the name suggests, it's a solid 10 miles around a scenic yet challenging loop, starting and ending in Druid Hill Park near the Maryland Zoo. From there, you'll run through North Baltimore towards Lake Montebello before circling back around. At the finish line, you'll find a post-race party, full of adult beverages, summertime snacks (watermelon), and more.
---
We also suggest you continue to support local restaurants, bars, and businesses, to take part in community events, and to donate to or participate in the growing number of volunteer efforts around the city. Some examples include the Inner Harbor Project,Maryland Food Bank, and Big Brothers Big Sisters of the Greater Chesapeake. Others can be found via Maryland Unites, which lists several non-profits that are accepting donations like the Red Cross of the Greater Chesapeake, Central Region United Way, and Associated Black Charities, and through the Mayor's Office of Neighborhoods, which continues to update an online spreadsheet for volunteer and donation opportunities.