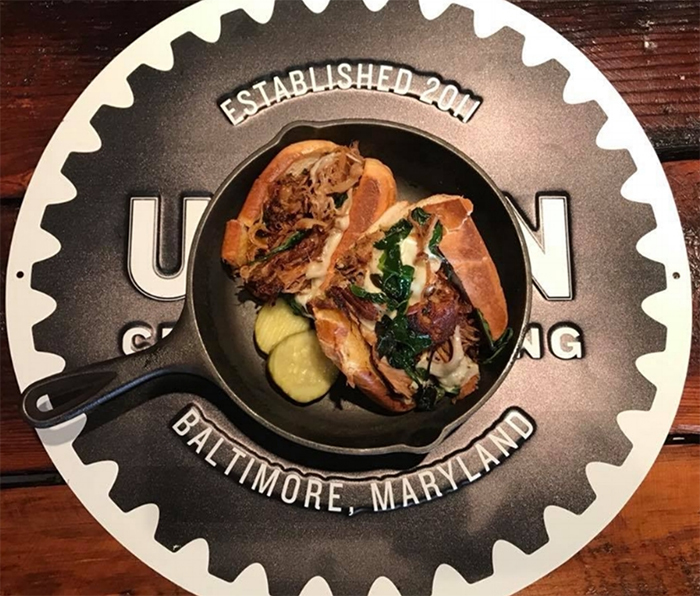 Facebook
Five things to eat, drink, see, hear, and do with your Charm City weekend.
 EAT
Foraged Eatery, 3520 Chestnut Ave. 10 a.m.-3 p.m. Free. 410-235-0035.
For many of us, Sunday brunch is a must-do weekend ritual, so naturally we were excited to hear that this new farm-to-table eatery would be debuting its inaugural service this weekend. On Sunday, head to the tiny, trendy Hampden spot for a hyper-seasonal brunch menu featuring chef  Chris Amendola's trademark pig parts and made-to-order mimosas (and beermosas!). While it sounds like an unconventional pairing, let your adventurous weekend self be pleasantly surprised by crispy pig ears and fluffy pancake stacks drizzled with a local delicacy—black walnut and red maple syrup, harvested from Whistle Pig Hollow and Third Way Farms.
 DRINK
Chuck's Trading Post, 1506 W. 36th St. 3-11 p.m. Free. 410-366-0178.
Baltimore has a long, storied history with Prohibition, with speakeasies and hidden stashes of booze fueling the city's best parties in the 1920s. Now, almost a century later, this Hampden hideaway will break in its new liquor license and celebrate its own end to Prohibition with free-flowing Union Craft brews and an all-afternoon party. For the first time ever, pair Double Duckpins and Old Pros with Best of Baltimore-winning skillet dishes and cured meat sandwiches as you raise a glass to our country's hooch-filled future.
 SEE
Creative Alliance, 3134 Eastern Ave. 6-9 p.m. Free. 410-276-1651. 
This month, Creative Alliance resident artist Adam Davies will transform the Highlandtown gallery into Reroutings, a brand-new exhibit featuring his large-format photographs of ordinary public structures, such as overlooked bridges or tunnels, that have served another purpose as accidental civic forums. During the opening reception on Saturday, LA-based musician Alex Zhang Hungtai, known largely for his lo-fi electronic project Dirty Beaches, will perform the soundscapes that helped influence the artist's photos. Listen as the waves of sound fill the room and immerse yourself in Davies' monumental photographs of graffiti-covered walls in this dark, intimate space. 
 HEAR
Metro Gallery, 1700 N. Charles St. 8 p.m. $10. 410-244-0899. 
If you weren't hiding under a rock last year, you probably caught wind of Super City's infectious music video for its even more addictive single, "Artificial Sin." If you didn't, Google it now and you'll instantly know why you need to be at The Metro Gallery this Friday night. Watch the indie-pop-rock group perform their choreographed dance moves and hear new music off their upcoming 2018 album. Local electronic R&B singer (and Best of Baltimore winner) :3ION will be opening the show with his bewitching pop music, as will New York City's dance band Raw Silk.
 DO
The Baltimore Museum of Art, 10 Art Museum Dr. 7-10 p.m. $25-30. 443-573-1700.
With the U.S. immigration debate at the forefront of national news, there's never been a more important time to come together and hear stories from Baltimoreans about their experiences with exchange and inspiration across the U.S.-Mexico Border. As part of Stoop Storytelling's "Stoop Special Engagement" series that coincides with The Baltimore Museum of Art's Crossing Borders: Mexican Modernist Prints exhibit, listen to seven storytellers share their personal, deeply human anecdotes, including local artist Alfonso Fernandez on re-discovering his Mexican heritage through art and Clavel's chef Carlos Raba on his father's murder and growing up in Culiacán, Sinaloa. While you're there, take advantage of after-hours access to the modernist print exhibit before it closes on Sunday.