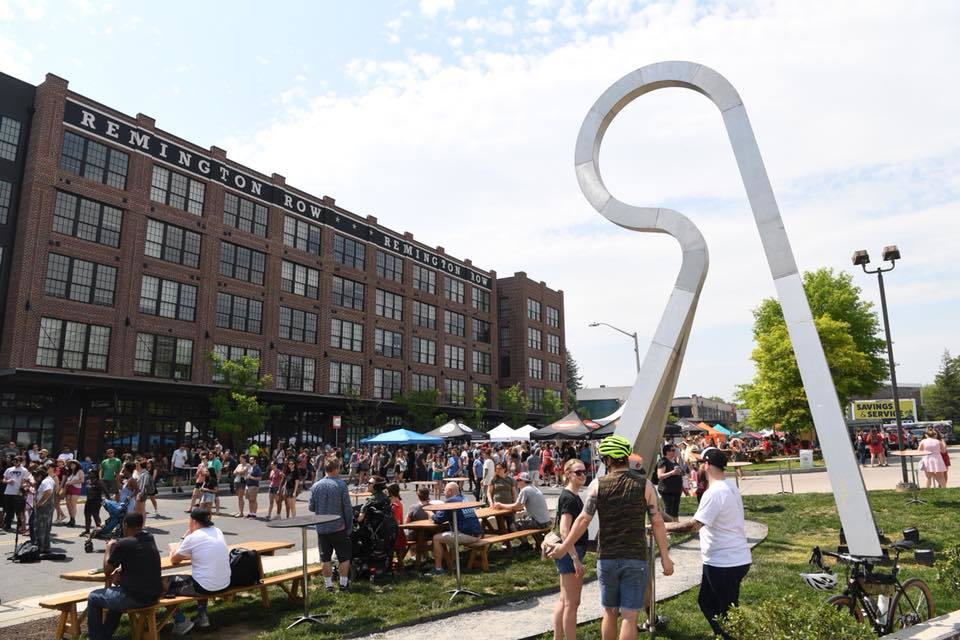 EAT
Locations, times, and prices vary.
The last few days before Mother's Day mark the annual scramble for last-minute bouquets, sentimental cards, and—if you're really behind—brunch reservations at her favorite local spot. If you're still searching for a table, we recommend snagging seats for the first-ever brunch service at popular Italian restaurant Orto, indulging in a three-course mid-morning meal at Minnow, or any of the other Sunday specials listed in our roundup of mom-worthy spots.
DRINK
Peabody Heights Brewery, 401 E. 30th St. 7-10 p.m. $35-40.
It's been five years since Mr. Trash Wheel officially started churning trash from the Jones Falls, and we can barely remember what Baltimore was like before his googly eyes could be seen on every T-shirt, sticker, and plush toy. To celebrate the milestone birthday, Peabody Heights Brewery is throwing an all-out bash with live music, trash-themed games, and, of course, all-you-can-drink beer. Be one of the first fans to try the latest beer release in collaboration with the Healthy Harbor Initiative, Mr. Trash Wheel's Solar Power Sour. And be sure to recycle the can!
SEE
Station North Arts & Entertainment District. Times vary. $8-450.
Baltimore might not be as glamorous as Hollywood, but according to film critic Richard Brody, it becomes the "center of cinematic gravity" each year during this five-day film celebration. Whether you're a casual moviegoer or a full-blown cinephile, take advantage of this opportunity to watch more than 100 shorts, features, and documentaries, as well as attend Q&A sessions and workshops with acclaimed filmmakers at the historic Parkway Theatre in Station North. Pro tip: Make your movie-watching plan based on our reviews of eight of this year's featured films.
HEAR
WTMD, 1 Olympic Place, Towson. 9-11 a.m. Free-$40.
Although the premiere of the Baltimore Rock Opera Society's much-anticipated show Welcome to Shakesville is still two weeks away, the cast and crew will perform a sneak preview of the colorful opera for their toughest critics: local music-loving kids. With throwback nods to 1960s psychedelia, this puppet-filled performance will transport audiences of all ages to the magical world of Shakesville with tons of surf jams along the way. If dancing is not enough to tire out your little one, there will be bike rides by Race Pace Bicycles, a reading corner, and cake from Eddie's of Roland Park to knock them out by noon.
DO
Remington Ave. and 28th St. 12-9 p.m. Free.
Despite the smash-hit success of the first-ever RemFest, Remington-based businesses and neighbors are gunning to make this year's festival even bigger and better. Along with more than 75 local artisan vendors, drool-worthy bites from area restaurants, and libations by Union Craft Brewing and R. Bar, the outdoor festival boasts a killer lineup of local acts that can't be beat. Stake out a spot near the 27th Street stage to hear the likes of indie-pop stars Super City, soul sensation Brooks Long, singer-songwriter Bobbi Rush, pop-opera duo Outcalls, and be sure to stick around for an end-of-the-night Save Your Soul dance party with DJ Rob Macy.