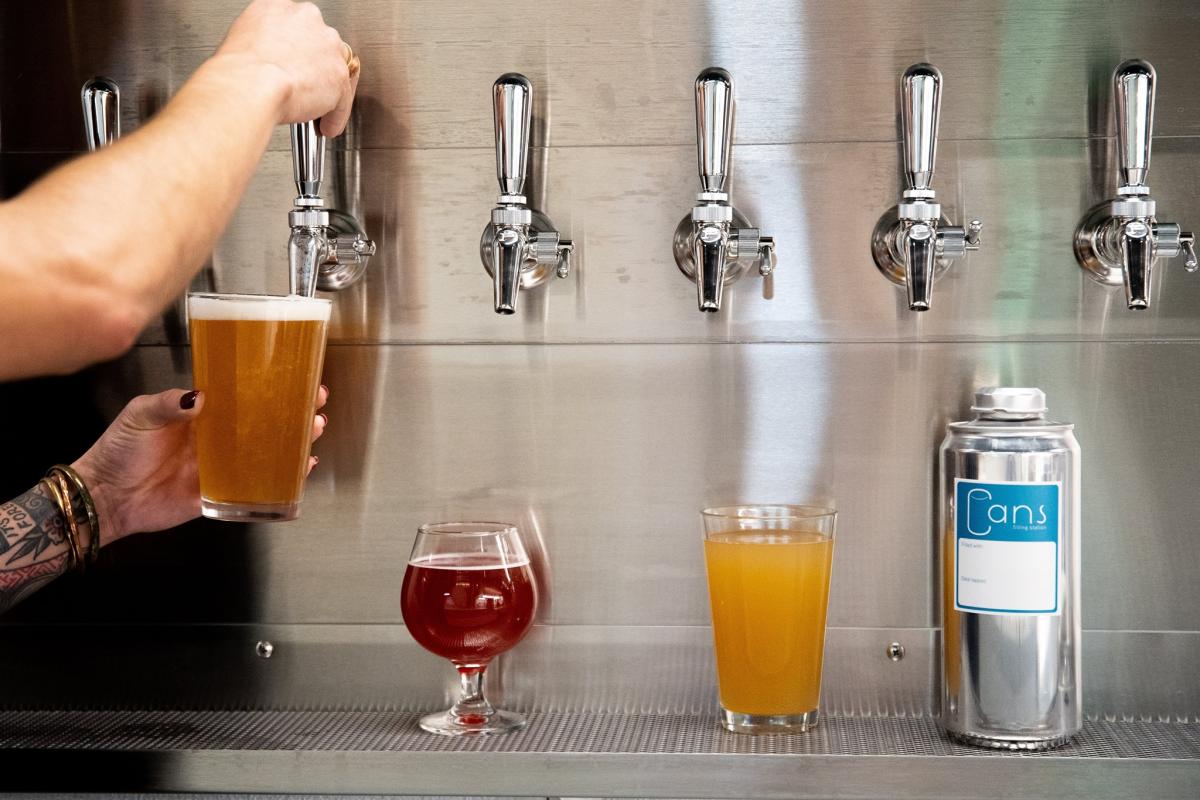 Swing by Cross Street Market for Ravens specials, including drinks from Cans Filling Station, on Sunday. —Cross Street Market
---
EAT
Cross Street Market. 1065 S. Charles St. 9 a.m.-8 p.m.
If your idea of the perfect Sunday consists of booze, brunch, and cheering on the birds, we'd have to agree with you—and so would the crew at Cross Street Market. This NFL season, the Federal Hill foodies are kicking off every 1 p.m. Ravens game with a lineup of football festivities and game-day grub. Pile on some purple gear, throw on a mask, and hit up the market to snag spaced-out seating (tables are first-come, first-served) and browse mouthwatering brunch options. Among the eats to look out for are Old Bay cheddar biscuits from Charlsie's Bakehouse, breakfast sandwiches from Steve's Lunch, sauce-tossed wings from Southside Burger Bar, monster-sized slices from Pizza Di Joey, and Poe-approved purple ice cream courtesy of Taharka Brothers. When you're ready to wash it all down, swing by Cans Filling Station for $2 Natty Seltzers and $3 Bud Lights. All of the eats are, of course, also available for carryout if you're planning a watch party at home.

DRINK
Diamondback Brewing Company. 1214 E Fort Ave. Suite #008, 2-6 p.m.
Ahead of next week's Turkey Day festivities, the team at Diamondback Brewing is giving thanks the best way they know how—with food, live music, and, of course, beer. Gather your chosen fam, grab some blankets, and head to the South Baltimore brewery to feast on everything from scratch-made pizzas to smoked turkey sandwiches. Plus, keep warm out on the patio by sipping pilsners and pale ales while making use of the free hand warmers at one of the brewery's outdoor heating stations. Then, once you've had your festive fill, get down to the live, soulful sounds of Old Eastern. With their stripped-down style and grunge-fueled flare, it's likely that the Baltimore-based whiskey-rock trio will be cranking out some '90s bar bangers—so get ready to shake your tail feather!
SEE
The Maryland Zoo. 1 Safari Place. $20-45. 4:30- 7:30 p.m., 5-8 p.m.
As we reach the tail end of a tumultuous 2020, we could all use a healthy dose of holiday cheer. This weekend, grab the whole family and head to The Maryland Zoo, where more than 100,000 LED lights will shimmer in the shape of the historic institution's most beloved creatures. To feast your eyes on the seasonal spectacle, which comes to the 135-acre Druid Hill landmark once a year, you'll need to make online reservations in advance. Visitors can choose to traverse the twinkling exhibit by foot on Saturdays from 4:30 to 7:30 p.m (this option comes with hot chocolate and free carousel rides—masks required, of course) or opt to drive through the dazzling display while staying toasty in your car on Sundays from 5 to 8 p.m. All ticket proceeds benefit The Maryland Zoo's animal care and conservation work.
HEAR
Virtual. Creative Alliance. 3134 Eastern Ave. $8-100 plus $3-5 service fee. 8 p.m.
If these were normal times, Baltimore-based folk artist Caleb Stine could likely be found jamming before a packed crowd at one of the city's cherished concert venues—huddled on stage alongside local greats like The Honey Dewdrops to bring listeners the latest iteration of his "Round The Mountain" show. But these are far from normal times—which is why Stein's latest installment of the much-loved musical powwow is now aptly dubbed "Round the Motem," to reflect a distant and digitally-driven new normal. This Saturday, purchase tickets online to tune in from home, or to reserve a table for four at the Creative Alliance, where Charm City's "Cosmic Cowboy" will play before a limited audience at 8 p.m. Sponsored by Maggie's dispensary in Remington, this semi-live lineup is also set to feature virtual appearances from surprise special guests.
DO
Franciscan Center. 101 W 23rd St. Moveable Feast. 901 N Milton Ave. 12-2 p.m., 1-3 p.m.
Now in its sixth year, Baltimore Bike Party's Cranksgiving scavenger hunt—in which teams of bikers set out around the city to collect food items for two local charities—will have a much different look due to COVID-19. Not only will the Saturday ride be split into staggered time slots between 12 and 3 p.m., but this year's participants can choose their own adventure. Here's how it works: This Friday before 6 p.m., head to bikemore.net to purchase your timed ticket—which includes a donation of your choice to The Franciscan Center or Moveable Feast. Then, on Saturday, set out in search of food donations at a series of city grocery stores and outdoor spots (each worth a certain number of points.) Although they end in different locations (one at the Franciscan Center and another at Moveable Feast), each route contains the same stop at Johnston Square Park, where teams will be sent to pick up produce courtesy of farm-to-doorstep delivery service Hungry Harvest. Once you drop off your findings at a safe distance, as directed by the Bikemore staff, head home and tune into Facebook, where winners will be announced in a virtual ceremony.