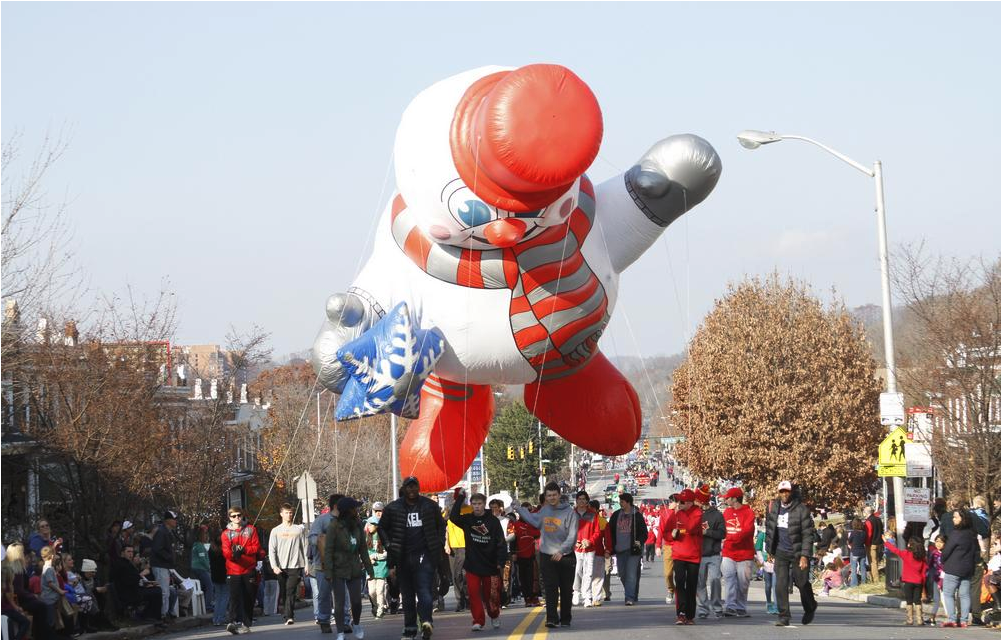 Gerard Buckleman
EAT
Location & times vary, 9 a.m.-6 p.m. Free.
Fells Point already feels otherworldly thanks to its storied history and cobblestone charm, but, for the 15th year, the neighborhood will transform into a winter wonderland during this annual fête. Snap pictures with Santa Claus after he arrives by tugboat at 9 a.m., and then join Ol' St. Nick for all-you-can-eat breakfast buffets at waterfront staples like Abbey Burger, Alexander's Tavern, and The Admiral's Cup. Stick around to compete in eggnog-drinking and "carole-oke" contests, and then cap off the night by witnessing the annual tree lighting in Broadway Square and the Lighted Boat Parade floating down the harbor.
DRINK
2601 E. Baltimore St. 11 a.m.-6 p.m. $15-45.
If you've ever jogged the length of Patterson Park and craved an ice-cold beer afterward, this is the race for you. At this seventh annual fundraiser for Patterson Park Public Charter School, start your afternoon with a one-mile or 5K run. Then, once you catch your breath, head over to the beer garden to sample local homebrew submissions. Cast your vote for your favorite pour, and spend the rest of the afternoon sipping beers by Full Tilt Brewing and jamming to live music by area acts Black Eyed Boh and Chris Diller.
SEE
4207 Edgehill Ave. 1-5 p.m. Free.
Celebrate the first weekend of the holiday season with this 46th annual parade that leads a jolly assortment of local marching bands, giant balloons, festive floats, a fleet of Harley-Davidson motorcycles, and, of course, Santa Claus and Miss Yuletide through the streets of Medfield and Hampden. Join thousands of onlookers along the two-and-a-half-mile parade route—which begins at Poly Western High School, winds down Cold Spring Lane, and ends at 37th Street—to catch some candy, sip on hot cocoa, and give a wave to Mayor Catherine Pugh.
HEAR
The Modell Lyric, 140 W. Mt. Royal Ave. 6-9 p.m. $50-120.50.
Of all of the bands that have shaped the history of pop music, these iconic, California-loving boys are still at the top of the list. And while the whole band isn't back together, you can feel all of the good vibrations and hear original bandmate Mike Love croon to sun-kissed hits like "Surfin' U.S.A." and "Wouldn't It Be Nice" on the Lyric stage. As an added bonus to a night filled with beachy favorites, a copy of Love's new collection of holiday songs, Reason for the Season, is included with every ticket.
DO
Lord Baltimore Hotel, 20 W. Baltimore St. 4 p.m.-1 a.m. $55-1,500.
Dust off your white jumpsuit and blue suede shoes—the most rockin' Elvis-themed party of the year is back and groovier than ever. This 25th extravaganza dedicated to the King of Rock n' Roll boasts three rooms (Calvert Ballroom, The Jungle Room, and the Viva Las Vegas Lounge) filled with back-to-back performances by tribute artists and impersonators that will keep you swiveling your hips all night long. While the music is the main event, don't forget to admire the vintage memorabilia, Elvis ice carving, and, above all else, grab a fried peanut butter and banana sandwich for the ride home.