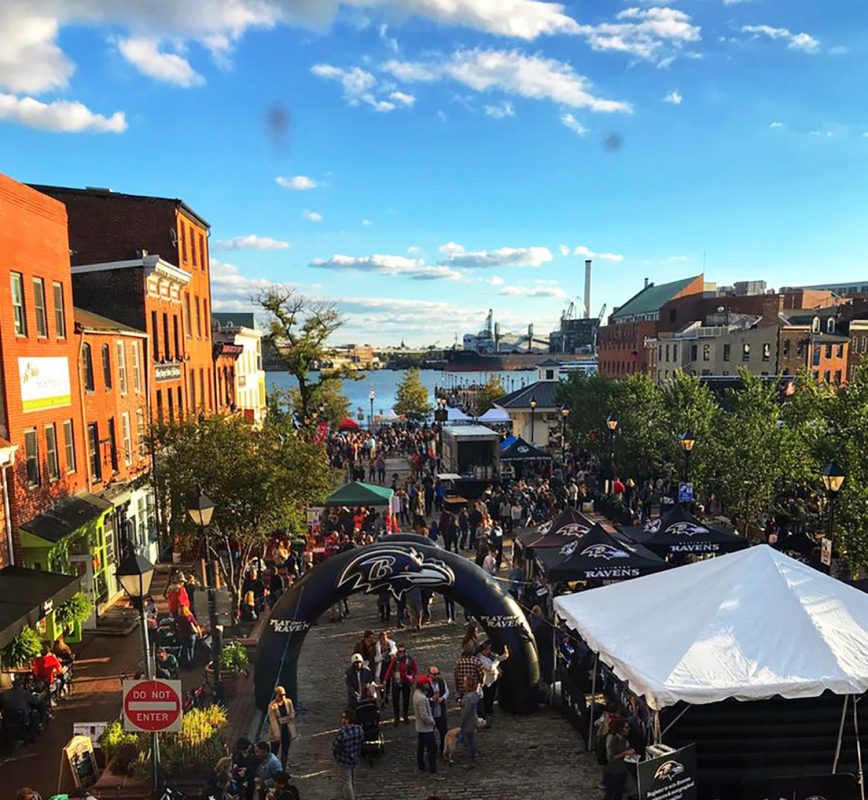 Courtesy of the Fells Point Fun Festival
EAT
South Point, Port Covington. 12-9 p.m. Free-$99.
For the first time in its 13-year history, this slurp-tastic festival will take place on South Point's waterfront, with tons of freshly shucked oysters, seafood delights, and drinks to celebrate prime Chesapeake Bay oyster season. Spend the day sampling more than 10 varieties of raw oysters, taking in the picture-perfect views, and, if you really want to be impressed, watching some of the region's most skilled oyster fanatics compete for the title of fastest local shucker. If you're hemming and hawing over the price of a VIP shuck-buck package, remember that a portion of the proceeds benefits the Oyster Recovery Partnership and Living Classrooms Foundation.
DRINK
WILD Kombucha, 4820 Seton Dr., Suite L. 1-5 p.m. Free.
The Wild Kombucha boys are heralded around town for their homegrown success story—the founders expanded their booch operation from a one-room set-up to a 13,000-square-foot brewery within four years—and now they're giving fellow local brewers the chance to jumpstart theirs, too. Visit the northwest Baltimore brewery on Saturday to participate in Wild Kombucha's first-ever homebrew competition, where you can put your own recipe to the test or spend the afternoon sipping on the fermented flavors of area makers. Stick around to see which homebrew recipe takes home the people's choice award because, who knows, it could be sitting on the shelf at Whole Foods before you know it.
SEE
The Baltimore Museum of Art, 10 Art Museum Dr. 8-11 p.m. $20-25.
This Friday, the Baltimore Museum of Art will prove that the real party doesn't start until gallery hours end. During the latest iteration of the museum's ever-popular Art After Hours series, Baltimore-based artist collectives Wickerham & Lomax and WDLY will put on a takeover called The House We Built that unfold in three acts: a wedding, funeral, and anniversary party. Inspired by the transformative moments expressed in the BMA's current exhibition, Generations: A History of Black Abstract Art, this one-night-only affair will feature everything from performances and artists talks to wearable art workshops and free admission to this boundary-breaking exhibition.
HEAR
Waverly Brewing Company, 1625 Union Ave., Suite C. 12-9 p.m. $12.
Remember that one time at band camp? Well, this inaugural camp-inspired music festival at Waverly Brewing Company might jog your memory. Starting on Saturday afternoon, pack the Hampden brewery to hear rockin' sets from nine local acts across two stages. Inside at the Acoustic Brewery stage, bop along with rising artists like Alex Champagne and Joseph Mulhollen, and check out the Electric Outdoor stage where Baltimore bands like The Minus Drag and The Shrapnels will be shredding all evening long.
DO
Thames St. and S. Broadway Sts. Sat. 11 a.m.-8 p.m., Sun. 11 a.m.-7 p.m. Free-$50.
Somehow, this beloved neighborhood festival continues to get bigger and better each year. Make your way to the heart of Fells Point this weekend to join in on the family-friendly revelry of this 53rd annual shindig, which showcases the best eats, drinks, shopping, live music, and entertainment the waterfront hotspot has to offer. Pro tip: If you plan to have a drink (or two) in hand during the festival, purchase exclusive drink packages by Friday to take advantage of money-saving offers.