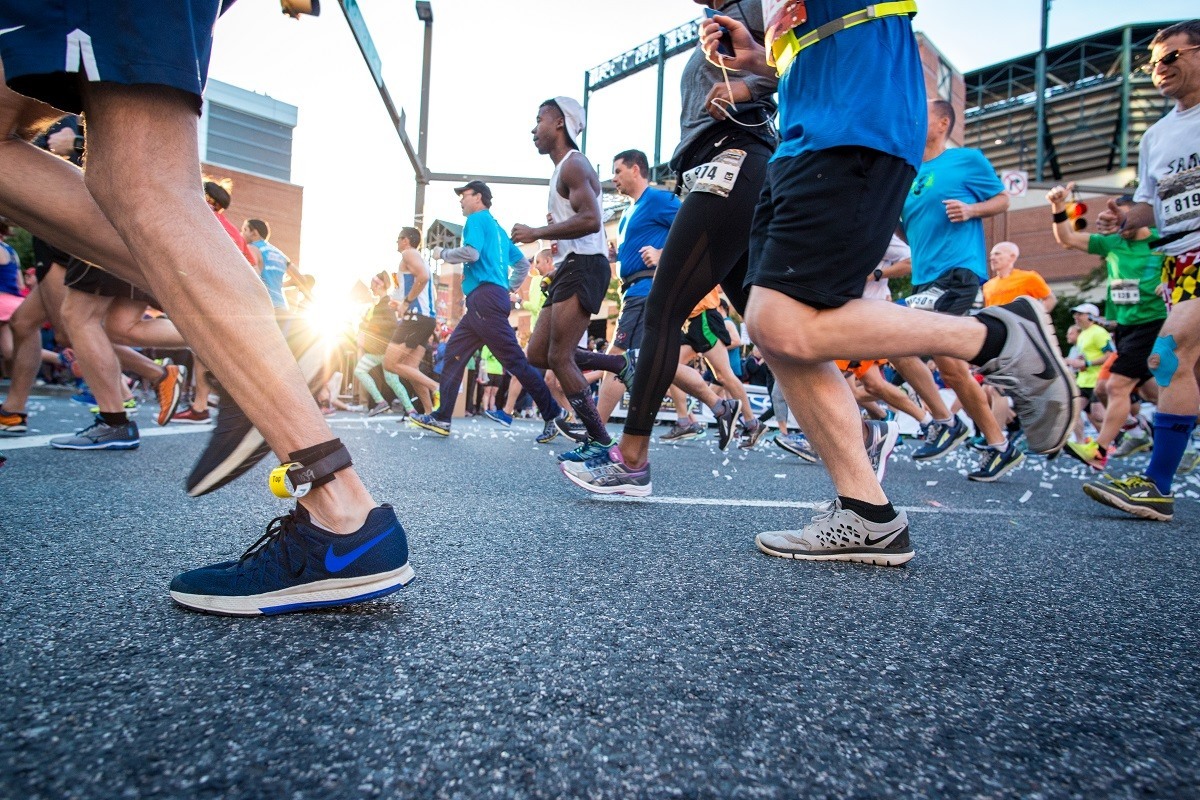 Baltimore Running Festival
EAT
Fadensonnen, 3 W. 23rd St. 5-9 p.m. Free.
On a snowy night last January, chef Iman Alshehab—co-founder of Mera Kitchen Collective, a co-op that empowers refugees to tap into their culinary heritage—cooked and served shawarma out of a food truck for the first time while parked at Fadensonnen. That evening, crowds of people came out to the beer garden and natural wine bar to sample her food, and since then, Mera's chefs have hosted rotating pop-ups at the popular Old Goucher spot. This Sunday, chefs Iman, Emilienne, Anna, and Mona will come together to prepare a meal in Fadensonnen's courtyard, featuring two new dishes from each chef. Don't miss the chance to try new authentic eats inspired by cuisines from across the world, including dishes like Syrian lamb kibbeh, Salvadoran chicken soup, and lemon tahini shrimp.
DRINK
The Maryland Zoo, 1 Safari Pl. 12-5 p.m. $29-69.
The Maryland Zoo is known for its wide variety of furry, slimy, and flying friends, but we also love it for its boozy fundraisers that make it (a little too) easy to support the local institution. This fall-inspired beer festival offers unlimited samplings of more than 50 seasonal brews, along with tons of eats, wares by area artisans, and the chance to get up close and personal with a few of the animals.
SEE
Creative Alliance, 3134 Eastern Ave. 7:30 & 10:30 p.m. $12-15.
We're already shivering with antici…pation for this interactive screening of the weird and wild cult classic at Creative Alliance. Tighten your garters for a night filled with the traditional movie callbacks and costume contests, as well as special burlesque, drag, and tap performances by beloved local drag queens Betty O'Hellno, Venus Fastrada, and Baby. Come up to the Highlandtown lab and see what's on the slab during this Halloween tradition that's sure to leave you wanting more, more, more.
HEAR
Joesph Meyerhoff Symphony Hall, 1212 Cathedral St. 7-9 p.m. $25-80.
It's only been a few weeks since the Baltimore Symphony Orchestra returned to the Meyerhoff after three months of tension between the symphony's management and musicians over contract disputes, and this Saturday's performance of Brahms' Fourth Symphony is a fitting nod to both the past and the future of the orchestra. After watching world-renowned conductor Marin Alsop lead the musicians through this 20th century masterpiece, stick around to sip on brews by Peabody Heights, snack on eats by Midnite Confection's Cupcakery and Noona's, and listen to live music by local artist Brooks Long as you talk with fellow music-lovers about the evening's performances.
DO
Paca & Camden Sts. 8 a.m. $60-280.
One thing that we love about citywide festivals is there's usually something for everyone, and the Baltimore Running Festival is the perfect example. Since this event features five different events ranging from an all-ages 5K to the BaltiMORON-a-thon, runners of all skill levels can come together and celebrate the beauty of hitting the pavement. There's still time to register, so secure your spot at the starting line and get ready to show off that crab-shaped finishing medal.