A Dummy's Guide to Crabs: 2014 Crab Buyer's Guide
Here is a smattering of spots where we love to eat crabs.
Below is but a small smattering of spots where we love to eat crabs—from your typical Maryland-style crabhouses (Jimmy Cantler's Riverside Inn) to more upscale establishments with classic cakes (Linwoods). Don't get steamed (pun intended) if your favorite joint isn't listed on these pages. This is Maryland, hon. It's hard to make it through a menu that doesn't have some manifestation of crab.
Can't get enough crabs? Be sure to check out our Crab Basics and Home Plates.
---
When you want to eat in the comfort of your own home but don't want to steam them yourself, head to one of these spots for ready-to-go steamed crabs.
CJ'S Crabhouse and Grill
10117 Reisterstown Rd., Owings Mills
410-363-6694

CJ'S is a no-frills neighborhood crabhouse where everyone knows your name. Owned by brothers Terry, Gary, and Jeffrey Sanders (whose parents, the late Charlie and Jean Sanders, started the business 38 years ago), this is the place to go if you want to spot a Raven (we're told former coach Jim Caldwell ate here when he lived in town) or just experience a family-friendly vibe whether carrying out or eating in. (It's only crab, folks!) While ordering a bushel to go, throw in a quart of Maryland crab soup, authentic New England clam chowder, or steamed shrimp with onions to quell your craving.
Conrad's Crabs & Seafood Market
1720 E. Joppa Road, Parkville
410-882-1515

Quality crabs and a top-secret blend of spiced seasoning is the name of the game at Conrad's, a favorite spot for take-out enthusiasts. (Gertrude's chef John Shields shops here.) Owner and self-professed "baybilly" Tony Conrad, who has crab in his genes (his great-grandfather was a waterman and his great, great-grandmother owned an Eastern Shore seafood spot in the 1800s), spends most mornings aboard his beloved boat The Hannah Marie, in pursuit of the big boys. The proof is in the product: While most outfits sort their crabs only once, Conrad's sorts twice, which means he sells the freshest, most colossal crabs in town.
The Crackpot Seafood Restaurant
8102 Loch Raven Blvd., Towson
410-828-1095

At The Crackpot, it's all about superlatives—it has the longest bar in Baltimore, and sells a 20-ounce crab cake touted as the largest in town. The restaurant, which opened in 1972, was also one of the first in the Baltimore region to sell crabs year-round, importing them from Louisiana before doing so became a "thing." Today, the Crackpot still uses the same spice mix, and still proudly sells fat, sweet Louisiana crabs for eating in or taking out from January through December.
Gibby's Seafood & Gourmet Market
2322 York Road, Timonium
410-561-5225

Gibby's has closed the restaurant that used to be connected with it, but sells all the same food, just for carrying out instead of eating in. Given the market's incredibly brisk business—it sells between 200 and 300 bushels a day (depending on size, that's between 1,000 and 2,400 crabs)—it's amazing that there are any savory swimmers left in the Chesapeake. Gibby's is a great one-stop shop for a crab feast, and unlike other outlets, it rarely seems to run out of crabs even when supplies are short. Buy the zesty Maryland crab soup as a starter, the tomato-cucumber salad with red onions as a side, and the creamy rice pudding for dessert.
Ocean Pride Seafood
1534 York Road, Lutherville-Timonium
410-321-7744

Brothers Rick and Randy Bielski worked at Ocean Pride when they were kids, churning the proprietary spice blend for the crabs in a cement mixer located in the restaurant's basement. About 11 years ago, their childhood dreams came true when they purchased the carryout store and restaurant, expanding the bar and concentrating on crabs. The crab seasoning, no longer made in a cement mixer, still contains the same 26 ingredients, including rock salt, mustard seed, and black pepper, delivering just the right heat as a complementary counterpoint.
Pappas Seafood Co.
1801 Taylor Ave., Parkville
410-665-4000

An entire floor of the family-owned Pappas Seafood Co. is devoted to steaming crabs from our Atlantic waters (including the Chesapeake Bay and Wye and Chester rivers). The store has been at the same location since 1953, and still uses the special spice blend on its steamed crabs, but this seafood stalwart has also changed with the times—about six years ago, Pappas added a website and began selling crabs and crab cakes in all 50 states, plus Puerto Rico. Naturally, Maryland retirees—from Florida and California—form the strongest fan base.
---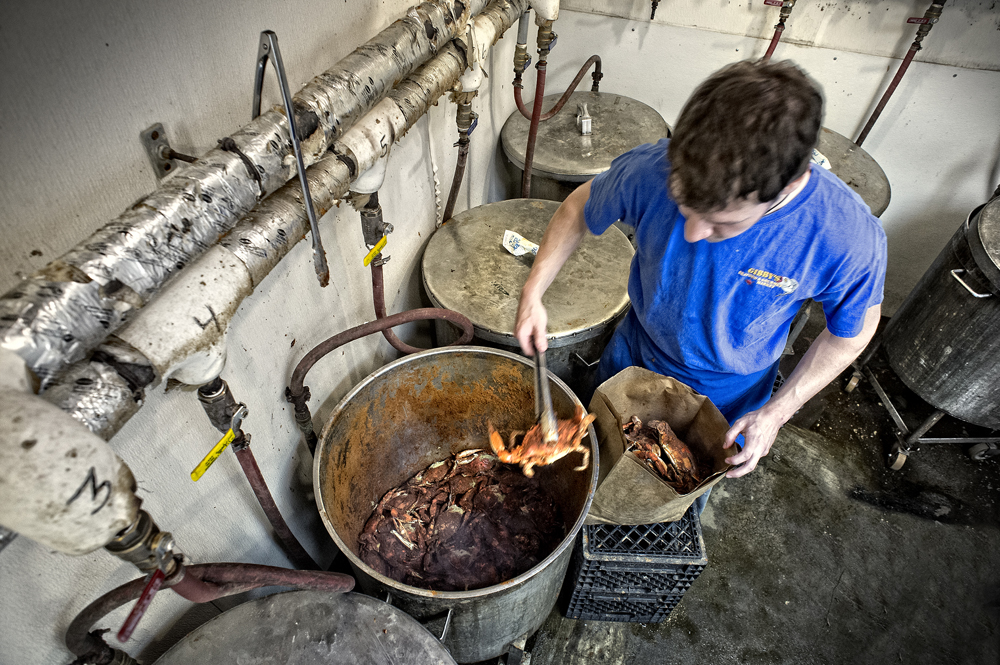 ---
When you don't want to deal with a tsunami of shells, these crabhouses are happy to make your mess their business.
Canton Dockside
3301 Boston St.
410-276-8900

Whether you sit indoors or out, you'll get the classic crab experience at Canton Dockside. All the elements are there: brown paper-lined tables, mallets, knives, and crabs the size of your forearm. (Some have been known to measure almost six inches.) The waterside restaurant, which also does a brisk carry-out business, sources its crabs from Louisiana and Texas year-round, and sells Maryland crabs when they're available. We love the rock salt in the seasoning that lends a grainy texture and a sensory-inducing lip-tingle, best quenched by a cold brew.
Costas Inn
4100 Northpoint Blvd.
410-477-1975

The family-owned Costas Inn began as a small Sparrows Point tavern in 1971, and grew to a full restaurant, seating 200. Unlike many haunts that are first come, first served, diners are allowed to specify size and reserve their crabs when they make reservations. The crabs, all male, are always domestic, and from the Old Line State whenever possible. The spice blend, unchanged since 1971, is sold at the restaurant and through the online store, which can cater to all your crab needs with ready-made crab cakes (Today's Kathie Lee Gifford and Hoda Kotb professed their love of these lumps on air), crabmeat, and T-shirts.
Jimmy Cantler's Riverside Inn
458 Forest Beach Rd., Annapolis
410-757-1311

You gotta love a crab joint that's easier to find by boat than by car. No matter how you get there, Cantler's is worth the trek. The restaurant, with indoor and outdoor seating, has a full menu, but chances are you'll choose to sit out on the wooden deck overlooking scenic Mill Creek, as you extract sweet crabmeat from a bright red pile of steamed sweeties. In summertime, you might even see the crabbers dropping off their haul. Yes, it's touristy, but it's also a Maryland-must experience.
L.P. Steamers
1100 E. Fort Ave.
410-576-9294

Housed in a Formstone corner building in Locust Point, L.P. Steamers has a no-fuss Baltimore charm that attracts locals and tourists alike. You can get them ready-to-go or settle at a table with brown paper, beer in a plastic cup, macaroni salad, disposable cutlery, and classic steamed crustaceans. Owner Bud Gardner, who opened the restaurant 17 years ago, serves number-one males (a number assigned to the heaviest Jimmies), and he does something different than other outlets—he sells them by weight, not by size, because, as it turns out, you can't judge a crab by it's hard-shell cover.
Mr. Bill's Terrace Inn Crab House and Sports Bar
200 Eastern Blvd., Essex
410-687-5994

There's nothing hoity toity about Mr. Bill's Terrace and its cafeteria-like television-filled rooms. But the stupendous steamed-to-order crabs and friendly atmosphere have charmed some of the best-known taste buds in Charm City, earning testimonials from the likes of Dutch Ruppersberger, the late Art Donovan, and other Baltimore bigwigs. Yes, the lines can be long, but there's comfort in knowing the famous have to wait, too. (Reservations are only for tables of 10 or more.) You're sure to be famished once you finally get a table, so try the spicy Maryland crab soup and gooey crab dip while you're waiting for the steam to work its magic on your main meal.
The Sue Island Grill & Crab House
900 Baltimore Yacht Club Rd., Essex
410-574-0009

The Sue Island Grill & Crab House, connected to the Sue Island Marina, boasts a sand beach with Adirondack chairs, a bustling tiki bar, live music, and fantastic sunset views over Sue Creek. Customers arrive by car, by boat, even by Jet Ski. The casual menu includes hamburgers, steamed shrimp, crab cakes and, of course, steamed crabs, from Maryland when possible and from the Carolinas or Louisiana in the off season. In summer, they're served with Eastern Shore corn and fresh, meaty Maryland tomatoes for the quintessential hometown summer spread.
---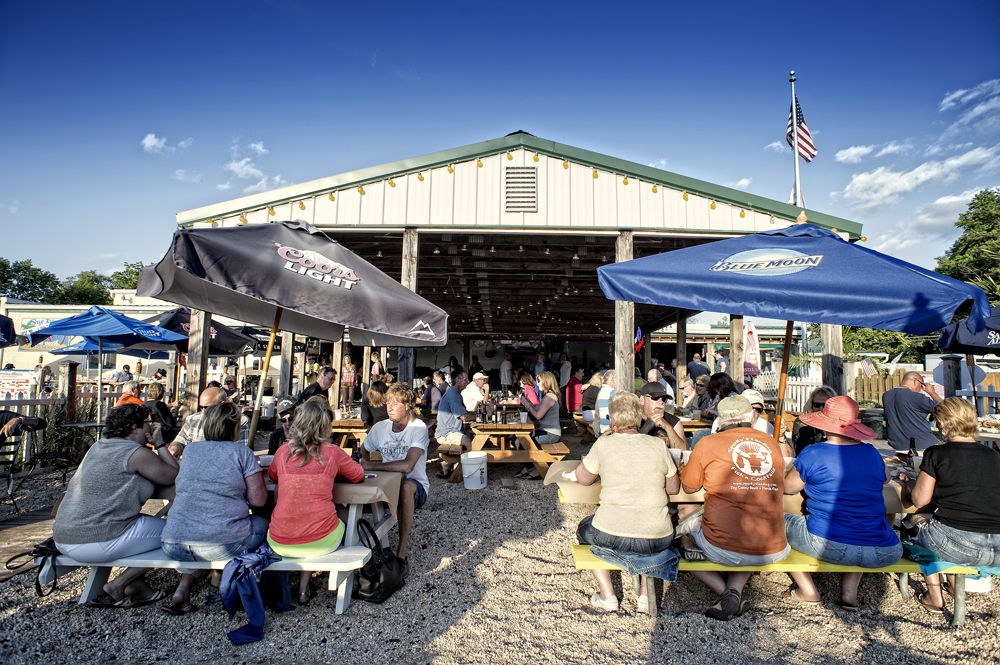 ---
When you want crab, but aren't interested in eating as a full-contact sport, crab cakes at one of these establishments are always an option.
Cunningham's
1 Olympic Pl., Towson
410-339-7730

This spot has been open only since November, but it has already found a niche serving American favorites made with local ingredients and jolts of flavor. Given that everyone and their uncle has a new riff on the cake, Cunningham's keeps it fairly classic with a broiled eight-ounce patty, served two to a plate, made with a dash of Old Bay, lemon zest, and Dijon mustard. Ever-changing seasonal sides (the tangy mustard seed mashed potato and steamed asparagus with shallots, served in spring were divine) float our boat.
Faidley Seafood
203 North Paca St.
410-727-4898

If we could only pick one place that sets the crab-cake gold standard, we'd choose Faidley Seafood stall in Lexington Market, open since 1886. Faidley's owner Nancy Devine says her jumbo-lump crab cakes, sold since the 1980s, are seven ounces because "that's the size of my hand." And her hands are plenty full. Using jumbo-lump meat from the Atlantic (and Maryland meat whenever possible), and flash-frying them to yield a golden crust and creamy interior, on a busy day, working with a single helper, Devine makes and sells more than 1,000 cakes. Some have even shipped as far as Alaska and Hawaii. (And pre-9/11, even shipped to Europe frequently.)
G & M Restaurant and Lounge
804 Hammonds Ferry Rd., Linthicum Heights
410-636-1777

The jumbo lumps are what sets the eight-ounce crab cakes at G & M apart. A bit of spice, hardly any filler and 15 minutes in the oven, highlight the sweetness of the seafood. The restaurant got its start as a pizza shop in 1974, switching to seafood in the '90s. Since then, the crab cakes, served in sandwiches and on platters and shipped nationwide, have been winning plaudits for their sublime simplicity.
Koco's Pub
4301 Harford Rd.
410-426-3519

Tiny, family-run Koco's Pub is famous for its enormous 11-ounce crab cake, made with jumbo and, well, ginormous lumps and served as an incredibly satisfying sandwich or on a platter with salty fries and slaw. With seating of just 60 in the dining room and about 50 in the bar, the lines get long, and for good reason. Don't let the down-home, simple vibe deceive you—when the wait is over, your patience will be amply rewarded.
Linwoods
25 Crossroads Dr., Owings Mills
410-356-3030

The crab cakes at suburban stalwart Linwoods begin—and end—with fresh jumbo-lump meat. Yes, there's a squeeze of lemon, a drizzle of Tabasco, a drop of Worcestershire sauce, and a smidge of Old Bay. But why mess with Mother Nature's just-plucked-from-the-waters plump lumps? The only adornment comes in summer-evocative sides: soft corn pudding, spinach salad studded with radishes and heirloom tomatoes, and a mound of crisp potato shreds. With a plate of these (one as an appetizer, two as an entree), summer doesn't get any better.
Thames Street Oyster House
1728 Thames St.
443-449-7726

The 10-ounce crab cakes at Thames Street are an old-school interpretation of the Eastern Shore crab cake. These beauties start with blue crabs pulled from the Atlantic waters. While many cake creators tout the size of their lumps, these are made with all the fine flesh the crab has to offer—lump meat, of course, but the claw and backfin as well. Spices and filler are kept to a minimum. The cakes are pan-fried and then served in a cast-iron pan, with scrumptious seasonal sides such as roasted cauliflower and lima beans baked with brown sugar.
---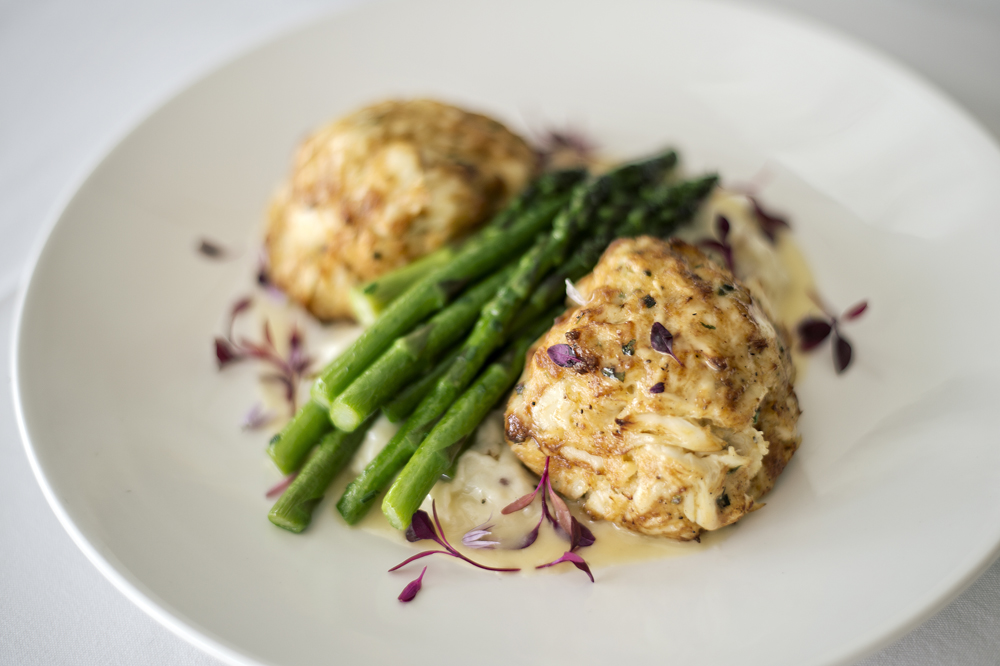 ---
Captain James Landing
2127 Boston St.
410-327-8600

The key to the tasty soft-shell crabs at Captain James is their 24-hour bath in buttermilk and Old Bay to tenderize and add flavor. The crabs, generally available in late spring, are then dipped in seasoned flour, pan-fried, and served with a white wine and chicken-stock pan sauce. Crabs come from as far away as South Carolina and as near as the waters you can see when you're served.
Cinghiale
822 Lancaster St.
410-547-8282

There's no way that Cinghiale, a Cindy Wolf-Tony Foreman restaurant, is going to take the traditional pan-fry and slap-on-a-bun approach to soft-shells. For an original interpretation, the enoteca offers seasonal variations, but one we're fond of is a peppery salad with red watercress, pickled ramps, and spicy vinaigrette, topped with a deep-fried soft-shell crab. Chef Julian Marucci uses East Coast crabs, and favors the smaller ones, which are sweeter, softer, and fry up with crisper crust.
Miss Shirley's Café
750 E. Pratt St.
410-528-5373

Leave it to Miss Shirley's Café to deliver original takes on soft-shell crabs. The Grumpy Shirley-Feller is a Maryland soft-shell in cornmeal crust, surrounded by grits, onion jam, bacon, a pickled relish, and a special chicken-sausage gravy. The Surfin' the Bay Club places the same crisp-coated crab on sourdough toast as part of a sandwich that's stuffed with blackened shrimp salad, jalapeño-smoked bacon, avocado, tomato, and an Old Bay remoulade.
The Oceanaire Seafood Room
801 Aliceanna St.
443-872-0000

On the ever-changing seasonal menu at The Oceanaire, executive chef Joe Pastore likes to get creative with crabs. Though he hails from Pittsburgh, this chef is a quick study in soft-shells. In this swanky seafood house with white-coated waiters, you'll find a deconstructed BLT—blue crab, lettuce, and heirloom tomatoes tossed in bacon vinaigrette—geared to the more adventurous on one visit, a tempura treatment on another, or possibly a more traditional version on yet another pass. To sum up: Two claws up.
The Oregon Grille
1201 Shawan Rd., Cockeysville
410-771-0505

If you're craving crabs and white-tablecloth service, The Oregon Grille is always a great choice for superior service, horse-country ambiance, and an extensive wine list to wash it all down. (FYI, chardonnay cuts the richness of crab.) This dish—dusted in cornmeal, sauteed, and served over spaghetti squash swimming in beurre blanc and whole-grain mustard-seed sauce—is a winning combination of flavors.
Ouzo Bay
1000 Lancaster St.
443-708-5818

The soft-shell crabs served at the Greek restaurant Ouzo Bay start with crabs dusted in seasoned flour and pan-fried. Platters include two crabs, along with mustard aioli and two sides. It's all about letting simple ingredients shine, and delivering a modern twist on an ancient cuisine. (On a recent visit, we couldn't resist posting these tasty "bay-bies" on Facebook.)
---
---
As long as they're fresh (and local), you don't need to be a graduate of the CIA to cook crab. Here are some great places for the key ingredient to your home-cooked meal.
LIVE CRABS
Gibby's Seafood and Gourmet Market
2322 York Rd., Timonium
410-561-5225
J.M. Clayton Company
108 Commerce St., Cambridge
410-228-1661
Mo's Seafood
219 S. President St.
410-837-8600
Ocean Pride
1534 York Rd., Lutherville-Timonium
410-321-7744
Parkville Crabs
7800 Harford Rd., Parkville
410-668-0020
CRABMEAT
Bill's Seafood & Catering
9016 Belair Rd., Nottingham
410-256-9520
Gourmet Again
3713 Old Court Rd., Pikesville
410-484-9393
Faidley Seafood
203 N. Paca St.,
410-727-4898
S. DiPaula & Sons Seafood
7613 Philadelphia Rd., Rosedale
410-866-8100
Eddie's of Roland Park
5113 Roland Ave.
410-323-3656
SOFT-SHELLS
Captain Jim's Crabs
818 Bowley's Quarters Rd., Middle River
410-335-2221
Crab Depot
5717 Gov. Ritchie Highway, Brooklyn Park
410-789-6722
Gibby's Seafood and Gourmet Market
2322 York Rd., Timonium
410-561-5225
Sea King Seafood Markets
3417 Plum Tree Dr., Ellicott City
410-465-9663
Waterman's Pride
7692 Belair Rd.
410-665-5555